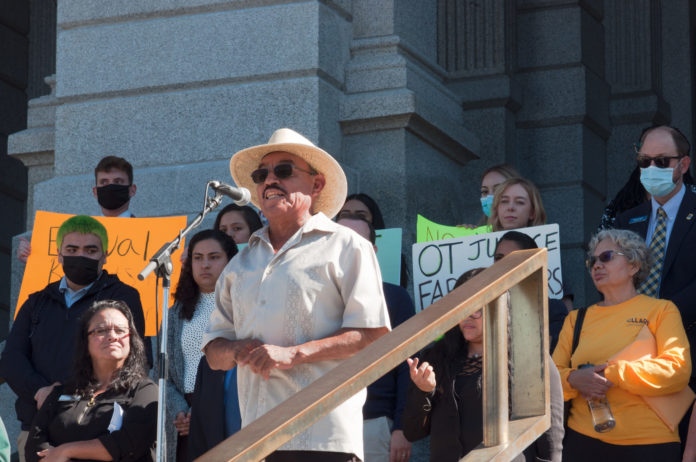 The Colorado Department of Labor and Employment adopted the state's first overtime rules for agricultural workers on Wednesday. But the protections fall short of what labor advocates had asked for.
Earlier this year, the state legislature passed SB21-87, an agricultural workers' rights bill that, among other things, guarantees Colorado farmworkers the right to earn overtime pay — a right they have long been denied under the federal Fair Labor Standards Act of 1938. But the details of what counts as overtime and other requirements were left to the state labor department.
The CDLE on Nov. 10 adopted the latest version of its Colorado Overtime and Minimum Pay Standards Order, which includes the new rules on overtime pay for agricultural workers as well as wage-and-hour rules for employees in other industries. 
From November 2022 through December 2023, farmworkers will be eligible for overtime pay of one and a half times their regular wage after working 60 hours per week, according to the new rules. 
In 2024 and beyond, the overtime threshold will drop to 56 hours for "highly seasonal" employers during the peak 22 weeks of the year, with a 48-hour threshold during non-peak season. For non-seasonal employers, the weekly threshold will drop to 54 hours in 2024 and 48 hours in 2025. Small employers will have a 56-hour weekly threshold in 2024 and then follow the rules for highly seasonal or non-highly seasonal employers as applicable starting in 2025.
One problem with the new standards, according to farmworker advocates, is that employees in most other industries are eligible for overtime pay after 40 hours per week or 12 hours per day. "Even the lowest threshold of 48 hours in 2025 is significantly higher than the 40 hour bar most workers are held to, perpetuating the unjust differentiation of agricultural workers from other Colorado workers," wrote Isabel Cruz, policy manager at the Colorado Consumer Health Initiative, in public comments to the CDLE on Nov. 3.
Several groups also took issue with the seasonal carve-out that raises the weekly threshold to 56 hours during 22 peak weeks, which they say is too long for Colorado's relatively short growing season.
During the CLDE's rulemaking, advocacy groups noted that SB21-87, which also gave agricultural workers the right to organize and take meal and rest breaks, was meant to address the racist roots of farmworker exemptions in federal labor and employment law. Black workers made up a majority of the South's agricultural labor force when the National Labor Relations Act of 1935 and the FLSA were enacted, and the New Deal reforms were designed to exclude them. Today, 83% of agricultural workers are Hispanic and 75% were born outside the U.S., according to the National Center for Farmworker Health.
"Creating second-tier overtime status for workers who are disproportionately immigrants and people of color is not only repugnant, but it also allows systemic racism to continue to undermine Colorado workers' rights in the 21st century," the non-profit workers' rights firm Towards Justice said in public comments last week.
Nearly three dozen Democratic state lawmakers who supported the agricultural workers' rights bill expressed disappointment with the proposed rules late last month, saying in public comments that the proposed COMPS Order "failed to manifest the true intent with which we passed SB-87." They wanted the CDLE to amend the proposed rules to require agricultural workers be paid overtime for any work exceeding 40 hours per week or 12 hours per day.
Agricultural industry groups, which largely opposed the farmworkers' rights law, also objected to the proposed rules published in late September and hoped the CDLE would amend the final version in their favor. 
Brian Brooks, president of the Colorado Association of Wheat Growers, asked the department to set overtime requirements for small employers at 60 hours per week, rather than the proposed 56 hours. However, the adopted rules were more worker-friendly than the proposed version on this point as they eliminated a separate rule for small employers and brought the threshold down to 48 hours starting in 2025, except for seasonal employers during peak season.
The Colorado Cattlemen's Association also called for a 60-hour overtime threshold, and not just for small employers, while Colorado Dairy Farmers requested an even higher threshold of 65 hours per week.
The farmworkers' rights bill also requires the CDLE to come up with rules on agricultural labor conditions, including rules for providing water to workers, protecting them from heat illness and guaranteeing them access to service providers. The CDLE filed proposed rules on agricultural labor conditions on Oct. 29 and will hold a public hearing about them on Dec. 9. A final version of the rules will be adopted by Dec. 30.