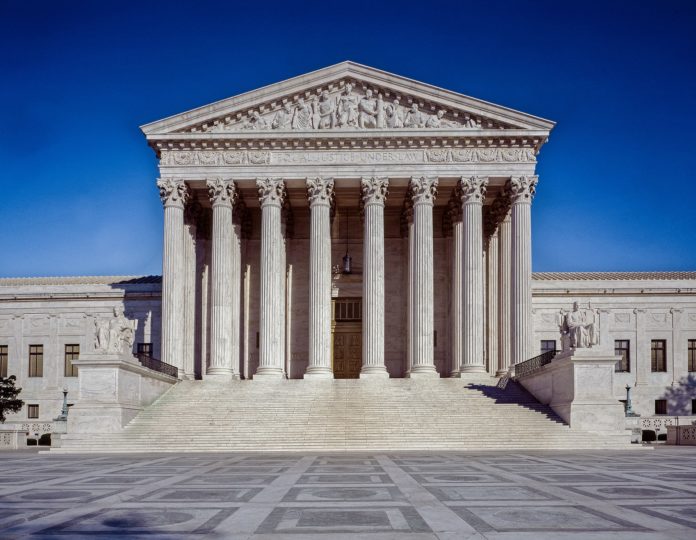 It's not on the oral argument calendar just yet, but a Colorado appeal to the U.S. Supreme Court is already one of its most watched cases for the 2022 term. 
With over 50 amicus briefs so far, 303 Creative v. Elenis has attracted national attention from legal scholars, religious groups, artists and civil rights activists over its potential impacts on public accommodation laws. Amici have poured in from all over the country and so far there's been12 briefs with Colorado connections.
Based on the Colorado Anti-Discrimination Act, 303 Creative raises unanswered questions for the court's narrow 2018 decision in Masterpiece Cakeshop v. Colorado Civil Rights Commission.
The Supreme Court will consider two questions from the appeal this fall. One, can public accommodation laws compel artists to speak or stay silent contrary to their religious beliefs protected by the First Amendment? And two, are public accommodation laws that grant secular but not religious exemptions in violation of a previous Supreme Court ruling, and if so, should that case be overturned?
Lorie Smith, a Colorado website designer, says CADA has prevented her from offering custom designed wedding websites since she'd like to include a disclaimer that she wouldn't offer the services to same-sex couples because same-sex marriage goes against her religious beliefs. 
Smith brought a pre-enforcement challenge in Colorado district court which ruled against her. The 10th Circuit Court of Appeals also rejected her claims, reasoning that since Smith creates custom goods granting her a CADA exception would "relegate LGBT consumers to an inferior market." 
Since the U.S. Supreme Court agreed to hear Smith's appeal in February, amici have filed briefs advocating for their positions including several with Colorado connections. Here are some of them so far. 
Religious Organizations
It's not surprising that many religious organizations, along with religiously affiliated publishers and media companies, have filed briefs in a case that asks if public accommodation laws can have religious exemptions. More locally, several Colorado religious chapters have filed in support of both sides. 
The Colorado Catholic Conference joined the U.S. Conference of Catholic Bishops, the General Council of the Assemblies of God, the General Conference of the Seventh-day Adventist, the Billy Graham Evangelistic Association and Samaritan's Purse in asking the U.S. Supreme Court to rule in favor of Smith. 
In its amicus brief, the Colorado Catholic Conference and other religious organizations wrote that since Masterpiece Cakeshop was decided on narrow grounds, federal courts have been split on when business owners can deny services based on their religious views. The groups added the First Amendment has historically protected minority religious organizations from exclusion in public discourse. 
Urging the Supreme Court to side with Smith, the Colorado Catholic Conference added that "In this emerging cultural landscape, fraught with heightened sensitivities and incentivized to push for 'all or nothing' solutions, protections for free speech seem particularly relevant and important."
On the other side, the Rocky Mountain Conference of the United Church of Christ, based in Denver, joined by the Western Jurisdiction of the United Methodist Church, Unitarian Universalists Association and Reconstructionist Rabbinical Association, asked the Supreme Court to rule in favor of the state of Colorado, but on different grounds than the 10th Circuit. 
Rather than hold CADA to strict scrutiny, the religious groups argued that an artist's commissioned work is the speech of the customer, not the artist. Website design, they argued, is a commissioned service like copywriting, and holding Smith to CADA wouldn't infringe on her rights to free speech. 
The organizations added there are diverse religions and religious views in the U.S. and urged the Supreme Court to balance important First Amendment protections of religious beliefs and practices with laws that regulate non-religious spheres. "These faiths recognize that our legal system distinguishes between the ironclad protections provided to religion in its own sphere and the different balances that society strikes in laws regulating commercial interactions in the civil sphere," wrote the Rocky Mountain Conference of the United Church of Christ.  
Public Interest Firms
Also on the 303 Creative docket are several Colorado-based public interest legal organizations voicing support on both sides of the courtroom. 
Lakewood-based Mountain States Legal Foundation, a non-profit organization that hopes to preserve individual freedoms in the courts, filed a brief in support of Smith along with the Southeastern Legal Foundation, based in Georgia. 
In its brief, MSLF characterized CADA as a way to suppress views of Smith from public dialogue. The organizations critiqued the 10th Circuit's use of strict scrutiny to assess CADA but added that even if the appeals court applied the level of scrutiny, the law wouldn't hold up since it imposed viewpoint discrimination against Smith. "The state of Colorado is forcing [Smith] to broadcast a message that [she] cannot reconcile with her religious convictions," wrote MSLF. 
On the other side of the issue, the American Civil Liberties Union of Colorado chapter and the national ACLU urged the court to uphold the 10th Circuit's ruling. 
ACLU Colorado emphasized CADA doesn't have any specific messages that it bars or doesn't bar and only applies limits on speech by businesses that offer public accommodations that don't offer services based on race, sex, sexual orientation and protected classes. "Under Colorado's law, artists are free not to offer their services 'to the public,' and are also free to select the goods and services they want to sell to the public," ACLU Colorado's brief points out. 
ACLU Colorado, the local chapter of the non-profit legal foundation that looks to defend civil rights and liberties, warned that adopting Smith's interpretation of CADA could result in public accommodation discrimination based on things like race, sex or even other religious views. 
Colorado Politicians 
The appeal has also attracted attention from Colorado politicians on both sides of the political spectrum at the local and national levels. Elected officials who've joined amicus briefs in the case tend to fall along party lines with most Democrats urging the court to uphold CADA and most Republicans asking it to rule in favor of Smith. 
Four of Colorado's seven U.S. House Representatives joined politically aligned amicus briefs. Representatives Doug Lamborn, Lauren Boebert and Ken Buck joined a long list of federal lawmakers urging the Supreme Court to overturn the lower court's ruling. Rep. Diana DeGette also joined an amicus brief with other representatives and senators asking the court to uphold the 10th Circuit's ruling. 
On the state level, 22 of Colorado's 100 representatives and senators urged the Supreme Court to strike down CADA. The amicus brief included lawmakers elected from rural and urban districts across the state who argued CADA and the state officials who enforce it censure the public and are politically motivated. 
Several Colorado cities joined an amicus brief filed by local governments and mayors in support of CADA. The list included the City and County of Denver and its mayor Michael Hancock and Boulder County. The local government amici explained siding with Smith could prevent them from protecting their citizens and enforcing laws meant to prevent discrimination. 
Attorneys and Academics 
The long list of amici in the appeal also includes several Colorado academics and representation from Colorado attorneys. 
On that list are three former or current University of Colorado School of Law professors. 
Professor Emeritus Robert Nagel was one of a handful of First Amendment scholars who asked the high court to rule in favor of Smith, writing CADA is similar to previous laws that the courts have struck down for compelling speech. 
Retired CU Law Professor Peter Huang joined a group of behavioral science and economics scholars who wrote in support of Colorado. The group argued behavioral economics shows that if CADA is struck down, free market principles likely wouldn't influence consumers' choices to replace the public accommodation law's protections for certain groups. 
Also writing in support of Colorado was CU Law Professor Scott Skinner-Thompson who joined a group of social scientists and legal scholars. The group argued that CADA protections for sexual orientation is a compelling state interest, citing social science research that discriminatory exclusion of LGBTQ people has led to poor health outcomes. 
The Colorado Psychological Association, joining national psychological and social worker associations, argues a similar point in its amicus brief. The organization pointed out research that public accommodation laws like CADA have played an important role in reducing stigma for LGBTQ people and other minorities and in turn have reduced psychological and physical harm. The organizations urged the court to rule in favor of Colorado. 
A handful of Colorado attorneys are representing amici parties. On top of local attorneys connected to MSLF and ACLU, Hogan Lovells Denver Associate Rachel Sakurai is part of the team representing a group of religious and civil rights organizations that support Colorado. 
The Colorado Catholic Conference and its fellow amici are represented by Colorado Springs attorney Eric Kniffin, a partner at Lewis Roca.