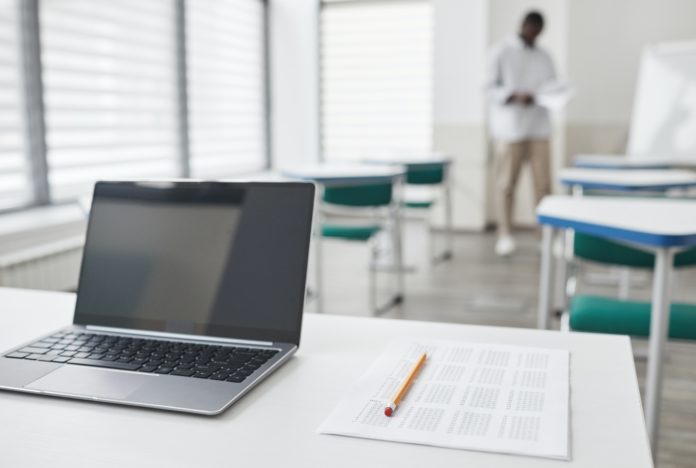 The February Colorado Bar Exam will run Feb. 22 through 23 and will be the first in-person bar exam since July 2020. With the ongoing pandemic, the Colorado Supreme Court's Office of Attorney Regulation Counsel, the department responsible for administering the bar, has planned several COVID-safety measures for test takers. 
The exam will be administered at the National Western Stock Complex in Denver and as of Feb. 15, 288 people are registered to sit for the bar. Attorney Regulation Counsel Jessica Yates noted that the actual number of test takers will likely be smaller since some usually drop out prior to the exam.  
Next week's exam will be the first in-person bar exam in 18 months. The February and July bar exams in 2021 were both held remotely due to the COVID-19 pandemic, but most states are returning to in-person exams this year. Of the 54 jurisdictions that hold February bar exams, only one state, Nevada, will hold remote exams in 2022 according to the National Conference of Bar Examiners. Last February, only 16 jurisdictions offered in-person exams, with 33 holding virtual bars. 
The upcoming exam has several COVID safety precautions in place, Yates explained. After holding an in-person exam during the pandemic, she said her office learned that those who sit for the exam are usually willing to comply with extra safety measures. 
"By and large, applicants want to be in safe environments to take the exam and so generally people are willing to abide by these types of protocols," said Yates. Like the 2020 bar exam, masks will be required of everyone sitting for the bar and staff who administer the test in-person, she said. 
Next week, proctors, test takers and administrators will also need to submit a daily COVID-19 questionnaire, which asks about symptoms and exposure. Anyone subject to quarantine or isolation will not be allowed to sit for the exam. 
Test takers were also required to disclose their COVID-19 vaccination status to the Office of Attorney Regulation Counsel in January. Test takers are considered fully vaccinated if they received either two doses of vaccines by Pfizer or Moderna or one dose of the Johnson & Johnson vaccine. 
Unvaccinated test takers and those who didn't submit their vaccine status must present a negative COVID-19 test administered within 72 hours of the start of the exam. The tests must be a PCR, rapid antigen or molecular test taken at a lab or test site.
So far, 265 of the examinees disclosed to the OARC that they are fully vaccinated, with only 20 disclosing they are not vaccinated and three who haven't submitted forms. Vaccinated test takers will be physically separated from their unvaccinated counterparts, "to the extent possible under the available seating conditions," according to the COVID protocols. 
Yates explained that these COVID-19 precautions were created several months ago when COVID rates were higher. She said the OARC wanted to make sure examinees had enough time to understand what their options and requirements for the bar would be and have enough time to comply with those requirements. 
"When you're developing protocols that far in advance, of course you don't know what real-time conditions will be the day of the event," said Yates. "So we are pleased that the COVID rates have declined, but we still felt that the COVID protocols that we developed previously were appropriate and that applicants would be counting on us following those protocols." 
Failure to comply with the COVID precautions will disqualify someone from sitting for the exam and could result in a referral to the OARC's Character and Fitness Panel, which might impact or delay admission to practice in Colorado. Not complying with the protocols is not cause to defer re-application fees. 
The OARC has a few COVID-19 deferral exceptions. "If there are circumstances that are beyond someone's control relating to COVID there can be an option to move to the July exam," explained Yates. Applicants who need to present a negative test but have their results delayed through no fault of their own and despite a "good faith effort" to get tested can apply to defer their exam and the reapplication fee. Examinees who test positive for COVID-19 ahead of the test can also apply for deferral. 
The COVID-19 pandemic forced jurisdictions administering bar exams to grapple with novel questions and challenges to balance safety and fairness. 
In 2020, some states canceled bar exams, offered remote options or tweaked bar admission requirements in response to the pandemic. A few states provided temporary diploma privilege (admission to the bar with a law degree), some temporarily lowered the bar's minimum passing score and others offered an open-book format or an online admissions assessment.  
As a Uniform Bar Exam jurisdiction, Colorado was one of many states that used software developed by ExamSoft Worldwide in partnership with the National Conference of Bar Examiners to administer its two virtual tests in 2021. While the virtual Colorado test went smoothly, other states experienced technical hiccups which raised questions over how to fairly administer remote exams. 
In August 2021, the NCBE released guidelines for jurisdictions to return to in-person exams. "Remote exams have been a valuable stopgap for jurisdictions during this time," said NCBE Director of Test Development, Operations and Security Beth Hill at the time. "However, remote exams create challenges for exam security and uniformity, and for this reason, we have consistently advocated for in-person testing as the best option whenever possible."
While next week's bar exam won't look quite like it did pre-COVID, the return to in-person tests with vaccines and other precautions reflects a new phase of the pandemic.