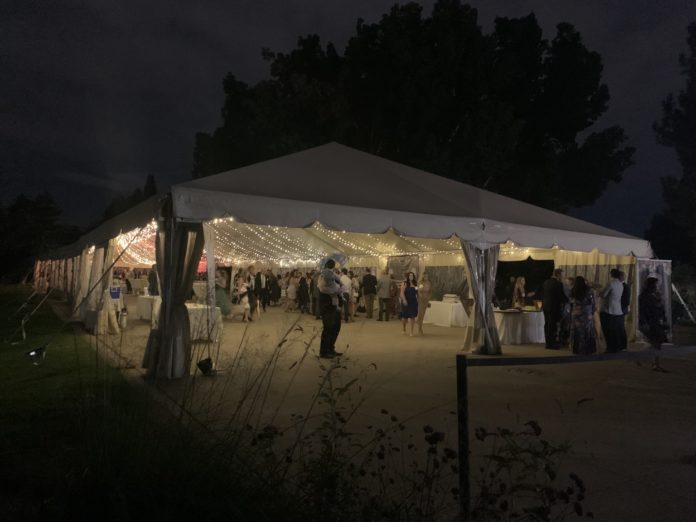 The Colorado Hispanic Bar Association hosted its 2022 banquet on Saturday to honor CHBA awardees, foster connections in the Hispanic legal community and announce a new scholarship. 
The 2022 Annual En El Jardín Banquet and Membership Meeting was hosted at the Denver Botanic Gardens and drew a crowd of more than 100 in-person guests. The event was sold out, according to organizers, with ticket and silent auction sales benefitting the CHBA and its foundation. 
CHBA president Carlos Romo explained this year's theme was service. This year, said Romo, the CHBA marked its 45th anniversary and has been able to serve the Colorado bar and community through its efforts both in and outside the law. He added that the 2022 meeting raised over $130,000 for the CHBA and its foundation. 
The event brought together CHBA members and others to celebrate nine people who've made a significant impact in Colorado's Hispanic and legal communities. This year's event honored 2021 and 2022 recipients of CHBA's Christopher A. Miranda Outstanding Hispanic Lawyer Award, Outstanding New Hispanic Lawyer Award, Individual Community Service Award and the 2022 Nonprofit Organization Community Service Award and Lifetime Achievement Award. The COVID-19 pandemic prevented a 2021 awards ceremony, so last year's award recipients were honored at the Aug. 20 ceremony. 
CHBA also announced a new scholarship for law students who are committed to serving underrepresented communities. The Lorenzo and Ellen Trujillo Scholarship was created by an endowment by two longtime pillars in Denver's legal community, Lorenzo and Ellen Trujillo.
Judge Regina Rodriguez of U.S. District Court for the District of Colorado was the event's keynote speaker. Rodriguez was appointed to the federal court last year after a long career as an attorney in private practice and in the U.S. Department of Justice. 
"One of the things I'm most proud to say to you tonight is I am not the first Latina or Latino to serve on the federal district court," said Rodriguez, opening the event and underlining the progress that organizations like CHBA have made to bring more diversity to the U.S. legal industry. 
She added that elevating Latino and Hispanic judges to leadership positions has involved commitment from elected officials and a strong sense of service from judges on the bench. She added that the decision to pursue a sworn position after building a highly regarded career in BigLaw and as a trial attorney may have surprised some. "But at the end of the day, there always was that ache in my heart, to get back to what I knew was my roots. And it is that service thing," said Rodriguez. "Many look at it as a sacrifice to leave perhaps certain parts of your life to be in public service. To me, it's a reward. And I'm very grateful to the CHBA for the support that they have given me to get to that place." 
The CHBA has come a long way since it was founded in 1977, Rodriguez said. Rodriguez, who was born in Gunnison to a Mexican father and Japanese-American mother, explained that when she graduated from the University of Colorado Law School in 1988, "things were really different." She explained that there were only a handful of Hispanic attorneys in Colorado and even fewer in the law firms along 17th Street in Denver. But now, said Rodriguez, Hispanic and Latino lawyers from Colorado are playing important roles in state and federal government, sitting on appellate courts and leading large legal departments. 
"So for those of you who are on your way, in your career… there are footsteps that you can follow in and people are so willing to support you all the way through," said Rodriguez. "And that's what I found. And look, we have these incredible honorees tonight, we have such a vast array of people who have opened doors for all of us and continue to open those doors."
One figure who's been instrumental in opening doors in the legal community, Rodriguez said, is Colorado Court of Appeals Judge Terry Fox who was given the CHBA's 2022 Lifetime Achievement Award. Fox has worked directly with judicial candidates to prepare them for interviews and mentored others, said Rodriguez, prompting 20 or so figures in the crowd to stand up, those who've been mentored or interviewed with Fox or her husband Jordan Fox. 
"That is not a singular achievement," said Rodriguez. "It's the community… That is what this community is all about and my wish for all of you is that you will have a lifetime of achievement like that."
Fox, who's been on the Court of Appeals since 2011, has been involved with numerous organizations and efforts to promote diversity in the legal field and was Law Week's 2019 Barristers Best people's choice for the best Colorado Court of Appeals judge. The CHBA lifetime achievement award is given to an attorney over the age of 55 who's made significant contributions to the Hispanic community. For Fox, that's included hands-on involvement in diversity initiatives, recognition by state and national bar associations and efforts to educate the public about Colorado courts, to name a few. 
CHBA recognized the 2021 and 2022 Christopher A. Miranda Hispanic Lawyer Award recipients Christine Hernández and Lisabeth Pérez Castle. The Hispanic Lawyer Award is given out every year to an outstanding Hispanic attorney in practice for more than five years who's shown commitment to the Hispanic community and principles of the legal profession. 
Hernández, a shareholder at Hernandez & Associates, is based out of Denver and works on family-based immigration cases as well as federal appellate matters. Law Week's 2019 Lawyer of the Year, Hernández is actively involved in the legal community in Colorado and nationally. 
Pérez Castle, of Castle & Castle, was a longtime attorney at the Colorado State Public Defender's Office before opening a private office to represent criminal defendants in state and federal court. Pérez Castle has had impacts on the ground of the legal system, helping establish a childcare facility for the Denver courts and teaching English as a second language among other efforts. Pérez Castle is also active in the legal community, lecturing at universities, teaching the U.S. justice system to Central and South American judges and lawyers and holding leadership roles at bar associations. 
The CHBA Outstanding New Hispanic Lawyer Award, which recognizes Hispanic attorneys in practice for five years or less who've shown a commitment to the Hispanic community and the principles of the legal profession, went to Sonia Ramirez Anderson for 2021 and Amber Gonzales for 2022. 
The 2021 Individual Community Service Award went to Shaleen Morales, a staff attorney at the Rocky Mountain Immigration Advocacy Network, and recognized her for her commitment to providing services benefitting the Hispanic community. 
Two 8th Judicial District Court Judges were honored with the 2022 Individual Community Service Award for their efforts to address justice barriers facing the Hispanic and Latino community in Larimer County. Chief Judge Susan Blanco and District Judge Juan Villaseñor helped establish a task force to identify and address barriers to justice which has led to increased translation of court materials, increased access to Spanish speaking treatment providers, a partnership between the court and the University of Colorado State's social work and psychology department and more. 
Fort Collins-based nonprofit Mujeres de Colores received the 2022 Nonprofit Organization Community Service Award for its work benefitting the Hispanic community. Founded by Betty Aragon-Mitotes, Mujeres de Colores supports children and women in Fort Collins' Tres Colonias neighborhood which has historically been home to the area's immigrant sugar beet workers. 
CHBA also announced the newly created Lorenzo and Ellen Trujillo Scholarship. The annual scholarship, supported by the CHBA Foundation, is a pipeline scholarship that will fund law students at the University of Denver and the University of Colorado who are focused on working in public service.