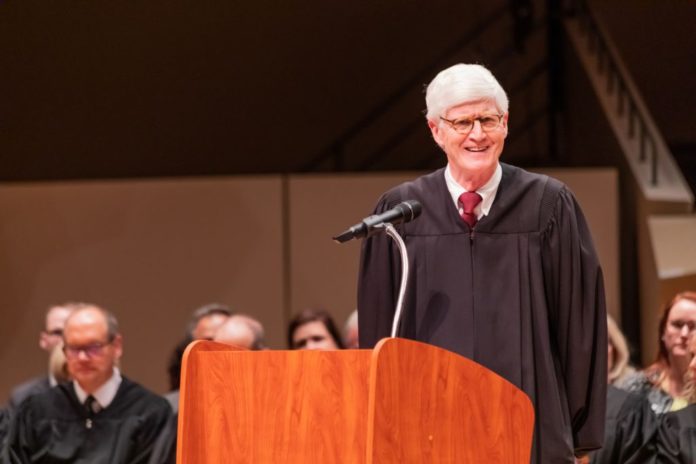 The Colorado Commission on Judicial Discipline last week recommended publicly censuring former Colorado Supreme Court Justice Nathan Coats over how he oversaw a number of former employees linked to recent scandals associated with the Colorado Judicial Branch. 
The 10-person commission issued a statement May 4 that it reached an agreement with the former justice that he failed to "perform judicial and administrative duties competently and diligently" in connection with a series of public scandals around former Judicial Branch employees. The statement singled out former employees Mindy Masias, Christopher Ryan, Eric Brown and other unnamed staff. 
According to the statement, a public censure is appropriate in cases when behavior "involves a substantial breach of the standards of judicial conduct." 
Masias, Ryan and Brown were central figures in a series of public scandals from 2018 through 2021 that alleged the Colorado Judicial Branch had a long history of covering up sexism, judicial misconduct and sexual harassment. It was also alleged Masias was awarded a lucrative contract to keep quiet when she left the office. 
While multiple investigations over the last couple years have debunked a number of accusations against the branch, they also found a $2.75 million contract was improperly awarded to Masias (although not to keep her quiet) and longstanding claims of sexual misconduct from a judge who was later selected for the senior judge program were true. 
Coats was the chief justice of the Colorado Supreme Court, in charge of overseeing the state judicial branch, for much of the public scandal. He was appointed to the leadership position in 2018 and stepped down in 2020 when he retired. 
This is the first time the Colorado Commission on Judicial Discipline has recommended sanctions for a state supreme court justice since it was created in 1963. 
The Colorado Supreme Court is ultimately responsible for adopting any recommendations but will not consider this case due to potential conflict of interest, according to the statement. 
Instead, a specially created tribunal with judges from the Colorado Court of Appeals will be selected to review the commission's findings and recommendations and ultimately decide if it will censure Coats. The statement noted more details about the tribunal and its timeline will be published in the near future. 
According to the release, Rathod | Mohamedbhai LLC attorneys Omeed Azmoudeh and Qusair Mohamedbhai served as special counsel on the "difficult and unprecedented assignment." 
The Colorado Commission on Judicial Discipline became the target of a number of legislative reforms last year following the scandals. 
Among those was Senate Bill 22-201 passed last year to create separate funding for the commission from the judicial branch under a newly created office, the Office of Judicial Discipline. This year, state lawmakers introduced a series of bills aimed at increasing transparency, independence and protections for potential victims in the judicial discipline process after an interim committee held meetings last summer on potential reforms.