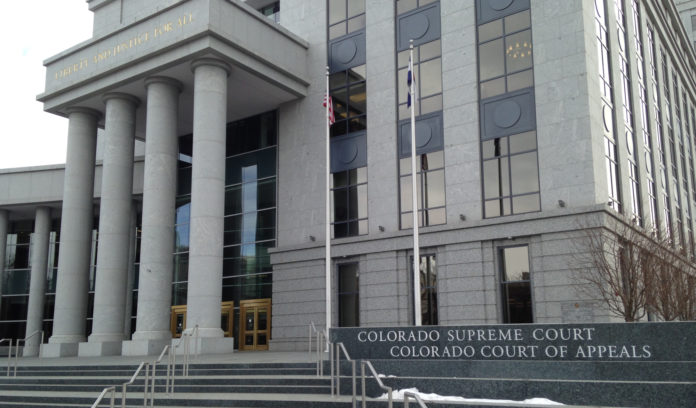 One of the investigations into the Colorado Judicial Branch scandal wrapped up, finding little evidence to support allegations of workplace sexism, harassment or cover-ups. 
A 130-page report by Investigations Law Group, which was hired by the Judicial Branch in November 2021, was released publicly on July 11 and includes the results of a seven-month investigation into a list of misconduct allegations from a former Judicial Branch staff member. 
Investigators couldn't corroborate many allegations of misconduct by judges, probation officers and other staff, but they found problems with how the branch did, or did not, investigate and discipline employees. 
Monday's report focused on a list of 16 allegations of misconduct written in 2019 by the Judicial Branch's former Human Resources Director Eric Brown. The list was published by the Denver Post in February 2021, which fueled an ongoing Judicial Branch scandal over a multimillion-dollar contract awarded to a former employee. The list contains allegations from a 20-year period across 24 judicial districts, which ranged from reports of systematic sexism and sexual misconduct by judges to departmental cover-ups. Three of the allegations were not looked into; investigators cited a lack of information for one, another is the subject of an open EEOC complaint and the third seemed to be an incomplete thought without enough information to follow up on. 
While investigators were able to confirm that most events occurred, Brown's list frequently misrepresented their nature, according to the report. 
"In each of the 13 matters I individually investigated, there was at least a grain of truth in the allegation, or the allegation was substantiated on some level," wrote ILG CEO and Senior Investigator Elizabeth Rita in the report. But, Rita wrote, in most cases the Judicial Branch responded to the events and in some cases made disciplinary recommendations. The report also pointed out that the allegations sometimes left out important context or misstated facts. "For this reason, the ultimate findings in most of these cases were more nuanced than simply findings that the allegation was — or was not — substantiated."
Investigators spoke with 168 people and took the written statements of seven more for the investigation, with some witnesses reaching out and investigators identifying others. ILG also incorporated written documents for each incident provided by the Judicial Branch, witnesses and databases. 
ILG grouped the allegations into three main categories: judicial misconduct, finance department employee misconduct and probation department employee misconduct. 
While some of the more controversial allegations — including reports that a judge emailed pornography to a colleague, gender-based discrimination and allegations that the sexual harassment of a clerk was covered up to ensure a Court of Appeals Judge was elevated to the state Supreme Court — were misrepresented or unsubstantiated, the report did find evidence to back up other allegations of misconduct. 
One substantiated event claimed that a "judge exposed and rubbed his hairy chest on a female employee's back," but wasn't reprimanded and was later considered for the Senior Judge Program. 
After interviewing 10 people and looking at documents from the time, investigators were able to substantiate the incident happened in 2007 and added the judge also told the employee to "come sit on his lap" and made other sexual remarks to her. The Judicial Branch's State Court Administrator's Office investigated the judge at the time and he was privately admonished for it by the Colorado Commission on Judicial Discipline, the investigation found. The report verified that the judge was a part of the Senior Judge Program for two years but was fired after the Judicial Branch learned about the incident. 
The report also supported allegations that various chief judges had a hostile relationship with the SCAO investigating harassment and discrimination in their districts. According to the report, from 2009 through 2011, chief judges were upset that they weren't receiving prior notice about investigations. The tension stemmed from an investigation by the SCAO in the 12th Judicial District which allegedly fell behind schedule, pulled staff away from their jobs and soured the relationship between former District Chief Judge O. John Kuenhold and the office. The report confirmed allegations that Kuenhold told the SCAO investigator to leave his district and that she wasn't welcome there. 
Investigators were also able to corroborate reports about two financial managers at the branch. One manager had used Accurint, a database with sensitive information used by law enforcement, to look up various Colorado leaders. Another manager was reprimanded twice for sexual harassment and once for discrimination against female colleagues, but the investigations and reprimands weren't thorough, according to the report. 
The report is the latest development in a years-long scandal around the state courts which has resulted in widespread criticisms around transparency for judicial discipline. 
Brown, the former employee who leaked the allegations to the press last year, is one of two former employees which the Office of the State Auditor recommended for referral to law enforcement earlier this year for allegations of fraud. 
Colorado Supreme Court Chief Justice Brian Boatright acknowledged ILG's critiques of how the branch has handled complaints in a July 11 statement. He also emphasized that the branch will take its findings into account going forward and increase transparency. 
"Our judges, their staffs, probation department, the legal community, elected officials, regulators and Coloradoans who rely on our system of justice must know how we deal with allegations of misconduct," wrote Boatright. "They must have confidence that the system works, because if they don't it isn't working."
While most of Brown's allegations weren't backed up, ILG identified places where the Judicial Branch could strengthen its workplace policies. 
"There is a special risk for harassment occurring in workplaces like the Judicial Branch," the report explained. "There are significant disparities of power between appointed officials and employees. Many judges supervise staff and run their individual courtrooms without any background in management or legal compliance. Some employees in rural Districts work in relative isolation. Many employees fear retaliation and are confused about their reporting avenues. All these factors can increase the likelihood of harassment in a workplace." 
Currently, the branch has insufficient avenues for confidential and safe reporting, outdated and inefficient workplace conduct training and a lack of transparency and accountability, according to investigators. A branch-wide survey also found that employees fear retaliation for reporting harassment and discrimination and the investigators found there weren't shared cultural values to which everyone is held. 
The report recommended the branch create an Office of People and Culture to implement cultural changes as well as written policies on workplace professionalism and conduct. The branch should also create more avenues for reporting, the investigators found, and prioritize diversity, equity and inclusion as institutional values. 
Based on input from branch employees and public critiques, the report recommended numerous steps to increase transparency around how the branch handles reports of wrongdoing. The report recommended annual, comprehensive evaluations of district chief judges, bi-annual judicial district surveys, more comprehensive judge evaluations by the Colorado Commission on Judicial Performance and formalized policies on when judicial discipline proceedings should be public. 
The Judicial Branch doesn't have to adopt any of the recommendations from the ILG report, but Boatright explained he asked Justice Monica Marquez, the next chief justice, and State Court Administrator Steven Vasconcellos to create a Colorado Judicial Branch Workplace Culture Initiative with input from the report. 
"More information will be forthcoming, and we will be involving many people across the department," wrote Boatright.