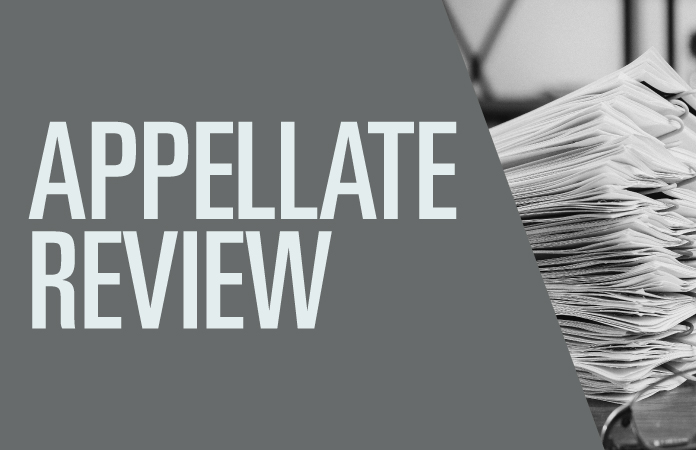 Over the past year, the Colorado Court of Appeals decided several high-profile cases running the gamut from universities' duty of care regarding sexual assault allegations to the use of fire as a deadly weapon and more. Although the court doesn't get the same attention as the Colorado Supreme Court, its opinions still carry weight and importance.
Enforceable Noncompete Agreements
In late April, the Colorado Court of Appeals examined two questions yet to be addressed in Colorado in Johnson Family Law, P.C. v. Grant Bursek: Does an agreement that creates a financial disincentive but not a complete ban on a lawyer's continued representation of a client after leaving the firm violate Rule 5.6(a) of Colorado's Rules of Professional Conduct? If so, is that agreement enforceable? 
"This case speaks to some predatory business practices that exist," Ruchi Kapoor, the principal attorney at appellate and policy boutique firm Kapoor Law + Policy, said. "As the owner of a small law firm, I can say it's a really tight market to provide legal services. Everyone feels like this is a really competitive market because there's so many lawyers in the Denver Metro area and so few clients."
The court concluded that disincentives designed to indirectly discourage, rather than outright prohibit, attorneys from continuing representation violate the rule, which prohibits any "agreement that restricts the right of a lawyer to practice." The Court of Appeals ruled courts should determine if an agreement unreasonably restricts a departing lawyer's practice to decide if it's enforceable. The reasonableness standard, the opinion said, should be based on the agreement's effect on lawyer autonomy and client choice, the financial impact of an attorney's departure on the firm, the relationship between the disincentive and harm and other relevant factors. 
The case emerged when Grant Bursek resigned from national firm Johnson Family Law, P.C. — doing business as Modern Family Law — in 2019 and 18 of Bursek's clients decided to follow him. Before he left, Bursek signed a reimbursement agreement in which he agreed to pay MFL $1,053 for each client that left the firm to follow him, an agreement he wasn't sure was even legal. MFL attempted to enforce the agreement, requesting $18,963 for the clients that left the firm, but Bursek refused to pay.
According to Kapoor, this case reached the right result for clients. "A client has more of a relationship with their attorney than they do with a law firm," Kapoor said. "It makes it much harder for clients to be able to choose attorneys appropriately if they're actually choosing a law firm."
Defining a 'Deadly Weapon'
In People v. Joshua Strickler, the Colorado Court of Appeals determined that, if used right, fire is a "deadly weapon" under state law.
Following a structure fire at Joshua Strickler's unoccupied apartment, he was found guilty of attempted extreme indifference murder, attempted first-degree arson and attempted criminal mischief. A division of the Colorado Court of Appeals affirmed the convictions, concluding that Strickler's use of fire met the statutory definition of "deadly weapon."
Jury Selection and Court Proceedings
Throughout the 2021 session, the Colorado Court of Appeals settled five major cases dealing with different aspects of trial validity, jury selection, court proceedings and sentencing policies. 
In July 2021, the court handed down a decision in People v. Landis, finding no First Amendment violation in restricting a sex offender's social media access. The opinion originated when Christopher Landis appealed his probation sentence for attempted sexual assault on a minor, arguing that the restrictions that prohibited his use of social media and the internet without approval from a probation officer violated his right to free speech. A three-judge appellate panel rejected his claim. 
"While we fully acknowledge that, to date, the internet has become one of the most important places, if not the most important place, for people to exchange views and ideas, under the circumstances here, we disagree with both of Landis's contentions," wrote Judge Janice Davidson. "We conclude that although the probation conditions at issue are not the least restrictive means available, they are still sufficiently narrowly tailored to serve the significant government interest of protecting minors from a convicted sex offender who is still serving his sentence and is still in the midst of rehabilitation."
The following month, August 2021, the Colorado Court of Appeals held that a guilty plea doesn't waive review of a defendant's claim that a judge showed actual bias. In People v. Amber Jennings, Jennings pleaded guilty to possession of methamphetamine with intent to manufacture or distribute. The court advised her that by entering her plea, she would lose, among others, her right to appeal. Later, Jennings brought three claims to the Court of Appeals. Although her guilty plea precluded review of two claims, the court ruled that her third claim — the trial court was biased — was not waived. 
In People v. Reginald Clark in March 2022, the Court of Appeals upheld Reginald Clark's conviction but, in an unusual move, each of the three members who heard the case issued their own opinion regarding racial bias' role in the case and a juror's comments that diversity isn't a good thing. 
Judge Terry Fox wrote in the majority opinion that the juror's comments could theoretically be considered a political view, but his acknowledged bias against non-white people, such as the defendant, was clear and the juror should've been dismissed. However, Judge John Dailey disagreed that the lower court abused its discretion in denying the challenge, asserting that while the comments implied racial bias, the court wasn't compelled to excuse them. Neither thought the case warranted a conviction reversal or remand. Only Judge Timothy Schutz wrote, in his partial dissent, that the trial judge should have dismissed the juror and that Clark's convictions should've been reversed. 
"This [case] gives me the green flag that the Court of Appeals is paying attention to issues of race," Kapoor said. "I think that the courts of appeals are all struggling with 'What do we do with peremptory strikes and how do we deal with that as a bigger issue in terms of the criminal justice system?' … that whole institution of peremptory is very much rooted in race and that's the issue that the court is dancing around in this opinion." 
According to Kapoor, the court system continuously hesitates to address and discuss racial bias in cases across levels. 
"I really hope the Supreme Court takes on this case," Kapoor said. "I want them to figure out a way to incorporate in a more impactful way how we apply rules in criminal cases." 
Later, in an April criminal case concerning "mercy killings," People v. Bruce Bagwell, the Court of Appeals held that a victim's alleged consent to be killed isn't a defense, even if they're terminally ill. In this case, Bruce Bagwell shot and killed his wife, who had been diagnosed with terminal cancer. According to Bagwell, the shooting was a "mercy killing" done at her request after doctors estimated she had only weeks to live. The division of the court concluded that this is not an acceptable defense, noting that a victim's consent can only be a defense that causes or threatens non-serious bodily injury. 
"An injury that causes a victim's death is necessarily serious because it involves a permanent and dangerous impairment of the victim's physical condition," wrote Judge Eric Kuhn. "The consent defense is not available, then, when a defendant intentionally kills a victim who consents to her own death."
Educational Institutions
The Colorado Court of Appeals' May decision in John Doe v. the University of Denver ruled that universities have a duty of care to conduct a thorough and impartial investigation into sexual assault allegations. This case arose after one University of Denver student, Jane Roe, alleged another, John Doe, had sex with her without her consent. Doe was given a copy of the university's procedures — which required an impartial investigator to be assigned to the complaint — by the Office of Equal Opportunity. However, no witnesses named by Doe, including individuals present leading up to the alleged incident, were initially interviewed.
After the investigator concluded "it is more likely than not that [Doe] engaged in non-consensual sexual contact with [Roe] on the morning in question," Roe was expelled. Following multiple appeals through lower courts, the Court of Appeals found that the university's procedural documents were specific enough to constitute an enforceable contract and rejected the holding that DU didn't owe Doe a duty of care to investigate the claims based on the risk in the defendant's conduct, the likelihood of injury weighed against it, the burden of protection from injury and the consequences of placing the burden on the defendant. 
"[Based on this ruling], once you pass a policy or procedure as an institution, it becomes a contract between the institution and the students, and that's really interesting," Kapoor said. "That's a concept that's taken from employment law… When we think about contacts, we think both sides have equal bargaining or negotiating power and come to a place where they think the terms are fair to both parties. But in a situation like this… students don't really have input or that negotiating power, they're just agreeing to [the policies]."
Also for the first time in Colorado, in October 2021, a division of the Colorado Court of Appeals examined the standard applied to school officials' searches and seizures of students in People in the Interest of C.C-S., ruling that school security officers acting as quasi law enforcement can't make unreasonable searches and seizures. 
The issue arose after a Denver Public Schools security officer acted on a stale anonymous tip and searched a student — C.C-S. — for weapons without his consent. They didn't find any weapons, but officials found marijuana and marijuana paraphernalia and charged C.C-S. with possession by a minor and possession with intent to distribute. C.C-S. was found guilty of both charges in a bench trial, but the division found the student's Fourth Amendment rights were violated by the detention and search based on an anonymous, stale and uncorroborated tip. 
"Juveniles are entitled to the same constitutional protections that adults are," Kapoor, who has extensive appellate experience in juvenile matters, said. "It's important to give ourselves constitutional guardrails around, for example, when a police officer parked in a school can conduct a search based on information from a tip hotline… This case is a good indicator to schools, and to police officers in schools that the constitution is still in full effect." 
"Overall, our court of appeals seems to be moving in the right public policy direction," Kapoor said. "I think it seems like a more harmonious court, which is better for public policy and the strength of the judicial institution overall."