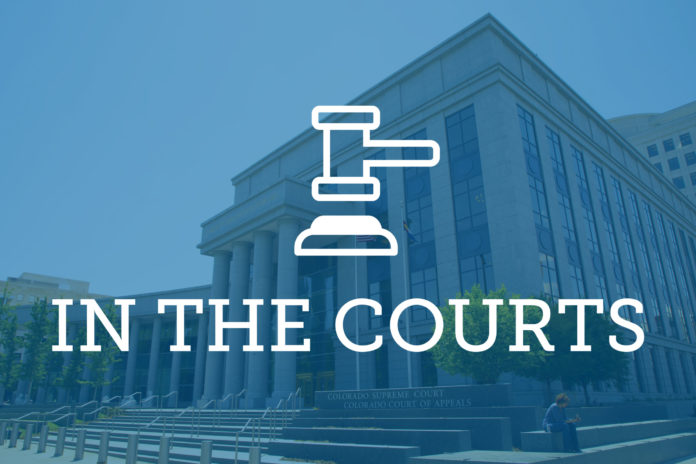 Editor's Note: Law Week Colorado edits court opinion summaries for style and, when necessary, length.
Brown v. Walker Commercial, Inc. 
The Colorado Supreme Court en banc unanimously reversed a judgment involving the state's rules of civil procedure.
Colorado Rule of Civil Procedure 106(a)(4) provided for review of quasi-judicial decisions made by a government body or officer in a civil matter, where the law otherwise doesn't provide a plain remedy. Unless a statute establishes a different time limit for review, a complaint seeking a review under 106(a)(4) needs to be filed in district court no later than 28 days after a final decision of the body or officer — 106(b).
The question before the Colorado Supreme Court was whether the 28-day deadline under 106(b) for filing a 106(a)(4) action can be extended for excusable neglect. Walker Commercial, Inc., a developer, filed a 106(a)(4) complaint which sought a review of a decision by Marshall Brown, the director of water for the city of Aurora, to levy a storm drain fee against Walker's real property. Walker filed the 106(a)(4) complaint in district court 30 days after Brown's final decision, two days past 106(b)'s 28-day filing deadline.
Walker contended 6(b) allowed a district court to extend 106(b)'s filing deadline upon showing excusable neglect. Brown disagreed, arguing 6(b) doesn't apply to 106(b) because 106(b)'s deadline established a limitation period that is jurisdictional and needs to be strictly enforced.
The district court issued multiple orders including denying Walker's motion for an extension of time as it concluded 6(b) doesn't apply to 106(b)'s jurisdictional deadline and regardless, Walker hadn't shown excusable neglect. 
The appeals court reversed the district court's orders. The appeals court held 6(b) allowed trial courts to accept late-filed 106(a)(4) complaints upon showing excusable neglect. The appeals court further held the standard for determining whether excusable neglect exists under 6(b) parallels excusable neglect under 6(b). The appeals court remanded the case for the district court to reconsider Walker's 6(b) motion for an extension of time, applying the excusable neglect standard the appeals court outlined. It also asked the lower court to articulate its reasoning for dismissing Walker's claim for declaratory relief, if it again dismissed the amended complaint on remand. 
According to court records, Walker's additional claim wanted a declaration that Brown's decision wasn't effective because Walker began proceedings within 30 days and under Aurora's city code, Brown's final decision becomes effective 30 days after notice is mailed or served on the petitioner unless proceedings for review by a district court are commenced within that time.
The Colorado Supreme Court agreed with Brown and concluded 6(b) doesn't apply to extending 106(b)'s 28-day filing deadline. The high court found 106(b) established a limitation period for invoking the district court's jurisdiction under 106(a)(4). The high court added courts may not extend 106(b)'s limitation period under 6(b) on grounds of excusable neglect. 
When the Colorado Supreme Court applied that understanding of 106(b) here, it concluded the district court properly dismissed Walker's 106(a)(4) amended complaint as untimely. The Colorado Supreme Court further surmised if the original complaint was untimely, the trial court properly dismissed Walker's additional claim raised in the amended complaint. The Colorado Supreme Court reversed the court of appeals judgment.
The Colorado Supreme Court en banc reversed a judgment in a case involving term limits.
The case required the high court to determine if the office of mayor in the city of Thornton is a separate office from council member in the city for purposes of Article XVIII, section 11(1) of the Colorado Constitution, which restricts individuals from serving more than two consecutive terms in office.
In Thornton, the city council consists of nine members with one of them serving as mayor. The council members are selected from four wards and serve four-year terms. The mayor is elected at large and serves a four-year term.
In 2013, Jan Kulmann was elected to Thornton's City Council and was reelected to a second term in 2017. In 2019, when serving as a council member, Kulmann ran for and was elected mayor of Thornton. She resigned from her post as council member to serve as mayor.
In 2021, Cherish Salazar, a Thornton resident and eligible elector, filed an action against Kulmann and co-petitioner the city of Thornton, wanting a declaratory judgment concerning the effect of section 11 on Kulmann's mayoral position. Salazar sought declaration the mayor's seat and council members are part of one elected body and are the same "office" concerning section 11. According to court records, Salazar also sought declaration that section 11 prohibited Kulmann from serving a "third term" on the city council and was required to vacate her position immediately because her resignation after completing more than half her second term as a council member represented the completion of that term or, no later than Nov. 28, 2021 — the date which her second consecutive term as a councilor would have ended.
After the parties cross-moved for summary judgment, the district court granted Salazar's request for declaration on the first issue, finding the mayor and council members aren't defined or treated so separately to justify separate application of section 11. The court initially found the term "office" in section 11 ambiguous.
As for the second issue raised by Salazar, the court found Kulmann's partial term didn't constitute a full term. Therefore, Kulmann had served just one term on the city council, with her current term as mayor constituting the second term.
Both sides appealed to the Court of Appeals, which was consolidated. Kulmann and Thornton then petitioned the Colorado Supreme Court, noting the urgency presented by upcoming election deadlines. 
The high court, based on the plain language in Thornton City Charter and Thornton Municipal Code, concluded the mayor and council members in Thornton serve in distinct offices. The Colorado Supreme Court reversed the district court's ruling declaring the mayor's seat and council member seats are part of one elected body and are the same office concerning section 11 term limits. It further found Kulmann can seek one more consecutive term for the mayor's office.
The Colorado Supreme Court further concluded the phrase "in office" in section 11(1), which refers back to "nonjudicial elected official," refers to a specific office and not an institution or governing body.
Justices William Hood and Maria Berkenkotter dissented.
"Colorado's many municipalities (and other political subdivisions) have their own charters, structures, and procedures, vesting their elected officials with diverse powers and responsibilities," Hood wrote. "But article XVIII, section 11 of the Colorado Constitution ('section 11') sets a statewide requirement: no person may serve more than two consecutive terms 'in office' unless their constituents vote otherwise. No such vote occurred here. Instead, the majority eliminates the need. It simply applies the word 'office' to the mayoral seat on the Thornton City Council, rather than applying it to the governmental body of which that seat is a part."
People v. Knisley and Concerning Tina Peters
The Colorado Supreme Court en banc unanimously made a rule absolute in a case involving a subpoena and a judge.
In February, Mesa County District Court Judge Matthew Barrett presided over a hearing in the case People v. Knisley. During the hearing, District Attorney Daniel Rubinstein asked to approach the bench. Rubinstein informed Barrett his paralegal alleged to him that Tina Peters, who was in the courtroom and a defendant in a separate case in which Barrett was presiding, appeared to be recording the hearing. Rubinstein confirmed he saw the screen and said it was recording.
Barrett asked Peters if she was recording, and the response, according to the transcript, was indiscernible. Barrett asked Peters if she was broadcasting the hearing, and she responded no. Immediately after, Deputy District Attorney Jonathan Mosher informed the court at the time Rubinstein approached the bench, Mosher looked at Peters' screen and saw it was depicting what was going on in the courtroom. Barrett had another conversation with Peters where she said she wasn't recording. Later in the hearing, Barrett stated he didn't find one way or another whether the person was recording, and said he relied on that representation in not entering any type of action at that time.
A few weeks later, prosecutors filed a verified motion for an order directing the issuance of a citation commanding Peters to show cause why she shouldn't be held in contempt for alleged dishonesty to the court in regard to the recordings. According to a witness, Peters later admitted she was recording.
After prosecutors filed the motion, Barrett issued a written order concluding out of an abundance of caution, the verified motion should be referred to a separate judicial officer. Barrett further surmised he was referring the motion to reassignment because he may be a peripheral witness. Barrett reiterated he never found Peters was or wasn't engaging in videotaping, nor could he because he didn't observe it. 
The verified motion was assigned to Judge Lance Timbreza, and after reviewing the transcript, the verified motion and affidavits, Timbreza directed the issuance of a citation as to why Peters shouldn't be found to be in indirect contempt for allegedly being dishonest with the court. Many months later, Peters served Barrett a subpoena to appear for a deposition in the contempt action. Barrett filed a motion to quash the subpoena, arguing his testimony was unnecessary because the transcript demonstrated he didn't observe Peters' alleged misconduct and any deposition would impermissibly intrude on his mental processes.
All district judges in the 21st Judicial District recused themselves from the contempt matter, and 5th Judicial District Chief Judge Paul Dunkelman presided over it. Dunkelman denied in part Barrett's motion to quash, ruling Barrett made a clear record he didn't observe Peters allegedly recording the proceedings and he interpreted Peters' response to him as a denial she was recording. The court, however, agreed with Peters that the record didn't capture the tone, demeanor or attitude of Peters or how her alleged conduct may have offended the dignity of the court. On these issues, the district court surmised there could be information or knowledge no other person other than Barrett has. The court found Barrett could be deposed for a limited scope. 
Based on Peters' representations, she didn't seek to examine or question Barrett on his mental processes or about why he made a particular decision, as the district court order stated the parties agreed Barrett's mental processes are not subject to discovery. Barrett came to believe, based on Peters' counsel's later representations, Peters did, in fact, want to delve into Barrett's mental processes. Barrett then filed a motion for a protective order limiting his deposition to written questions only or imposing additional limitations on how the deposition would proceed. 
According to court records, Peters filed a response that generally denied Barrett's allegations concerning the intent. Peters stated, however, in her view, Barrett's opinions on her credibility were appropriate lines of inquiry. The district court denied Barrett's request to limit the deposition to written questions, but did impose additional restraints on it, including limiting the lengths of it to one hour while permitting it to be recorded.
On the day the deposition was going to take place, Barrett filed in the Colorado Supreme Court a petition seeking relief from the district's orders allowing the deposition to proceed and denying his motion for a protective order.
Due to the facts before the high court, it determined it couldn't conclude Barrett's testimony was necessary to the proceeding, finding the district court abused its discretion compelling Barrett to appear for a deposition in the case. The Colorado Supreme Court wasn't convinced Barrett had factual knowledge pertinent to the contempt charge beyond the transcript, among other arguments. 
The rule to show cause was made absolute.