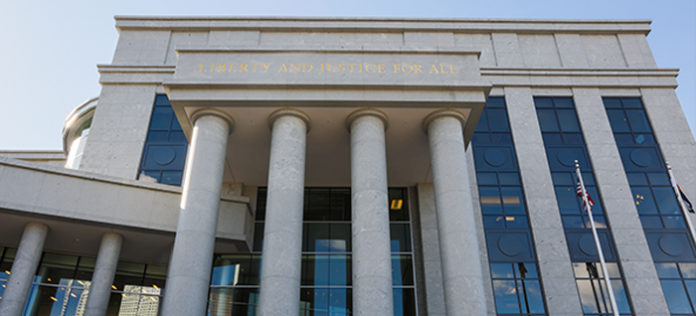 Editor's Note: Law Week Colorado edits court opinion summaries for style and, when necessary, length.
Colorado Supreme Court Opinions, June 14, 2021
In a monumental employment compensation case, the Colorado Supreme Court determined employers must pay unused, earned vacation time to any employees who leave the company. Further, it ruled that any internal agreements or policies that waive this right are void under the Colorado Wage Claim Act. 
Carmen Nieto was fired from Clark's Market in March 2017 after more than eight years of employment. Nieto accrued 136 hours of unused vacation time totaling $2,244 at the time of termination based on Clark's employee policies. Citing an internal policy barring all employees who are fired or do not give proper notice from earned vacation benefits, Clark's refused to pay Nieto any of her accrued hours. 
Nieto sued her former employer, arguing that under section 8-4-101(14)(a)(III) of CWCA the internal policy was void and she was entitled to all unused vacation pay. A district court dismissed Nieto's complaint for failure to state a claim and Nieto appealed the decision to the Colorado Court of Appeals. 
In 2019, the state court of appeals sided with Clark's market, interpreting the CWCA to mean that vacation time must be earned and vested, and since Nieto was terminated it was not vested.  
The Colorado Supreme Court considered if, under CWCA, vacation pay must be vested to be protected and if internal policies that forfeit vacation pay are valid. Finding the language of 14(a)(III) ambiguous, the court looked at the CWCA's legislative intent, language and structure, purpose, legislative history and agency interpretation. 
The supreme court shot down the state court of appeal's decision and ruled that the state legislature intentionally omitted "vested" in the language of 14(a)(III). But, even if the omission was a "questionable drafting choice" as the lower court ruled, "vested" is synonymous with "earned" in the CWCA.
Further, applying CWCA's purpose "to protect employees from exploitation, fraud and oppression" to mean the remedial statute should be "liberally construed to carry out its purpose," the supreme court found the lower court's decision contradicted the statute's purpose. 
The Colorado Supreme Court overturned the decision, remanding the case to the lower court. 
The Colorado Supreme Court considered whether or not sentencing restrictions from Allman v. People apply to sex offense cases. Overturning a decision by the state court of appeals, the supreme court ruled that consecutive prison and probation sentences are legal in cases when the where the convicted is sentenced to sex offense-specific probation. 
Michael Manaois pleaded guilty to menacing and sexual assault after he kidnapped and raped his ex-girlfriend at knifepoint. He was sentenced to two years in prison for the menacing charge to be followed by at least six years of Sex Offender Intensive Supervision Probation. 
After serving his two-year prison sentence, Manaois began his SOIP under the supervision of a probation officer who asked the court to revoke the probation twice. During the second attempt to revoke the sentence, Manaois filed a motion arguing the consecutive sentences were illegal and asked the court to either remove the SOIP or to vacate his guilty pleas. The court denied this motion, and after Manaois admitted to violating terms of his probation, re-sentenced him to prison which Manaois quickly appealed. 
While on appeal, the state supreme court announced its decision in Allman prohibiting district courts from sentencing jail and probation back-to-back. Based on the Allman decision, a division of the Colorado Court of Appeals declared Manaois' sentence illegal and remanded the lower court to vacate his guilty pleas, sentence and conviction. 
After the remand, the state requested Manaois' original charges be reinstated. Shortly after this request, the Colorado Court of Appeals released its decision in Ehlebracht that Allman limits do not apply to sex-offense sentences since the Sex Offender Lifetime Supervision Act has "a unique sentencing scheme emphasizing sex offender specific objectives."
The state court of appeals denied a motion by the prosecution to recall its original motion and the case was appealed to the supreme court. The supreme court considered how sex offenses and non-sex offenses are treated by the law. It looked at the General Assembly's historic treatment of sex offenses, how SOLSA compares to general sentencing statutes and Ehlebracht. Ultimately, the Colorado Supreme Court ruled that SOLSA is a complicated and standalone sentencing scheme designed for sex offenses in mind. Given that determination, the court decided the sentencing restrictions established by Allman do not apply to sex offense sentencing. 
In a partner case to Manaois, the supreme court once again clarified when the sentencing restrictions issued in Allman do not apply. A consecutive sentence is legal in cases when the defendant has a SOISP probation even when they are charged with a non-sex offense. 
A jury found Patrick Keen guilty of sexual assault, false imprisonment and misdemeanor assault after he assaulted his girlfriend with a bottle. Keen was sentenced by the district court but brought a postconviction claim for ineffective assistance of counsel. Keen later entered into a new agreement, pleading guilty to two added charges in exchange for a lesser sentence followed by a consecutive SOIP sentence. 
Keen challenged his sentence after the Allman decision was released. The district court considered Ehlebracht and determined it to be a rare exception to Allman and scheduled a resentencing hearing. The prosecution asked the state supreme court to weigh in on the case. 
The district court identified two minute differences between Ehlebracht and Keen's case: Keen was sentenced to a determinate, not indeterminate SOISP, and the sentence was for a sex-related offense, not a sex offense. 
Based on its decision in Manaois, the Colorado Supreme Court decided that Keen's sentencing was legal. The court pointed to the crime of violent statute in support of its ruling. Interpreting the language of the statute, the court declared "had the legislature intended to require courts sentencing someone to mandatory prison for a crime of violence to also impose a prison sentence for a non-violent crime, it presumably would have said as much."