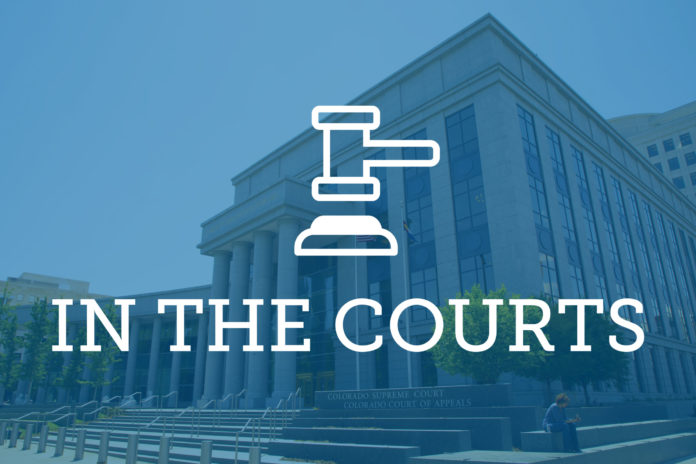 Editor's Note: Law Week Colorado edits court opinion summaries for style and, when necessary, length.
People v. Phillip D. Amos III
On Oct. 9, 2020 Phillip Amos III and two of his colleagues went to lunch where he consumed three to four beers. Amos returned to his office and kept drinking. He didn't recall how much alcohol he consumed thereafter but admitted his memory was "hazy" from that point on. 
The firm he worked for had hired an assistant for Amos since he was experiencing personal issues and work-related stress. Amos called his assistant into his office where he proceeded to ask personal questions and make derogatory comments about her girlfriend, her body, her sexual history and her sexual orientation. Amos drove home while intoxicated and was fired from the firm that same night. 
A presiding disciplinary judge found Amos committed a criminal act that reflects adversely on a lawyer's honesty, trustworthiness or fitness and that he engaged in sexual harassment in connection with a lawyer's professional activities. 
The presiding judge suspended Amos for six months on the completion of a two year probation period with conditions including therapy, sobriety from alcohol and other drugs and alcohol testing. The probation took effect on Oct. 25. 
People v. Robert J. Corry Jr. 
Robert Corry Jr. accepted $3,500 from a client in 2016 to file a challenge to Colorado Springs' municipal ordinance limiting personal medical marijuana cultivation. Corry did not deposit the payment into a trust account and, despite requests from his client, did not file the lawsuit. In 2020, Corry was unable to provide the client an accounting of the fees. 
In 2018, a client paid Corry's firm $12,000 as a retainer for anticipated drug-related criminal charges. The retainer was never deposited into a trust. The client severed representation before any of the retainer was earned, but the money was never refunded. In early 2020, the client's new lawyer sent requests for a refund that Corry only responded to once and never completed the refund. No record was kept of the retainer. 
The presiding disciplinary judge found Corry's actions violated several rules related to keeping clients informed, maintaining sufficient records for clients, representing client interests on termination and not engaging in conduct that is dishonest, fraudulent, deceitful or misrepresented. Corry was disbarred effective Nov. 12. 
People v. Robert A. Francis
Robert Francis became infamous in the Colorado courts after years of filing bad faith and redundant lawsuits. 
From 2010 to 2021, he initiated 28 lawsuits in five different courts, as either a litigant or a representative, all stemming from the same complaint. Despite numerous rulings against Francis on the matter, including from the Colorado Court of Appeals, and orders to pay legal fees, he continued to file lawsuits. 
The Pitkin County District Court banned Francis from filing in the district unless accompanied by a certificate from another lawyer attesting to the legal validity of the complaint. Pitkin County Court noted that he had "long engaged in a vexatious pattern of filing lawsuits for strategic purposes" that drove up opposing parties' legal fees and wasted judicial resources. In November 2020, the state Supreme Court immediately suspended Francis' license to practice law, but he continued to file lawsuits. The Colorado Supreme Court took the extreme measure of barring Francis from representing himself pro se earlier this year for what it described as "a game of judicial whack-a-mole." 
In an unrelated matter, Francis filed several suits and two appeals stemming from the same dispute. One court ruled that the claims were litigious and not grounded in fact or law. The other found the claims were unfounded and part of a "seemingly unending campaign of baseless litigation." Well over $100,000 in attorney's fees were assessed against Francis or related entities. 
The presiding disciplinary judge found Francis violated rules barring attorneys from assering frivolous claims, making knowingly false statements of fact or law, unlawfully obstructing another party's access to evidence, knowingly disobeying rules of a tribunal, practicing law without a valid license and engaging in dishonest conduct prejudicial to administering justice. 
Effective Nov. 1, Francis was suspended for three years. To be reinstated, he must prove that he is "rehabilitated, has complied with disciplinary orders and rules and is fit to practice law."
People v. Christopher James Fry
At his former firm, Modern Family Law, Christopher Fry was hired by Christopher Simpson for a post-decree modification of child support. Simpson paid Fry $2,850 as a retainer that would cover 10 hours of legal services. Ten days after paying the retainer, Modern Family Law charged Simpson's credit card $344.50 and from thereon he was charged various amounts for unspecified costs. Fry was unresponsive and unfamiliar with Simpson's case, missed deadlines, failed to file documents and didn't respond to client concerns. 
After months of unsuccessful proceedings with his ex-wife, Simpson hired a new attorney. His credit card was charged once again for over $3,000. Simpson's new counsel Mark Chapleau reached out to Fry for relevant documents in the post-decree modifications proceedings. Fry was unresponsive or slow to respond to time-sensitive requests. 
In June 2020, Fry filed a notice of attorney's lien against Simpson that claimed the firm was owed $3,138.50. However, Simpson did not owe the firm any money, had paid over $8,000 to the firm and had a remaining retainer of more than $2,000. Simpson's attorney contacted Fry, who claimed the filing was due to a financing mistake and that he would withdraw. Instead, Fry filed a notice of satisfaction of judgement that falsely claimed Simpson's judgement was satisfied despite no factual basis for the complaints. 
In correspondence with Chapleau, Nicholas Tootalian from Modern Family Law claimed that the lien was filed to protect the firm after Simpson filed a dispute of charges with his credit card company. The firm continued to charge Simpson after he terminated representation, including for filing fees of its own lien and response to his notice and request for attorneys fees. 
The presiding disciplinary judge held a sanctions hearing that Fry did not join. In March, the state Supreme Court suspended Fry for failure to cooperate in the disciplinary investigation.  
The judge held that Fry violated professional conduct rules around client communications and requests, charging clients, not acting in the client's interests upon termination, asserting frivolous claims, making false statements and failing to cooperate with disciplinary investigations. It suspended Fry for 18-months effective Oct. 26. To be reinstated he must prove that he is "rehabilitated, has complied with disciplinary orders and rules and is fit to practice law."
People v. David Kenniston Fulton Sr.
David Fulton Sr., a licensed real estate agent and attorney, represented Glenwood Springs couple Jonathan and Marisa Gorst in a handful of real estate matters starting in 2016. 
When he first represented the couple in the purchase of a piano bar, Fulton charged them a flat fee of $1,500 but he did not break down the expenses included in the bill. In connection with the piano bar purchase, Fulton lent Jonathan Gorst $30,100. In the deed of trust to secure the loan, Fulton included no language to specify if he was representing the couple in the transaction. In January 2018, Fulton drafted and entered into a restatement of the loan agreement. He did not advise Jonathan Gorst to seek advice from independent counsel or obtain informed consent that he would represent him in the matter. 
In 2017, the Gorsts hired Fulton to represent them in the purchase of a new home. Again, Fulton did not provide a written explanation for his fees or expenses. In March 2018, the couple sold their previous home, a transaction Fulton did not represent them in. The couple owed a balance of $17,239.93  to the Bank of Colorado on the home that Fulton paid off claiming it was a loan to the couple despite no written agreement. Fulton did not advise the couple to seek advice from independent counsel. Fulton paid an additional $18,000 to the home buyer's real estate agents after they raised inspection objections. Once again, Fulton claimed the payment was a loan despite no written agreement. The contract was later cancelled and the $18,000 returned. 
Fulton then represented the couple in the potential purchase of a new home starting in March 2018. The Gorsts cancelled the contract but the sellers would not return $10,000 in earnest until the couple signed a release form. Fulton advised the couple not to sign the form and gave them $10,000 that he said they could repay once the matter was resolved. Once again there was no written agreement nor advice to seek independent counsel. 
Fulton continued to represent Jonothan Gorst in the attempted purchase of Eagle's Club and later claimed he was never paid for costs connected with the representation although he did not provide a written basis or rate for fees and expenses. 
In November 2018, after his professional relationship with the Gorsts was terminated, Fulton filed two lawsuits against Marisa and Jonothan Gorst and claimed they owed him money for the payment and interest on the deed of trust to the Bank of Colorado. In defending these lawsuits, the couple have spent more than $30,000 in attorneys fees. 
A hearing board found that Fulton violated several rules around attorney conduct including informing clients of the basis of fees and not advising his clients to seek independent counsel when entering into business agreements with him. The board suspended Fulton for six months stayed on a two-year probation with conditions that took effect Oct. 29. 
People v. Kerry P. Rohweder
Kerry Rohweder represented two clients in separate domestic relations cases. The clients married one another during representations but began hanging disputes and Rohweder, as a friend, agreed to help them resolve the personal conflicts. 
Rohweder withdrew from both cases in 2015 and in 2016 and then the clients initiated divorce proceedings. Rohweder prepared and signed an affidavit that described an altercation he had observed between the former clients while still their attorney. The affidavit that was prepared as an exhibit to pleading described the abusive nature of one of the clients. The same information was provided to the parental responsibilities evaluator assigned to the divorce. 
The presiding disciplinary judge found Rohweder violated rules that bar attorneys from revealing disadvantageous information related to the representation of a former client. The court suspended him for nine months on the successful completion of a two-year probation with conditions. The probation went into effect on Nov. 8. 
People v. Robert Wiegand II
Robert Wiegand II amended his client's living trust to include himself. Under the amendment, his client was unable to remove him as a trustee and while he remained a trustee he would keep charging her fees, even if she terminated him as her attorney. 
He did not advise his client about the conflict of interest created by representing her while being a trustee or explain that it created a risk of materially limiting his representation of her. Wiegand never obtained written consent waiving the conflict and also never informed her about the conditions of the amendment regarding his representation of her. 
Six months after the amendment was executed, the client terminated Wiegand's representation and asked him to resign as a trustee. Since the terms of the trust required unanimous consent to remove a trustee by the beneficiaries, Wiegand did not step down. The following year Wiegand and another trustee filed an action for a declaration on the validity of the amended trust and other testamentary documents related to the trust, and for an evidentiary hearing to determine whether a guardian ad litem should be appointed for his former client on trust matters. 
The presiding disciplinary judge found Wiegand did not explain matters sufficiently so his client could make an informed choice and he continued to represent her despite a conflict of interest. The judge disciplined and publicly censured Wiegand with the condition that he take seven hours of estate planning CLEs. The public censure takes effect Dec. 15.