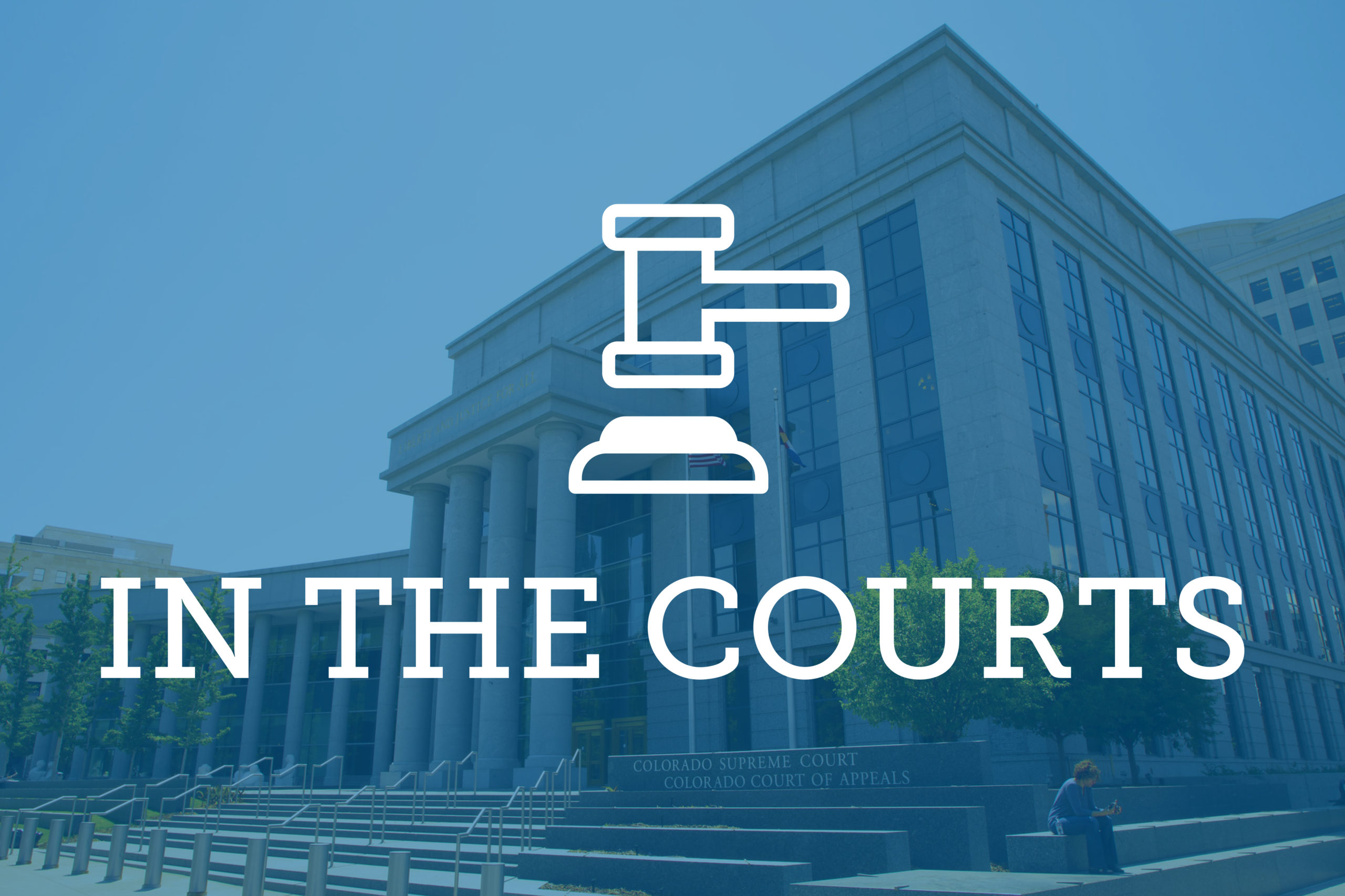 Editor's Note: Law Week Colorado edits court opinion summaries for style and, when necessary, length.
People v. Boston H. Stanton Jr. 
In February 2018, Boston Stanton Jr. was retained by a client facing an ongoing criminal investigation. The client believed his arrest was imminent and wanted his lawyer to begin as much pre-arrest work as possible so that he could bond out quickly after his anticipated arrest. Stanton agreed to handle the matter for a fee of $20,000, which Stanton characterizes as an "engagement fee" that he earned immediately, as it was paid to secure his availability to handle whatever the client needed. But Stanton didn't reduce his fee agreement to writing, and his client never received any writing setting the basis or rate of the fee. When Stanton received the $20,000 money order from his client, he deposited the funds directly into his operating account, reasoning that he earned the engagement retainer on receipt. 
Stanton says he immediately prioritized his client's matter over his other work, performed extensive research and frequently spoke with the client on the phone. More than a year passed, however, and charges weren't filed against Stanton's client. 
Between November 2019 and February 2020, Stanton and his client discussed a possible refund. In February 2020, Stanton agreed to send his client $500 per month. The next month, the pandemic essentially shut down Stanton's business for a period of time. In February 2021, Stanton offered his client $1,000 to "settle things." The client cashed Stanton's check and then submitted a request to arbitrate the fee dispute to the Colorado Bar Association, which sent the request to Stanton via email and U.S. mail. Stanton didn't respond. He disputes receiving the request. The CBA closed the matter, and Stanton hasn't refunded any money other than the $1,000. 
Stanton maintains he earned the full amount of the engagement retainer. But because he didn't comply with the ethical requirements governing an engagement retainer fee agreement, he was required to — but did not — treat the fee as a flat fee and deposit it into his trust account until he earned it by performing legal services. 
The Presiding Disciplinary Judge approved Stanton's stipulation to discipline and publicly censured him with conditions, including successful completion of trust account school, a financial audit and submission of his fee dispute to the CBA Legal Fee Arbitration Committee. The public censure took effect Oct. 4. 
Patrick C. Hyde
In November 2018, Patrick Hyde was suspended for six months with the requirement that he petition for reinstatement, if at all. Hyde's disciplinary suspension was premised on his failure to follow recordkeeping requirements and his mishandling of funds held in trust, which resulted in the commingling of unearned funds with his own funds.
A majority of the hearing board at a reinstatement hearing concluded reinstatement wasn't appropriate because Hyde failed to prove by clear and convincing evidence that he's fit to practice law and that he has been rehabilitated from his underlying misconduct.
The board denied Hyde's reinstatement to the practice of law. On Sept. 30, the Colorado Supreme Court affirmed the order without opinion. He may not file another petition for reinstatement for two years. 
People v. Collin Michael Coakley 
In September 2021, Collin Coakley pleaded to a deferred judgment for the unauthorized use of a telecommunications device as an act of domestic violence, a class-three misdemeanor. Coakley was sentenced to two years of probation and conditions related to domestic violence. 
He has completed the required conditions and is compliant with the terms of his probation. 
The deferred judgment is premised on Coakley's interference with his wife's 911 call in March 2021. Coakley's wife called 911 following an altercation between her and Coakley. Coakley took the telephone from his wife and disconnected the call. A 911 operator returned the call, and Coakley returned the telephone to his wife, who told the operator that she had accidentally dialed 911. But soon after, Coakley's wife again called 911 and reported that Coakley had physically assaulted her. Law enforcement responded and arrested Coakley on charges of felony strangulation. Following Coakley's arrest, however, his wife declined to submit to a medical evaluation and didn't sign a release allowing law enforcement to review her medical records. Coakley's wife allowed law enforcement to conduct alternative light imaging of her neck, but the imaging didn't reveal any marks. 
The Presiding Disciplinary Judge approved Coakley's stipulation to discipline and publicly censured him, effective Oct. 10. 
People v. Paul Thomas Amundson 
In April 2020, Paul Amundson deposited the proceeds from the sale of his client's marital residence into his trust account. Amundson withdrew the sale proceeds from his trust account between May and September 2020. But this disbursement wasn't authorized by a written agreement of the parties or by a court order. In September 2020, Amundson wrote the opposing party a check for the party's share of the sale proceeds. The check didn't clear, so Amundson obtained and deposited a loan to supplement the funds in his trust account. By November 2020, Amundson's trust account held a negative balance, even though Amundson hadn't yet disbursed to his client any of the sale proceeds. In July 2022, Amundson finished paying his client the share of the proceeds he should have disbursed in September 2020. 
In a different matter, in 2021, a client paid Amundson a $1,000 advance for an anticipated bankruptcy filing. In early 2022, the client advanced Amundson another $3,000 for help in a family law matter. Amundson didn't deposit the client's funds in a trust account or hold the funds separate from his property. In March 2022, the client loaned Amundson around $5,000. Amundson didn't obtain the client's written agreement to the terms of the loan, however. Nor did Amundson advise his client to obtain independent counsel about the loan. 
From April through at least December 2020, Amundson neither kept a ledger for nor reconciled his trust account. Amundson used his trust account as an operating account from at least April 2020 through July 2022. During that time, Amundson wrote himself trust account checks, which he cashed, and made cash withdrawals from the account. From at least March 2022 through July 2022, Amundson didn't maintain an operating account. 
The Presiding Disciplinary Judge approved Amundson's stipulation to discipline and suspended him for three years. The suspension, effective Oct. 4, takes into account significant mitigating factors, including Amundson's timely good faith to make restitution by taking out a loan against his home in order to pay back his client. To be reinstated to the practice of law in Colorado, Amundson must prove by clear and convincing evidence that he has been rehabilitated, has complied with all disciplinary orders and rules and is fit to practice law. 
People v. Selvoy Peterson Fillerup
Selvoy Fillerup represented a criminal defendant charged with second-degree murder. The client paid Fillerup over $10,000 based on the retainer agreement, which neither stated an hourly rate nor set forth benchmarks or other indicators for how Fillerup would earn the fee. Fillerup didn't deposit any of the client's funds into a trust account. After Fillerup successfully moved to withdraw from the representation while the case was pending, his former client requested a partial refund and the case file. Fillerup didn't respond, return the file or provide any refund.
In a separate matter, Fillerup contracted with the Office of Respondent Parents' Counsel to represent indigent parents in child welfare proceedings. In several cases, Fillerup failed to appear for hearings and twice failed to sign agreements necessary for his clients' admission into the family recovery court program. When ORPC attempted to contact Fillerup about his failure to appear, Fillerup didn't respond, leading ORPC to reassign Fillerup's cases to other lawyers and terminate his contract.
In a third matter, Fillerup, who represented a domestic relations client, failed to attend several appearances. Because Fillerup also failed to notify his client about the appearances, his client also didn't attend. The court eventually held a default hearing in October 2021. Neither Fillerup nor his client appeared at the default hearing, and the court issued permanent orders based on the opposing party's proposed parenting plan and proposed separation agreement. Fillerup failed to meaningfully respond to his client's pleas for information about the case. The next month, child support enforcement authorities activated an income assignment against Fillerup's client. The client later retained new counsel, who requested Fillerup provide the case file. Fillerup never responded to the lawyer's request.
Following a sanctions hearing, the Presiding Disciplinary Judge disbarred Fillerup, effective Nov. 3.
CORRECTION NOTE: This article was updated Oct. 21 to include information in an amended case summary transmitted by the Colorado Supreme Court – Office of the Presiding Disciplinary Judge.