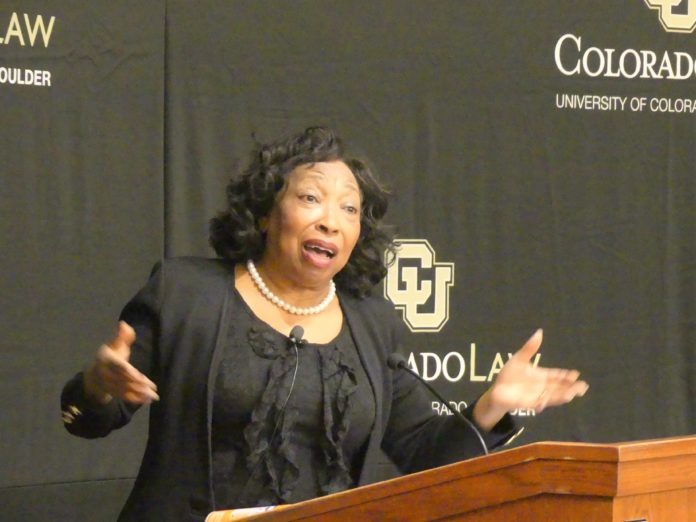 The University of Colorado Law School hosted its 10th annual John Paul Stevens Lecture on Tuesday presented by Judge Bernice Donald from the U.S. Court of Appeals for the 6th Circuit. The differences between rule of law in theory and in practice — historically and today — was Donald's focus. 
Since 2011, CU has hosted the annual lecture featuring distinguished jurists and legal experts. The COVID-19 pandemic forced last year's lecture to be entirely virtual, but this year's event was hybrid with both virtual and in-person audiences. 
Donald has sat on the 6th Circuit Court of Appeals since her 2011 appointment by former President Barack Obama. Throughout her career she has been a trailblazing jurist. She was the first Black woman to serve as a judge in Tennessee, on U.S. Bankruptcy Court for the Western District of Tennessee, on the U.S. District Court in the Western District of Tennessee and on the 6th Circuit Court of Appeals. Earlier this year, Donald announced that she will take senior status — a form of semi-retirement — on the 6th Circuit Court of Appeals once her successor is confirmed. 
"Increasingly, citizens are concerned about whether or not the courts will protect their rights, whether they can be assured that the rule of law will deliver the protections, equal protections, equal access, equal opportunity," said Donald. "All of us as stakeholders in the system must be concerned about that." 
Donald cited studies that found Black Americans were unlikely to believe that they would receive justice in civil or criminal courts. She said that Hispanic, Latino and Asian Americans also expressed suspicion over their outcomes in the U.S. court system. Only white Americans were consistently confident that they could receive a just outcome. "Citizens all over this country are engaging in some of the same concerns," said Donald. 
Donald emphasized that there is no universal definition of rule of law, but legal professionals are often taught similar meanings. "Because we're all lawyers and law students, we think about rules, procedures and laws that are administered consistently, not on an ad hoc basis and not unduly influenced by politics." But, Donald said, everyday people often have a different understanding of what rule of law means and how it applies to them. "When we look at the literature, the literature supports that that is not the reality on the ground. And as long as that is not the reality on the ground, then we have an issue." 
Donald holds a master's of law from Duke University where she wrote about rule of law in the 1866 Memphis Massacre for her thesis. "The topic of my thesis was when the rule of law breaks down, because it does sometimes." 
She explained that the rule of law during the Memphis Massacre — three days of violence and terror led by police officers and government officials against Black men, women and children — and similar events from America's reconstruction era, are historic examples of what can happen when the concept applies differently to groups and individuals. She emphasized the causes of the Memphis Massacre began when Black Union Army soldiers gathered and waited for payment for their service, "that came about because an African American man dared to assert the same rights as his white counterpart asserted." 
Donald mentioned the history of the 1921 Tulsa Race Massacre when a prominent Black community in Oklahoma was terrorized and burned resulting in the death and injury of many Black Americans and the destruction of the neighborhood. Like the Memphis Massacre, police and other government officials played an active part in the violence and failure to intervene. "And I bring that up to go back and talk about some of the very tortuous history that we have experienced even under the rule of law," said Donald, "but, you know, that for those individuals at that time, they must have had a very different perception of how the rule of law related to them than did the majority community." 
Recent events have reignited discussion over rule of law and how it applies to individuals and groups, Donald explained. She compared the Jan. 6 attack on the U.S. Capitol by a mob of former President Donald Trump supporters and the death of George Floyd while in police custody in May of 2020. "Those things brought to the floor whether or not all citizens shared equal protections of the law, shared equal responsibilities and burdens of the law, or whether or not there was a favor accorded to some that was not accorded to others, or a burden imposed on some that was not imposed on others, " Donald said, "I think we're still grappling with that." 
Donald emphasized that the existence of laws is not enough to create a fair rule of law. "America has always had good strong laws," said Donald, "we had good, strong laws when treaties were violated. We had good, strong laws when slavery existed. We had good, strong laws during Jim Crow and during the reconstruction. But laws are not self-executing."
"The rule of law means more than just passing laws, it means the fulfillment of those laws and the application and interpretation as well as end results and outcome," said Donald. 
Donald ended with a personal example of why maintaining rule of law and remembering historic times when rule of law broke down is important. 
She explained that her first school as a child — a two-room, cinder block building without running water — was segregated despite Brown v. Board of Education having already been issued. "That was, under Mississippi's laws at that time, satisfactory under separate but equal," said Donald. She said that Mississippi did not desegregate its schools until 1966 with the passage of the Civil Rights Act, almost a decade after the Supreme Court struck down separate but equal. "I say that to tell you that strong laws, even when those laws come from the highest court in the land, are not enough to make change without the goodwill and commitment of men and women like you," Donald said, "because the laws are not self-executing."
"Until every citizen can claim equal access, equal opportunity, then the rule of law is deficient," said Donald, adding that "We must determine what is the rule of law in practice, not just in theory." 
The full 10th Annual John Paul Stevens Lecture presented by Donald is available to watch on CU Law School's YouTube page.