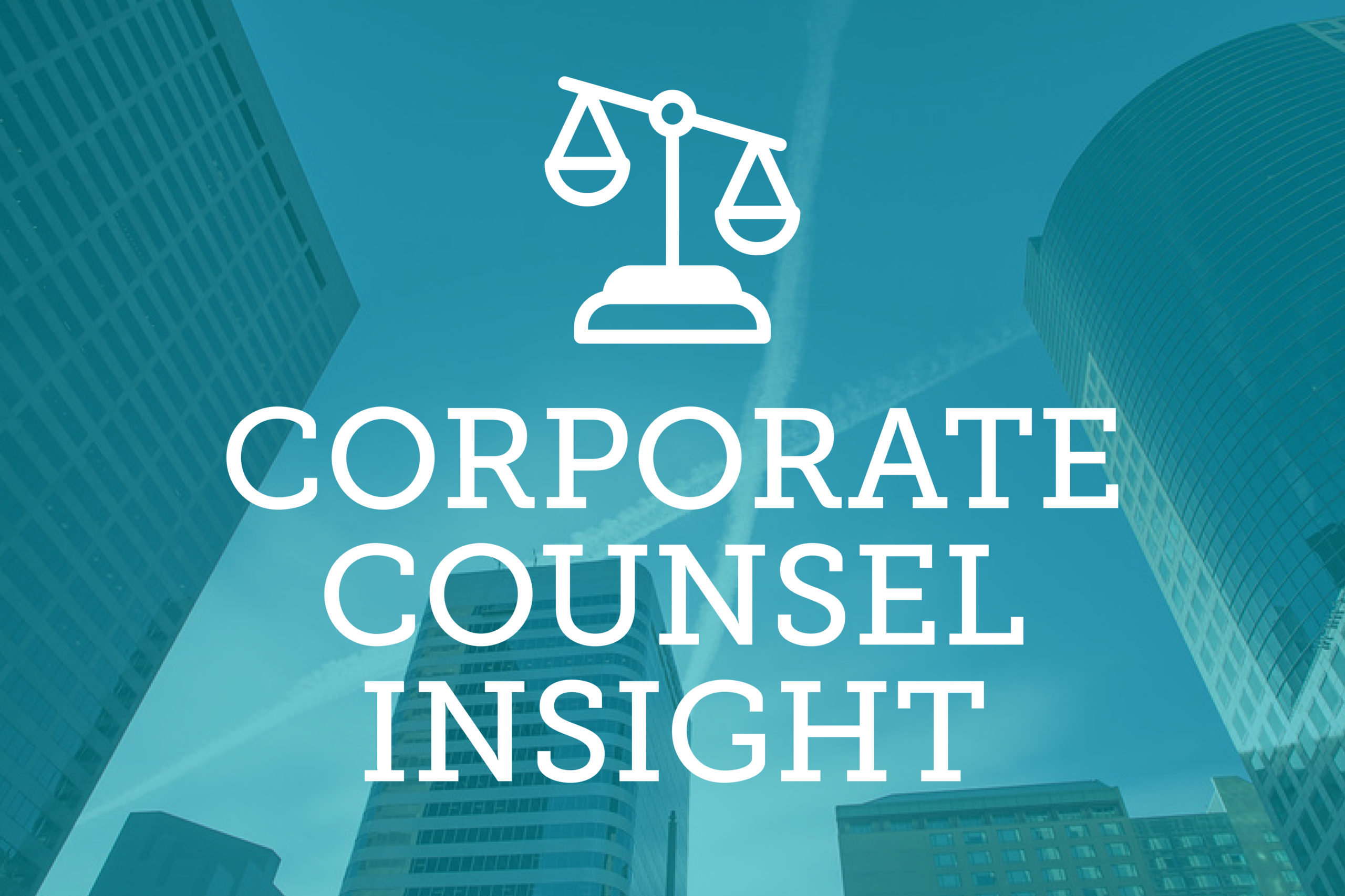 Last year, the National Labor Relations Board saw a steep increase in the number of new union representation petitions and unfair labor practices. The rise in employee labor law complaints is part of a trend local attorneys have seen in Colorado and across the country. 
NLRB, the national agency charged with investigating unfair labor practices and overseeing union elections, reported in fiscal year 2022 it experienced a spike in union representation petitions and unfair labor charges. Data from the first half of FY 2023 shows that trend is set to keep going. 
Last fiscal year, the agency's 48 field offices received 2,510 union representation petitions, up 53% from the 1,638 petitions filed in FY 2021. Unfair labor practice charges were also up from the previous year, with 17,988 charges filed in FY 2022 up 19% from the 15,082 charges from FY 2021. In total, the agency received 20,498 new filings last fiscal year, according to NLRB data. 
And data from the first six months of FY 2023 showed new intakes are on track to match last year's numbers. From October 2022 through March 31, the agency received 9,592 ULP charges and 1,200 union petition filings, a total of 10,792 new cases.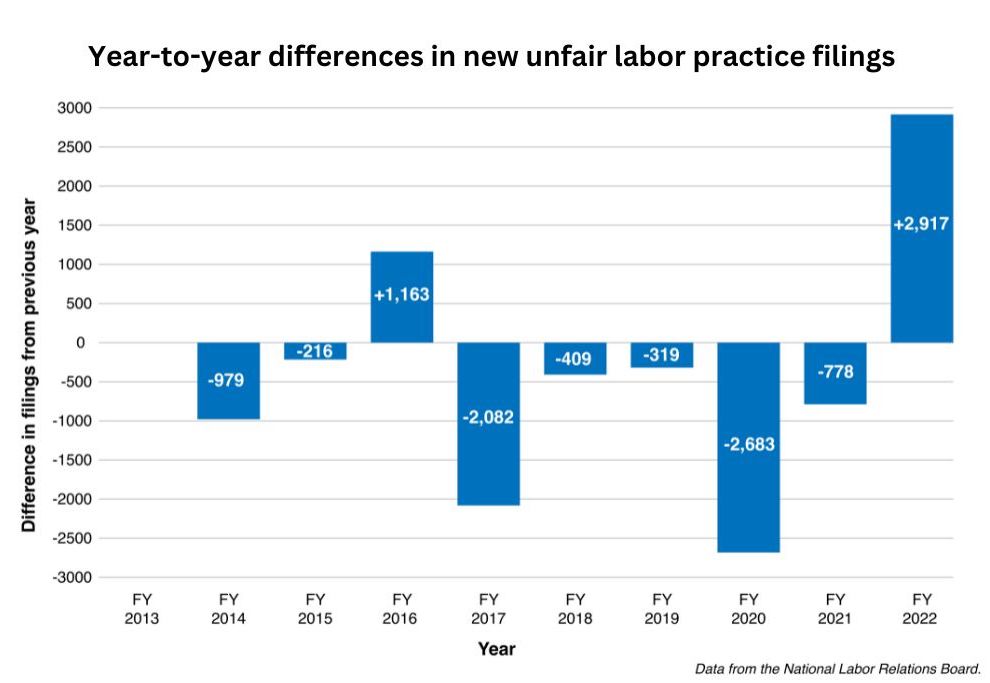 Unfair labor practice charges filed with NLRB are allegations from current or former employees that employers violated the National Labor Relations Act. They can include allegations an employer fired, retaliated or threatened to retaliate against an employee for engaging in protected activities such as joining a union, discussing wages or participating in union activities. New filings don't necessarily translate to actual violations of NLRA, but rather allegations from employees. Petition filings are requests by an employee, union or employer for a union election or recognition of a union or decertification of a union by NLRB. New petition filings data also don't account for how the petitions are resolved. 
Allegations of other employment law violations are filed with state agencies like the Colorado Department of Labor and Employment. 
The NLRB numbers are a sign of a larger trend in Colorado and nationally, according to Messner Reeves Denver partner Allison Dodd who said she's seen a rise in the number of administrative filings from employees. 
Dodd has practiced employment and labor law since she joined the firm in 2014 where she advises clients on compliance, strategies to avoid litigation as well as collective action and individual action complaints. Her practice covers Colorado and she's also represented clients in matters from other states. She primarily represents employers but has also represented a handful of plaintiff-employee cases. 
While COVID-19 brought a dip in administrative filings and employee complaints, Dodd said she's seen an increase in the number of agency filings by employees since around the fall of 2022 at both NLRB and CDLE. While she hasn't seen a spike in litigation yet, Dodd believes it's on the horizon. 
"We're not seeing the litigation kind of yet, because it's still so early. But the agency filings, because in an employment context [employees] have to exhaust those administrative remedies, but we're having to respond to a lot more charges," explained Dodd. 
In her practice, Dodd said she's specifically seen an increase in the number of smaller complaints brought by individuals over matters like rest breaks and wage and hour disputes. 
"They're usually very minor wage and hour violations," said Dodd. "But the [Colorado Department of Labor and Employment] is picking those up and clients are having to spend a significant amount of time and effort gathering the data and providing a substantive response."
While it's hard to pinpoint the reason for the increase, Dodd believes the increased number of worker-friendly bills passed by the Colorado legislature and recent decisions by NLRB have empowered former and current employees to file with administrative agencies. She added the slate of employee-focused laws going into effect in Colorado are also probably contributing to the spike. 
"Employment issues are top of mind and they make news all the time," said Dodd who added CDLE's resources for employers and workers on how to stay in compliance with laws and file complaints make it easy for an employee to file wage and hour disputes without retaining an attorney. "Employees are empowered and they have access to this information, especially in Colorado. It's very clear and concise; there's great resources here."
Over the last couple years, Colorado legislators have passed a number of laws impacting labor and employment in the state. Those have included limits on noncompete agreements, family and medical leave and more. While courts have yet to interpret many of the new slate of laws, Dodd said the recent trends in legislation are part of a changing environment around labor and employment matters toward increased employee rights. 
NLRB data shows new filings in the first six months of fiscal year 2023 are on pace to keep up with last year's increase. Dodd doesn't think the spikes in employee complaints are going away anytime soon. 
"It's not trending down, as you've seen from the data, it's trending up. And some of these are, you know, non-insurance type claims," said Dodd who added businesses should be prepared to cover costs of labor and employment claims that aren't typically covered by insurance. 
While harassment and discrimination claims are usually covered by insurance, wage and hour disputes, the type Dodd has seen a spike in, typically aren't. 
In her experience, the impact of this trend disproportionately impacts smaller businesses. When it comes to defending claims, Dodd said my businesses are having to have tough conversations about the potential costs of defending against frivolous complaints weighed against the cost of settling those claims.  
"I think employers are going to have to really take a step back and look at the implications of whether they take cases farther than they typically would, because there's no guarantee of a release at the end of the day for certain claims."