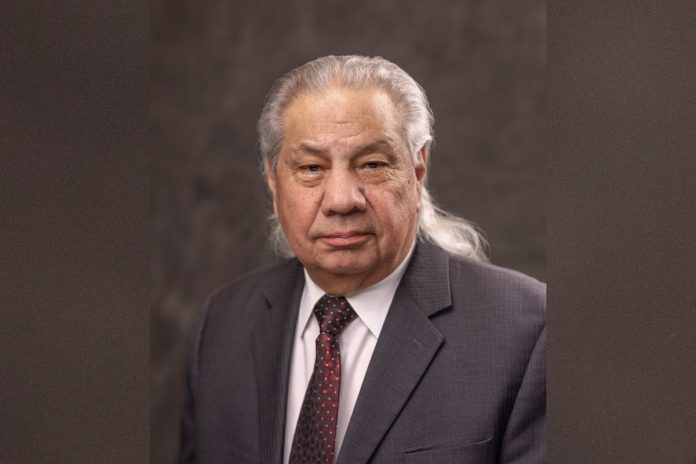 It's been over 50 years since John Echohawk co-founded the Native American Rights Fund, headquartered in Boulder. In that half century, tribes and Native Americans have fought to establish their rights in U.S. courts where NARF and Echohawk have played an active role in the development of modern Indian law and civil rights. 
Echohawk on Aug. 5 was awarded the American Bar Association's 2023 Thurgood Marshall Award which recognizes lawyers who have made a longstanding impact and commitment to advancing human rights and civil liberties in the U.S. 
When Echohawk, a citizen of the Pawnee Nation, graduated from the University of New Mexico School of Law in 1970, he was among the first class of law students to learn about federal Indian law and part of a growing cohort of Native American lawyers in the U.S. Echohawk explained that in the late 1960s, the U.S. Office of Economic Opportunity had set aside money for scholarships to support Native American students pursuing higher education in the hope of reducing poverty rates that disproportionately impacted Native Americans. 
Echohawk explained that when he and a number of other Native American law students first learned about federal Indian law, they felt surprised to learn that so many legal rights existed for tribes that weren't playing out on the ground. 
"We found out that Native Americans, particularly Indian tribes, have substantial rights from the treaties and laws of the United States. But that wasn't really happening on the ground, because to enforce those laws, you need lawyers, and the Indians were the poorest of the poor," recalled Echohawk. 
In law school, Echohawk became a founding member of the Native American Law Student Association which he said was created after the Native American scholarship recipients got to know each other and stayed in touch during summer pre-law school classes. In 1970, Native American law students from across the country met in Albuquerque, New Mexico, to start the association, he explained.  
"We all just kind of had the same vision and we knew we needed to organize and stay together," said Echohawk. He added that several years later, in 1973, he and many of the original NALSA members went on to establish the National Native American Bar Association which celebrated its 50th anniversary earlier this year. 
"We've gone from a couple of dozen Native American lawyers to over 2,500 Native American attorneys these days," said Echohawk. 
When he graduated law school in 1970, Echohawk worked at California Indian Legal Services, one of the few federally funded legal clinics that had opened to serve low-income Native Americans. Shortly after he started with the clinic, it received funding from the Ford Foundation to start a pilot program that would provide legal services to Native Americans on a national level. Echohawk in 1970 was a co-head of the project that went on to become NARF and would later move its headquarters to Boulder. 
As a young lawyer, Echohawk explained that he saw the potential impact that legal advocacy could have on individuals and communities and hoped NARF would make that happen. 
"I knew we had substantial rights that were going unenforced and so I was hoping we would have a bright future and that all of this would help improve the social and economic and political conditions of Indian tribes and Indian people," remembered Echohawk. "And that's exactly what's happened." 
Since its founding in 1977, NARF has grown from just three lawyers to 15 with over 40 full-time staff and branches in Washington D.C. and Anchorage, Alaska, according to the organization's website. Echohawk has been NARF's executive director since 1977 and he's helped lead the organization that estimates it has provided legal counsel to more than 300 tribes and tens of thousands of individuals. NARF was modeled after the NAACP Legal Defense Fund which was founded in 1940 by former U.S. Supreme Court Justice Thurgood Marshall who is the namesake of ABA's civil rights award and was part of the court that issued a number of landmark Indian law decisions. 
NARF, a 501(c)(3) organization, has a mission to protect Native American rights, resources and lifeways through legal advocacy, litigation and expertise. Its current priorities include protecting tribal existence, protecting tribal natural resources, promoting and protecting human rights for Native Americans, ensuring state and federal governments uphold their legal obligations to tribes and further developing Indian case law and educating the public about existing rights. Some of NARF's recent work includes bringing voting access and rights cases, protecting tribal water rights and sacred lands, representing the interests of Native American children in welfare proceedings and more. 
NARF has also worked on landmark legal decisions that have shaped modern Indian law and established principles of sovereignty for tribes. 
"We had an inordinate number of these federal Indian law cases going to the U.S. Supreme Court in the '70s and '80s and we had a very good track record in terms of winning these cases and it really changed things on the ground for tribes and Native Americans," said Echohawk who noted that as the composition of the Supreme Court changed in the 1990s, those victories slowed which is still a challenge NARF and similar organizations face today. 
Over the years, Echohawk and NARF have been involved in many memorable cases and legal issues but one that sticks out to Echohawk due to its impact was the 1987 U.S. Supreme Court decision that established the legal rights of tribes to operate gaming enterprises under their own laws. 
The case, California v. Cabazon Band of Mission Indians, brought by the state of California against the Cabazon and Morongo Bands of Mission Indians resulted in the Supreme Court holding that as sovereign nations, federally recognized Indian tribes do not need to comply with state gambling regulations. NARF represented a group of tribes that filed an amicus brief in support of the Cabazon and Morongo Bands of Mission Indians in the case. Following the court's decision, Congress passed the Indian Gaming Regulatory Act and in fiscal year 2022, the National Indian Gaming Commission reported that there were 519 gaming operations owned by 244 federally recognized tribes that brought in $40.9 billion in gross gaming revenue for the fiscal year.  
"Today, that's the largest economic driver in Indian Country — gaming. And it's really just changed everything," said Echohawk. 
In the next 50 years, Echohawk said he hopes NARF will continue its work representing and enforcing the legal rights of Native Americans and tribes. While NARF works primarily in the judicial branch, he said the organization also keeps tabs on the executive and legislative branches of the U.S. government whose policies can significantly impact tribes and individuals. 
In his free time, Echohawk said he enjoys fishing in Colorado's mountains and keeping up with local sports teams at the University of Colorado Boulder and in Denver.