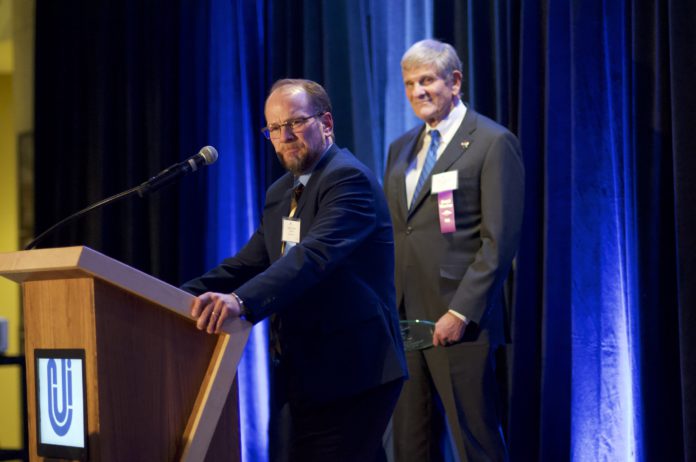 The Colorado Judicial Institute held its annual awards dinner Thursday at the History Colorado Center in Denver, where it recognized five members of the bench from around the state, including the late U.S. District Judge Wiley Daniel, who died in May.
The evening's program kicked off with opening remarks from Colorado Supreme Court Justice Richard Gabriel, filling in for Chief Justice Nathan Coats, who was scheduled to speak but couldn't attend. 
Gabriel spoke about the Our Courts program, a joint endeavor by CJI and the Colorado Bar Association, and its mission to educate adults about the state's courts, judge selection process and rule of law. The civics education program recently expanded into high schools, and Gabriel recognized two teachers — Whitney Smith and Leslie Hamdorf — as the "driving force of the program."
"They really taught us how to teach kids, and they made it successful," said Gabriel, who chairs the Our Courts executive committee.
Former Colorado Supreme Court Chief Justice Michael Bender presented the night's awards, starting with the 2019 Judicial Excellence Awards honoring three members of the state bench.
First to receive the award was Magistrate Matthew Zehe of the 8th Judicial District, Larimer County. Having witnessed the effects of alcoholism on his family as a child, Zehe has devoted much of his career to collaborative justice through his district's juvenile and DUI recovery courts. Zehe, who has served as a magistrate since 2006, helped launch a problem-solving DUI court serving Larimer County in 2008 and has presided over the court ever since. In 2017, it became the first DUI court to be accredited by the state.
"When the court's business is collaborative justice, the real justice occurs outside the courtroom," Zehe said in a speech. 
"Collaborative justice is lived every day by the people that we serve. … It is measured in days, weeks and months of sobriety and wellness recovered, in relationships healed and children parented, in licenses and livelihoods restored, and helping hands extended."
Next to be honored was Denver County Court Judge Olympia Fay. She was appointed to the court in 2015 and has received "nearly universal praise" from both attorneys and non-attorneys, according to the Colorado Commission on Judicial Performance, a fact Bender echoed in his introduction. "She gets rave reviews," he said.
A biographical video recounted Fay's shyness as a girl and the sense of justice that compelled her to speak up, despite her discomfort. "I remember, throughout my legal career, that I was most confident when I was advocating for or helping someone else," Fay said in the video.
When receiving the award, Fay thanked the late federal judge Wiley Daniel for his friendship and advice and shared a quote from poet Maya Angelou that she keeps on her bench: "I've learned that people will forget what you said, people will forget what you did, but people will never forget how you made them feel."
"Every day, when I go onto the bench and I read the quote, I'm reminded of Wiley's words and thankful for the opportunity that I have before me to impact someone's life," Fay said.
The final recipient of this year's Judicial Excellence Award was 4th Judicial District Judge Timothy Schutz. Schutz ascended to the bench in El Paso County in 2010 and handles mostly domestic relations, dependency and neglect cases. 
Schutz recalled his days as a schoolyard bully and the teacher who snapped him out of it. "You have potential, but you're wasting it," she had told him, and her words stuck with him.
"None of us want to be judged by the worst things that we've done in our lives," he said, adding that he tries to see the human potential in everyone in his courtroom while also holding people accountable.
Schutz has been instrumental in launching and expanding the 4th Judicial District's Civil Pro Bono Project to connect pro se litigants with pro bono attorneys in El Paso County.
Two federal judges were honored with Distinguished Judicial Leadership Awards. Daniel, Colorado's first African-American federal judge, received the award posthumously. The late judge's wife, Ida Daniel, accepted the award on his behalf.
Denver County Court Judge Gary Jackson spoke about his decades-long friendship with Daniel, recalling shared golf games and Sunday dinners when their families would watch the PBS civil rights special "Eyes on the Prize" together. Jackson also credited Daniel as a key figure in his own appointment as a judge and praised him as a trailblazer.
"He became the first black U.S. District Court judge in the District of Colorado. His appointment opened the door for other judges of color in both the District of Colorado and the 10th Circuit," Jackson said. 
Daniel was appointed chief judge of the federal district court in 2008 and held the position until he retired in 2013.
The final recipient of the Distinguished Judicial Leadership Award was Judge Marcia Krieger, who succeeded Daniel as Chief Judge of the U.S. District Court for the District of Colorado. 
She was the first woman to serve in that position and held the office until she transitioned to senior judge status in March.  Krieger co-founded the Our Courts program, which she noted is one of only three civics programs for adults in the country. In her speech, she cited the 2019 Annenberg Constitution Day Civics Survey, which found that only 39% of U.S. adults could identify the three branches of government and only a quarter could pass the naturalization test. She said many millennials and Gen Xers have never had to take civics in high school, and these groups represent a growing proportion of the electorate, making the work of Our Courts more important than ever. "What we do with adults matters. It matters now," she said. 
— Jessica Folker