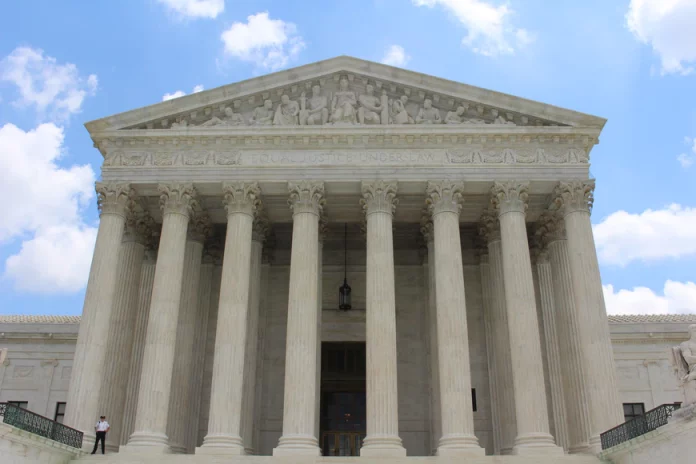 U.S. Supreme Court Chief Justice John Roberts published the federal judiciary's year-end report on Dec. 31, 2021. Roberts highlighted three priorities for the Judicial Conference to address in 2022 including federal judges not recusing themselves from cases where they had a financial conflict of interest, judicial misconduct and patent case venue assignments. 
The report also included data on cases and filings at the U.S. Supreme Court, federal courts of appeals, federal district courts and bankruptcy courts from the end of September 2020 through September 2021. Cases filed in all courts dropped from the previous term, likely due to residual and ongoing impacts of the pandemic on government policies and individuals. 
The Judicial Conference will have its 100-year anniversary in 2022, which Roberts described as "100 years of progress" that the judiciary should be proud of. "But there is still plenty of work to be done," Roberts added, "and it will be done." 
Roberts highlighted a series of articles published in September 2021 by the Wall Street Journal that found 685 cases between 2010 and 2018 where 131 federal judges did not recuse themselves despite financial conflicts of interest. The conflict of interest cases represented just a fraction of the federal docket during that time period — 0.03% of the 2.5 million civil cases filed — but Roberts added that "the Judiciary takes this matter seriously." The Wall Street Journal did not identify any cases where a judge's non-recusal financially benefited them. 
Out of the 131 judges who presided over a case with a company that they or their family-owned stock in, 83 reported had only one to two violations that Roberts credited to likely oversights of the conflict of interest. "There is a more serious problem of inadequate ethics training," Roberts wrote about the judges that had multiple rule violations or did not know about the ethics rule. 
To address the financial conflicts of interest lapses, Roberts tasked federal judges to be "scrupulously attentive to both the letter and spirit of our rules, as most are." He added that ethics training programs should be more rigorous with more "class time, webinars and consultations" and the federal bench should commit to promoting a "culture of compliance," even during busy dockets. 
 Roberts suggested updates to court software used to catch potential conflicts of interest. "This refresh may require additional funding from Congress, but it will be money well spent," he wrote. 
The next priority at the 2022 Conference, Roberts wrote, is the "continuing concern over inappropriate behavior in the judicial workplace." He pointed out that the Federal Judiciary Workplace Conduct Working Group, created in 2017 to address alleged misconduct in the federal bench, previously found "that inappropriate workplace conduct is not pervasive within the judiciary," but high profile incidents are still serious. The working group made 20 recommendations adopted in 2019 to clarify appropriate behavior, strengthen internal procedures for reporting and addressing misconduct and expand training on conduct issues. Roberts wrote that the conference will keep overseeing the programs on federal judicial conduct "to ensure they achieve the objective we all seek." 
Roberts' third and final priority was assignments and venues for patent cases in federal trial courts, "an arcane but important matter of judicial administration," he wrote. "Senators from both sides of the aisle have expressed concern that case assignment procedures allowing the party filing a case to select a division of a district court might, in effect, enable the plaintiff to select a particular judge to hear a case," Roberts elaborated. 
To address this concern, the Judicial Conference will need to reconcile two judicial values: federal districts were created so that judges are tied to the communities they serve and the conference supports random case assignment to judges it considers legal generalists. "This issue of judicial administration provides another good example of a matter that self-governing bodies of judges from the front lines are in the best position to study and solve," Roberts explained, "and to work in partnership with Congress in the event change in the law is necessary."
The report also included data on the size of dockets and trends in federal courts. Cases filed in federal courts fell in the 2020-2021 term (the 12-month period ending on Sept. 20, 2021), according to the report. New cases filed at the Supreme Court, U.S. Appeals Courts, U.S. District Courts, probation offices and pretrial services systems all saw slight downticks and filings in bankruptcy courts fell by nearly a third. 
At the Supreme Court, the number of cases fell to 5,307, a slight decrease from the 5,411 cases filed in the 2019 term. Out of those, most were filed at the in forma pauperis docket at 3,477, a 12% decrease from 2019, as opposed to the paid docket, 1,830, a 24% increase. In the 2020 term, the high court issued 55 signed options and heard arguments in 72 cases. 
Filings fell by 8% in the country's 13 federal appeals courts in the 2020 term. Pro se appeals, administrative agency decision appeals, original proceeding filings and civil appeals all dropped but criminal and bankruptcy appeals both increased by 10% and 18% respectively. 
Federal district courts saw 27% fewer civil cases filed at 344,567. The report points out that a large number of those filings stemmed from large Florida multidistrict litigation over earplug product liability in which the Northern District of Florida consolidated more than 202,814 filings in 2020 and 83,654 filings in 2021. Excluding the earplug MDL, the number of cases fell only slightly by 3%, according to the report. 
The types of cases filed in federal district courts changed in the 2020 term, according to the report data. 
Disputes between citizens in different states fell by 41% and personal injury cases dropped 45%, which the report notes is "mainly because of the MDL cases included in these categories." 
The number of cases naming the U.S. as a defendant dropped by 11%, mostly as a result of fewer prisoner petitions, according to the report. Cases with the U.S. as a plaintiff fell by 4%, which the report notes is an extended trend from the 2020 report that saw a 16% decrease caused by "fewer new actions related to defaulted student loans"  
The country's 90 bankruptcy courts saw 29% fewer filings than the previous year, keeping with a 44% decrease recorded in the 2019 term. "The reduction is primarily attributable to the COVID-19 pandemic in the form of state lockdown orders that decreased personal expenditures, new and increased government benefit payments and moratoriums on evictions and certain foreclosures," the report explained. 
Out of the 434,540 bankruptcy filings in the 2020 term, the vast majority (96%) were consumer petitions. In the 2020 term, filings by consumers fell by 28%, petitions by businesses fell 28%, Chapter 7 petitions fell by 24%, Chapter 11 petitions fell by 31% and Chapter 13 fell by 39%.