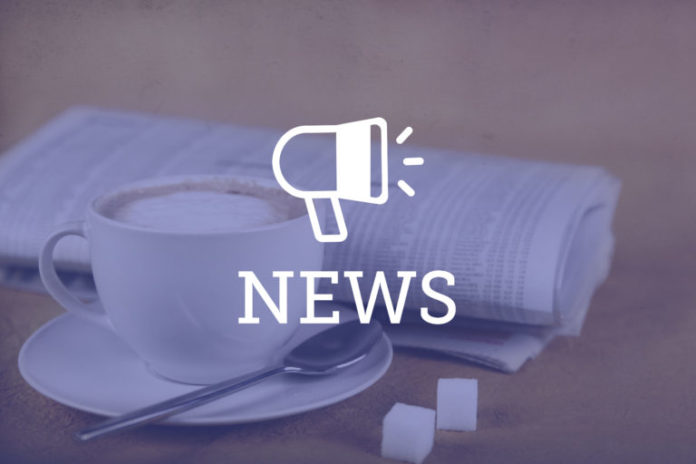 Last year, prison and parole populations hit historic lows largely due to the pandemic. But local projections predict a prison population bounce-back in the coming couple years that will disproportionately impact women. 
The Bureau of Justice Statistics, the Department of Justice's main statistics agency, released its prisoner and parole and probation reports for 2020 this month. The national reports show the number of prisoners and parolees decreased across the county, with a 18.3% decrease in Colorado prisoners in state and federal prisons and a more than 3,000-person drop in the number of Colorado adults under community supervision. In 2020, the national imprisonment rate was the lowest since 1992 at 358 per 100,000 U.S. residents. 
The national data lines up with the findings from the Colorado Legislative Council Staff's Economic & Revenue Forecast Report, published on Dec. 17. The local report includes current trends and projections for Colorado's adult prison population and parole caseload, which is on the rebound, according to the state economists. 
Colorado's prison population decreased by less than 1% in fiscal year 2018-19 then saw a 12.6% and 11.5% decrease in fiscal years 2019-20 and 2020-21 respectively.  
The pandemic-related drop in Colorado prisoners is the largest decrease for the past ten fiscal years, according to the report. While prison population projections for both men and women expect increases in the coming years, the economists don't predict that Colorado's prison population will hit the pre-pandemic level of 19,951 in FY 2018-19. 
The main driver behind the prison and parole rates was the pandemic, according to both reports, but other factors in Colorado, including sentencing and parole reforms, likely played a part in local drops. 
Executive Director and founder of the Colorado Criminal Justice Reform Coalition Christie Donner explained that it's difficult to untangle the factors that drive changes in prisoner and parolee rates. But she added that with the pandemic, "it's fairly easy to understand the decline." 
Donner explained that in 2019 the Colorado Legislature passed a handful of sentencing and parole reforms but it's hard to estimate their impacts on the mid-pandemic numbers. "It is hard to disaggregate what's from sentencing changes," said Donner, "the courts essentially shut down, felony filings dropped through the floor and all that kind of stuff [related to the pandemic]."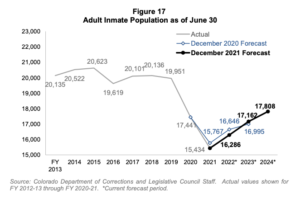 The Economic & Revenue Forecast Report predicts steady increases in the number of Colorado prisoners in the coming years. CCJRC is concerned about uneven predicted increases between women and men, Donner explained. 
The male prison population dropped 10.5% in FY 2020-21 and is expected to increase by around 5% for FYs 2021-22 and 2022-23. Female inmates in Colorado dropped by 21.8% and are expected to increase by 9.9% and 11.8% in FYs 2021-22 and 2022-23 respectively. 
These numbers are surprising, Donner said, since the recent sentencing reforms applied to crimes that women are most likely to be convicted of, including narcotics convictions and leaving custody, often by tampering with an ankle monitor or walking away from a halfway house. "There was really substantial legislation in 2019 and 2020 that passed that made changes to both of those offenses making them misdemeanors," she said. 
Donner noted women in prison suffer disproportionately from clinical conditions like mental illness, addiction and traumatic brain injury and that in discussions on justice reform, "women in the prison system are largely invisible." 
Local and national parole rates also decreased according to the Bureau of Justice Statistics and the Economic & Revenue Forecast Report.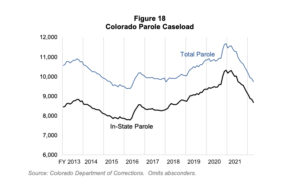 In 2020 the national population of adults on probation decreased 8.3%, a 276,500 person decrease, the largest decline the Bureau of Justice Statistics has recorded since it began publishing the annual probation and parole report in 1980. Colorado saw a 3,000 person decline, down 3.2% from 2019. Most states experienced a decrease in the number of adults on parole except Alaska, Arkansas, Idaho, Iowa, Kansas, Mississippi, Montana, New Hampshire, Pennsylvania, South Dakota, Tennessee and Washington D.C., which all saw increases. 
In the years leading up to the pandemic, Colorado experienced slight increases in the total parole population with a 5.4% bump in FY 2018-19 and 4.3% in the first nine months of FY 2019-20. The state parole board expedited releases in response to COVID and Colorado saw a historic high of 11,672 parolees in June 2020. Since the initial months of the pandemic, the number of adults on parole has declined, with discharges from parole outpacing new releases and the number of parole-eligible prisoners hitting a 19-year low at 388 releases in October. 
According to Donner, justice reform advocates had discussed many of the accommodations made during the pandemic pre-COVID. "The virus only forced us to what folks had been advocating for or considering for years," she explained. "It wasn't shooting from the hip, in other words." 
Donner explained that the release of thousands of Colorado prisoners by the state parole board in response to the pandemic indicates "that we're unnecessarily using incarceration." The prisoners who the parole board determined were a low enough risk to release were low risk regardless of the pandemic, said Donner. 
She hopes that the drop in prisoner populations driven by the pandemic will give legislators an opportunity to re-examine Colorado's criminal justice system. "Our hope is that people have the opportunity to think more strategically about these things as innovations and efficiencies continuing post-pandemic," Donner said. "Some of those could become institutionalized and structural." 
The Economic & Revenue Forecast Report raises another alarm to Donner – rising economic gaps in Colorado. Factors like inflation, rising cost of living and drops in affordable housing have created growing economic inequities in Colorado, which Donner thinks will impact many aspects of life in the state, including conviction and imprisonment rates. 
"All of that together, as we learn from this changing environmental landscape, will have much to do with what it looks like moving forward," Donner said. 
Data from the embedded graphs can be found in Colorado Legislative Council Staff's December 2021 Economic & Revenue Forecast Report.