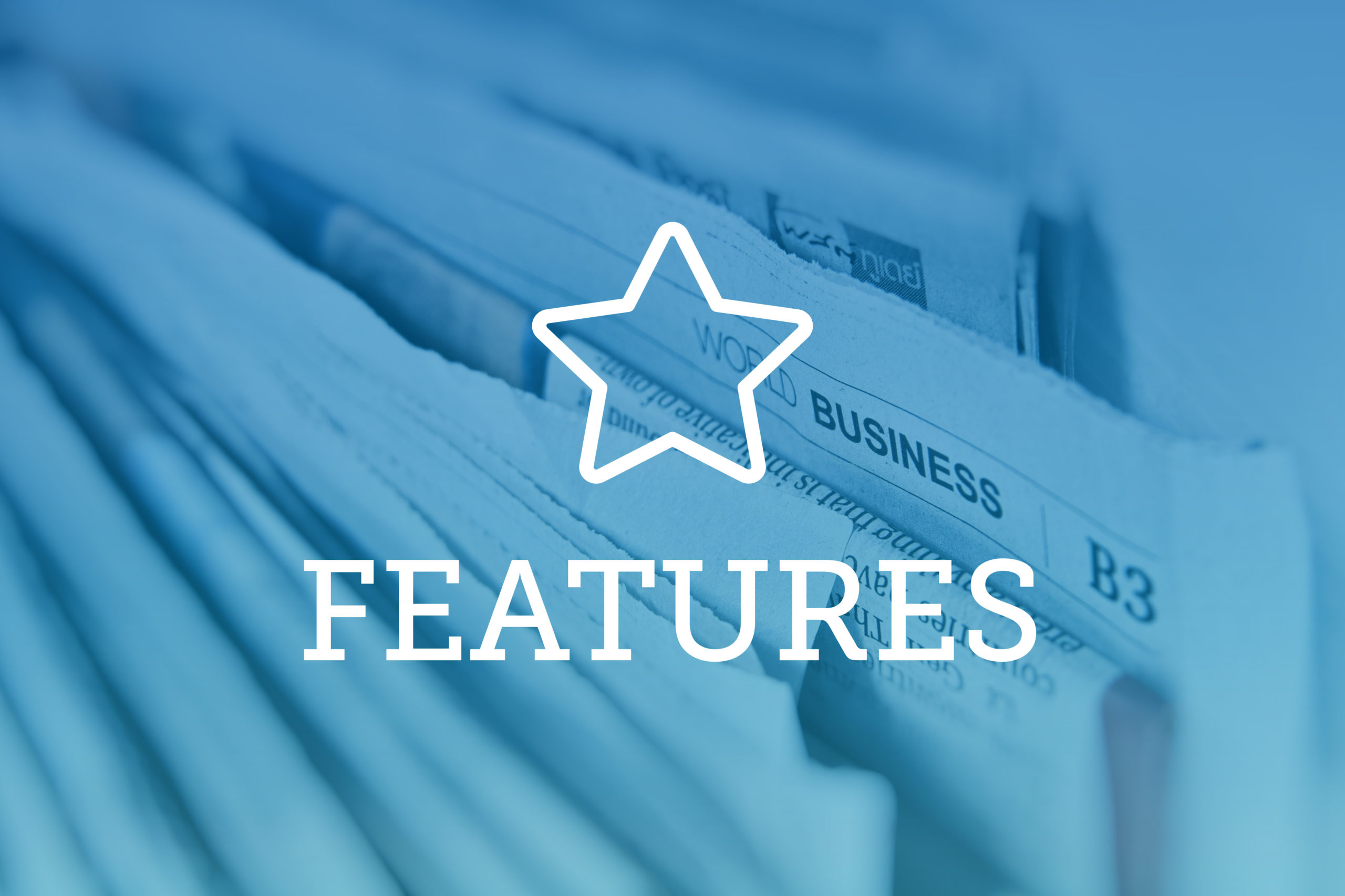 A pair of bills that passed the Colorado House of Representatives late last month would change laws surrounding arbitration processes. The bills will be heard by the Senate State, Veterans & Military Affairs committee — typically referred to as the kill committee — next week. 
House Bill 1261, the Colorado Arbitration Fairness Act, establishes ethical and conflict standards for arbitration service providers. If passed, it would require those providers to disclose any financial or professional relationships or affiliation between them and another party or attorneys in the arbitration. 
The legislation specifies that any financial interests or agreements between the providers and parties must also be disclosed. Before disclosures are required, parties would be required to submit a checklist of disputed material, parties' identities and counsel as well as any agents, representatives, employees, independent contractors or insurers with relevant knowledge.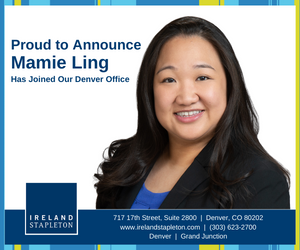 HB 1261 also gives the parties the opportunity to challenge the impartiality of an arbitrator before the process begins. Under current statute, a party has to wait until arbitration is complete before attempting to vacate an award, something bill sponsor Sen. Daniel Kagan feels is "totally untenable for the average consumer." 
"Consumers, without knowing it, every day contract to have disputes resolved exclusively through arbitration, so it's imperative that the arbitration that's forced upon consumers and employees be fair," Kagan said. 
A 2017 report by the Employee Rights Advocacy Institute for Law & Policy examined 100 top companies in the U.S. Eighty percent of those use mandatory arbitration clauses in employment contracts. And the outcomes in many cases speak for themselves — a breakdown of 2016 statistics from the American Arbitration Association on consumer and employment arbitration found that arbitration overwhelmingly went the way of the employer or company. That year, Wells Fargo saw 188 consumer claims, and five received settlements. Verizon had 157 consumer complaints — 15 resulted in an award to the consumer. Macy's went into arbitration 1,807 times in cases employees brought against the company, and none of them resulted in a financial award to the employee. 
"What happens in too many cases is companies that do a lot of arbitration have a sort of pet arbitrator who they know has arbitrated many claims for them and routinely rules against the consumer," Kagan said. 
House Bill 1262, the Arbitration Services Provider Transparency Act, would also require public disclosure by arbitration service providers. It stipulates that providers must publish publicly available reports on arbitrations that have occurred in the past five years. 
In addition to names and the nature of disputes, reports would be required to include the outcome and the number of times, if any, that the employer party was previously involved in arbitration administered by that provider. 
All the bill sponsors echoed the sentiment that the legislation doesn't aim to get rid of arbitration but make the process more fair and transparent for consumers and employees. 
But Kagan noted there has been "fairly strenuous opposition" from arbitrators and the Alternate Dispute Resolution division of the Colorado Bar Association, which feel the legislation could have a chilling effect on the process. 
"We're extremely concerned with the language of both bills, especially the way they interact with the Uniform Arbitration Act. Arbitration is a vital topic to address, but we're not sure that 1261 and 1262 get us where we need to go," said Jeremy Schupbach, CBA director of legislative relations. He added that the CBA is committed to continuing the conversation but does not support the legislation in its current
"1262 has nothing in there that would prevent a company's ability to arbitrate," bill sponsor Rep. Dylan Roberts said. "We worked closely with the ADR section of the bar and incorporated several amendments they wanted. Their objections were more philosophical."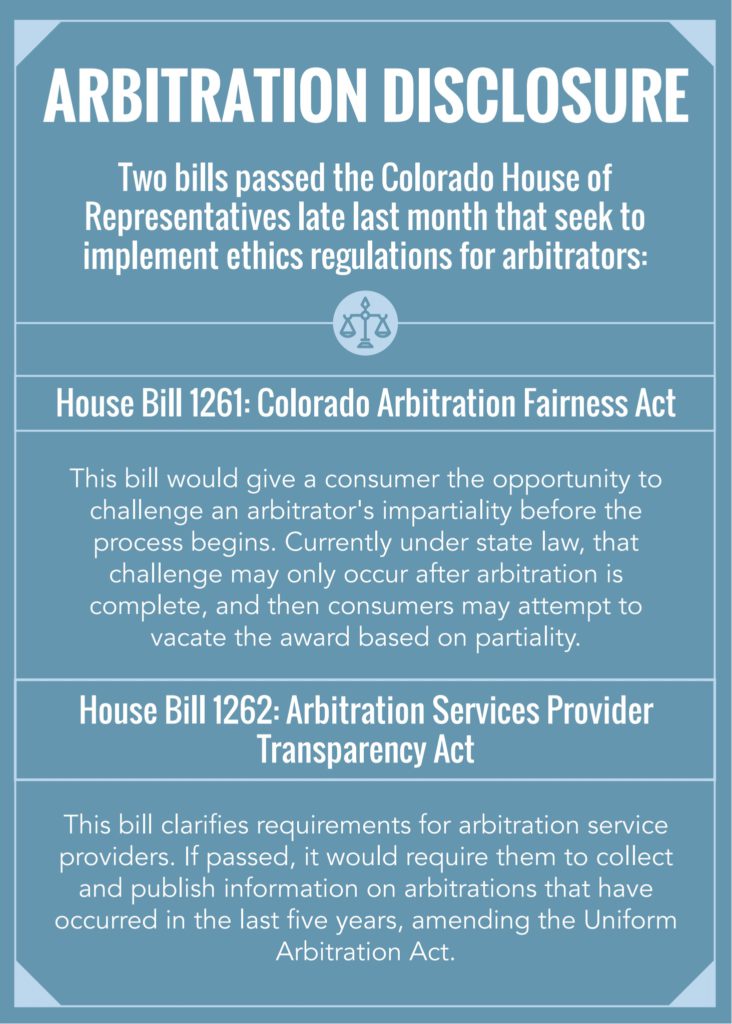 Bill sponsor Rep. Mike Weissman pointed out that the Federal Arbitration Act preempts states from enacting laws that void arbitration clauses. Bill sponsor Rep. Dominique Jackson noted that other states have successfully implemented similar legislation concerning disclosure enforcement and transparency. California enacted a disclosure law for arbitrators more than 15 years ago. The last time Colorado update its arbitration laws was 2004.
"The disclosures that we're asking for, four other states already do this, and the world hasn't fallen apart," Jackson said. Weissman also said that the bill aims to correct a potential power imbalance for consumers and employees, not necessarily in situations between parties like a property owner and developer who both likely have retained lawyers and equal footing in a dispute.
Jackson said arbitration clauses also come into play in cases where there are sexual harassment claims. In a situation where an employee files a sexual harassment complaint, they are bound by the arbitration clause present in most contracts, and Jackson noted they aren't "privy to the fact that this firm was hired multiple times" and a majority of cases were likely found in favor of the employer.
"They can help a company hide bad behavior and patterns of abuse," she said. 
Jackson said consumer or employees are also often disadvantaged because they often don't have a say in certain aspects of the process, such as communication method or location. 
"Oftentimes, when a person has a dispute and is forced into arbitration, whatever firm is hired gets to decide where that takes place, and it could be just via email," she said. "The discovery process is fraught with problems, the scales of fairness are just very imbalanced." 
—Kaley LaQuea