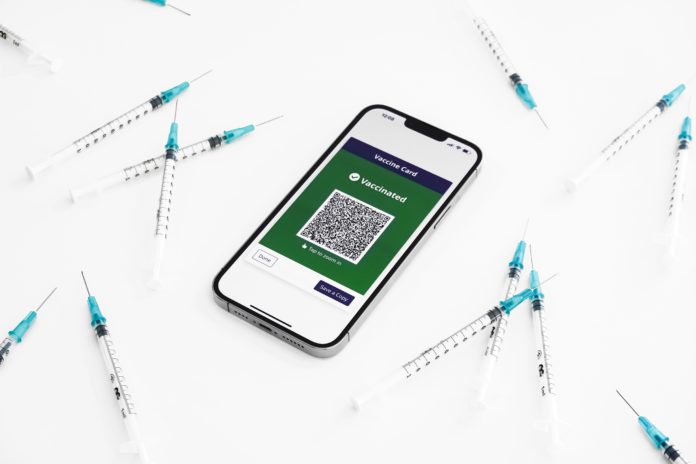 A bill that would have required Colorado employers to accept proof of past COVID-19 infection to satisfy vaccine or testing mandates died in committee late Wednesday afternoon. 
House Bill 22-1144 would have allowed a person to demonstrate "natural immunity" in lieu of complying with vaccine or testing requirements imposed by employers or state agencies. The bill defined natural immunity as having contracted and recovered from COVID and having antibodies. It also would have included people who have received monoclonal antibody treatment.
Rep. Mark Baisley, the bill's sole sponsor, announced his plans to introduce the bill at a Republican Party press conference at the state capitol in January. At the conference, a member of the press asked Baisley whether the proposal was supported by science. "Yes. Watch for the scientific community as witnesses in the committee when we bring our bill forward," Baisley responded.
But opponents of the bill had their own panel of experts lined up for the bill's first and only committee hearing on March 2. Dr. Amanda Jichlinski testified in opposition to the bill on behalf of the Colorado chapter of the American Academy of Pediatrics. She said the group takes exception to the "misleading" term "natural immunity."
"Individuals are not born with immunity. Rather, they acquire post-infection immunity or infection-induced immunity," Jichlinski said during the House Health & Insurance Committee hearing. "Natural sounds good, pure or wholesome, but mischaracterizes how people obtain immunity — it is through contracting dangerous communicable diseases."
Dr. Anuj Mehta, a pulmonologist at Denver Health, also spoke in opposition to the bill. Post-infection immunity "is not an all-or-nothing phenomenon," he said, explaining that according to the current understanding of the science, a person's level of post-infection immunity to COVID appears to be related to the severity of their illness and the amount of time since the infection. "In other words, individuals who are asymptomatic or minimally symptomatic and those who were infected a long time ago have minimal, if any, protection against future infection," Mehta said.
Mehta also expressed concerns that the bill could cause harm because its language suggests that post-infection immunity is better than vaccination. He said he had treated intensive care unit patients who were about to be intubated and had acquired COVID on purpose so they would gain immunity, and he worried the bill could push some people to seek infection as an alternative to vaccines.
Aimee Bernard, an assistant professor of immunology at the University of Colorado Anschutz School of Medicine, said the bill's text, which cites a number of scientific claims and studies, contained "several factual errors that are misleading." These include claims that post-infection immunity is superior to vaccine immunity and that people who have already had COVID face increased likelihood of "serious and permanent risks" if they later receive a vaccine.
Bernard added that post-infection immunity is not the outcome for everyone who catches COVID. "Right now in this country, we are nearing 1 million Americans dying from COVID. So those people don't have the luxury of saying, 'I have survived COVID,'" she said. "Post-infection immunity is not happening for everyone."
Dr. Rachel Corbett spoke in support of the bill. Corbett, an obstetrician-gynecologist, said she had been practicing for more than 25 years when she was terminated by her employer for refusing the COVID vaccine despite having acquired immunity. She spoke on behalf of Colorado Healthcare Providers for Freedom, an organization that was founded two months ago and that she says now has more than 100 health care provider members.
"Many practitioners call and want to join but are too afraid to speak out," Corbett said, but added that "they are not afraid to vote." That earned her a rebuke from committee chair Rep. Susan Lontine, who told her to "stick to the bill and not implied threats."
Corbett referred the committee members to studies compiled by the Brownstone Institute, a libertarian think tank that has opposed vaccine mandates and lockdowns. Corbett said the mRNA vaccine is only 12% effective against the omicron variant, which must be weighed against the risk of vaccine side effects, including allergic reactions and blood clots. A study published Monday by the New York State Department of Health found that the effectiveness of the Pfizer vaccine fell from 68% to 12% for children between ages 5 and 11 during the omicron surge. The study has not yet been peer reviewed. 
Dr. Kent Roberson, a family practice physician in Colorado Springs, also spoke in support of the bill. "What I want to focus on today is not to debate the efficacy or the safety of the vaccine," he said, "but to support this bill in the sense of immunity acquired through infection matters." He said people who have received the shots have been given "special status" and are assumed to present less risk compared to those with acquired immunity — an assumption he said "is not provable by the science." "This results in segregation and harm," Roberson said. He admitted that he "winced" when he read the bill but that the text could be cleaned up to eliminate the claim that it is harmful to receive a vaccine after having COVID.
Representatives of the anti-vaccine group Stand for Health Freedom also testified in support of the bill. 
One thing people on both sides seemed to agree on is that the science on COVID is still evolving. "What this bill is attempting to do is simply step in and say, 'No, that science is not settled. Let's not mandate that employees receive an injection that they do not feel comfortable with,'" Baisley said. But the fact that our knowledge of COVID will change is yet another reason the bill should be blocked, said opponents. ​​"The science behind post-infection immunity is constantly evolving, especially as new variants emerge," Mehta said, adding that "science needs to be dynamic and not enshrined in law."
The bill was killed in a party-line vote, with the 11-member committee's seven Democrats voting against the bill. While HB22-1144 didn't get far in the Colorado state legislature, a similar bill passed the West Virginia House of Delegates on a 68-28 vote on Wednesday.