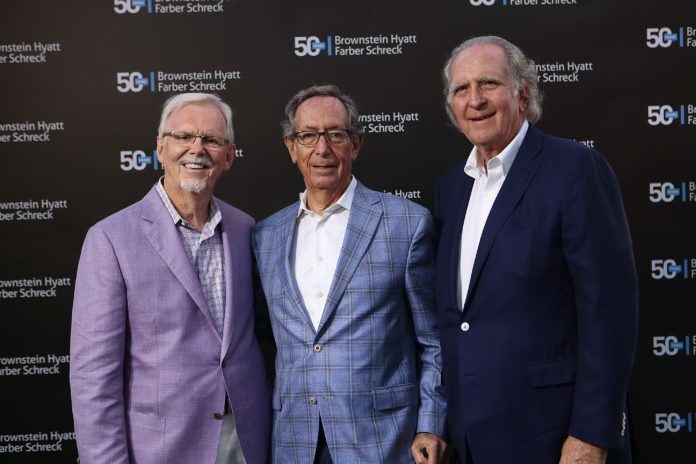 Norm Brownstein, one of the founders of Brownstein Hyatt Farber Schreck, won the National Law Journal Lifetime Achievement Award Oct. 20 in Washington, D.C. The award is given out to those in the legal community who make a major difference in the law or for their clients.
According to his online biography, U.S. senators Ted Kennedy and Hank Brown called him "America's 101st Senator" as Brownstein opened a government relations office in Washington, D.C. in 1995 that has grown considerably over the years including helping pass multiple federal laws over six administrations.
Brownstein's biography notes he worked to get federal funding for the construction of the Denver International Airport and often advocated for pro-Israel causes in Washington, D.C. He was also a key figure in the 1996 Telecommunications Act which helped build out the economy surrounding the internet and broadband. 
Health care is another major avenue of work for Brownstein, who is also the chairman at his firm. According to his biography, he worked to get $175 billion for health care providers throughout the country through the Provider Relief Fund and had a lead role in helping create a multi-state tobacco settlement and a trust fund for smoking cessation. Other areas of his work include taxes and financial services.
Helping others is another key factor in who Brownstein is. According to his online biography, he's advocated for years to help fight anti-Semitism which resulted in President Donald Trump signing an executive order formally applying the International Holocaust Remembrance Alliance's definition of antisemitism to universities under Title VI enforcement. 
Back in 2018, Brownstein Hyatt Farber Schreck was celebrating its 50th anniversary as the firm was started by Brownstein, Steve Farber and Jack Hyatt. Farber and Brownstein met in elementary school while Farber met Hyatt in high school and they all went to law school together. In 2007, the firm merged with Schreck Brignone out of Nevada, to help enter the gaming industry. 
"We really were three guys with the same background, similar relationships and friendships, trying to get the right start," Farber said in 2018. 
The giving back is a part of who the three original founders were, said Mark Leonard back in 2018 to Law Week. Leonard, a shareholder at the firm, is the first attorney the trio hired.
"We just grew up with it, that's what you were supposed to do, it was really second nature," Leonard said. "It certainly helped build up the firm, but I think certainly for those three founders, it was part of their DNA."
Brownstein came from modest beginnings. According to an article from The Hill, he lived with a foster family from age 14 until he'd earned his law degree from the University of Colorado Law School in 1968. 
According to the Denver Post, Hyatt died in 2017, and Farber died in 2020. Brownstein, Hyatt and Farber started the firm in 1968 and it's since grown to 12 offices around the country. Brownstein was recently named in our 2022 Barrister's Best issue as the people's choice for best government lawyer and Brownstein Hyatt Farber Schreck was listed as the people's choice for best lobbying firm. 
"Who would have thought Steve, Jack Hyatt and I, three kids from North Denver, could do all this?" said Brownstein in a statement to Law Week Colorado shortly after Farber's passing.