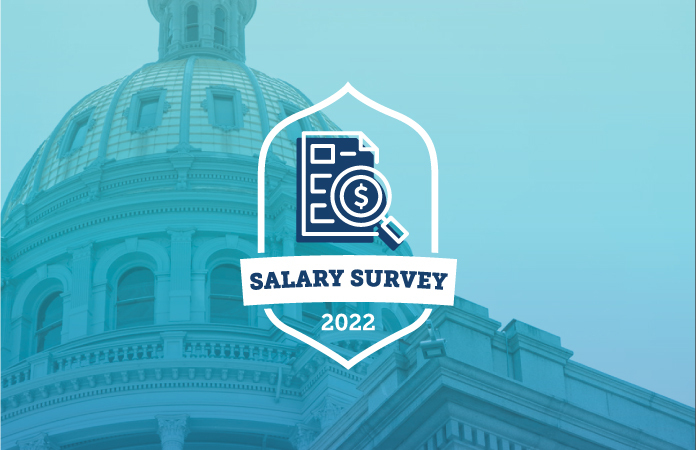 For the first time in three years, Law Week Colorado is pulling back the curtains on in-house attorney compensation and job satisfaction. For our 2022 Salary Survey, we teamed up with Gibson Arnold & Associates and the Colorado Chapter of the Association of Corporate Counsel to collect information about 126 local in-house attorneys, including how much they make and how long they plan to stay in their current positions. The survey was conducted in March 2022.
Overall, in-house lawyers reported earning more than they did in 2019. Average salaries this year ranged from more than $171,000 for staff attorneys and corporate counsel to nearly $270,000 for deputy general counsel.
The pandemic left its mark on this year's results with nearly two-thirds of in-house attorneys reporting that they work from home three days per week or more. A similar proportion said they had some remote work opportunities in our 2019 survey, but the privilege was allowed only once or twice a week or on an as needed basis.
There are also signs that the "Great Resignation" has hit Colorado's in-house legal departments. Compared to 2019, more lawyers said they are planning to switch jobs in the next year. Those who are planning to jump ship say they're motivated by higher pay, better job titles and remote work opportunities elsewhere.
SALARIES, BONUSES AND BENEFITS
Median base salaries were up across job titles compared to three years ago. The median base salary for staff attorneys and corporate counsel was $165,000, up nearly $30,000 from 2019. For assistant general counsel, the median salary rose to $210,000 from $180,000. The raise was even bigger for associate general counsel, with the median salary rising to $212,000 from $161,000 in 2019. The median salary for chief legal officers and general counsel hit $254,000 — a more modest increase of $26,000 since our last survey.
Average salaries were highest in the health care and energy industries and lowest in technology and manufacturing. CLOs, GCs and deputy general counsel in the aerospace, finance, health care and energy industries reported making an average base salary of $300,000 while senior in-house attorneys in the manufacturing industry averaged around $227,000. Base salaries for CLOs/GCs in the tech sector showed wide variation, ranging from $180,000 to $350,000.
More than half of all respondents, regardless of job title, reported a base salary of at least $200,000. Only three said their base pay was less than six figures while just two reported a salary of $400,000 or more. Those results are in line with a recent national survey by Above the Law, which concluded that while the "floor has been raised" when it comes to compensation, the "ceiling remains hard to reach."
More than 78% of survey participants reported getting a yearly bonus. For those who reported receiving a cash bonus, the median amount was about $50,000. But bonus amounts were all over the map, ranging from $6,000 to the low seven figures. Variation was great even within industries. For example, bonuses for GCs/CLOs in the health care industry ranged between $62,000 and $210,000. Senior attorneys at energy companies, whose base salaries were among the highest disclosed, reported annual bonuses between $100,000 and $2.3 million.
Overall, respondents this year said salary increases tend to be "discretionary" or based on company or individual performance. Some reported less transparency when asked how raises or bonuses are determined with answers like "unclear," "arbitrarily" and one respondent who said raises are given "randomly" and "with no apparent tie to performance or experience." Among respondents whose employers are more transparent about such decisions, an annual raise of about 3% was common.
The most common benefits offered by employers are largely unchanged from 2019, with more than 93% of employers offering 401(k) plans and contributions and paying attorney registration fees. About 10% of respondents said their health insurance was fully covered by their employer while 85% said they contribute to the cost of insurance and about 5.56% said their employer offers an executive health program. Other common benefits offered in 2022 included life insurance, disability insurance and covering the cost of CLEs, conferences and other continuing education programs.
However, there were some newer benefits reported this year that weren't offered in 2019. About 8% of this year's respondents said they received childcare subsidies or assistance and about a quarter were offered wellness reimbursements.
Slightly more than half of respondents said their employers offer long-term incentives such as equity, stock options or restricted stock units. Among those granted stock options or RSUs last year, about 37% said they received between $20,000 and $50,000 at the time of grant while about a quarter received between $51,000 and $99,000. About a third said they were granted stock options worth six figures last year.
TIME AND LOCATION
Unsurprisingly, one of the most pronounced changes from our last survey was a shift toward remote work. About 43% of respondents said they are working remotely five days a week while nearly 20% reported working remotely three to four days per week. In 2019, about 63% of survey participants said they could work remotely, but many said the privilege was limited to one or two days a week or "as needed."
Like the 2019 survey, more than 60% of participants said they work between 41 and 50 hours per week. But there were significant increases in those at the extremes of weekly hours. About 10.5% of attorneys reported working more than 60 hours weekly — more than twice as many compared to our 2019 survey. There was also a more than threefold increase in the percentage of respondents working 40 hours or less, totaling about 13%.
Another notable trend is a shift toward unlimited paid time off. In 2019, the most common amount of PTO offered was four to six weeks, reported by 28% of respondents, while just 22% said they receive unlimited time off. Three years later, more than 39% of survey participants said their employer has an unlimited PTO policy. Unlimited PTO has been an emerging trend nationwide, particularly at tech companies. Its adoption in Colorado might have been sped up by the Colorado Supreme Court's decision last year in Nieto v. Clark's Market, which said employers must pay out earned vacation time when an employee leaves a company.
CAREER MOVES AND JOB SECURITY
 When asked about future plans, this year's respondents were more likely to see themselves leaving their jobs soon — or staying forever. More than 12% of 2022 respondents planned to leave their current roles in less than a year, an increase of nearly 5% from three years ago. But the percentage who said they want to stay for the rest of their careers grew even more — almost 19% versus 12.5% in 2019.
Nearly two-thirds of those who plan to change jobs in the next year cited a higher salary as a motivating factor and half said they are seeking a better title or promotion. Almost a third said they want to find a job with better work-life balance or the ability to work remotely.
A total of 37.4% of this year's respondents said they changed jobs within the past two years. Most respondents who reported recent job changes, around 63%, said they were also able to negotiate their current salary or benefits. Around 30% of those who negotiated said they were able to negotiate both their salary and benefits.
Of those who changed jobs, more than 28% said they found their current role through a recruiter. LinkedIn and word of mouth were the next most common ways of finding a job in recent years. More than half of respondents who changed jobs said it took three months or less to find their new role.
Nearly 70% of this year's respondents reported having been through a downsizing or company acquisition at some point in their career, compared to just under 61% in 2019. More respondents also reported they were new to their current organizations, with more than 20% answering that they had been at their current company for less than a year compared to 14% three years ago.