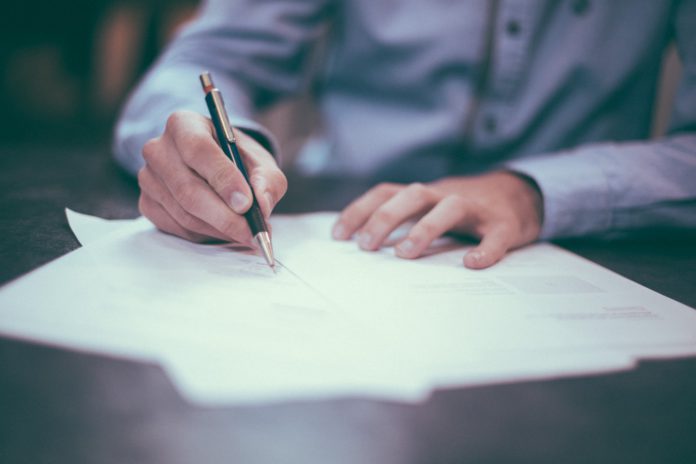 Non-compete agreements have been in the headlines in the weeks since President Joe Biden encouraged the Federal Trade Commission to ban or limit non-compete clauses and other agreements that "may unfairly limit worker mobility." 
The request came in a July 9 executive order broadly aimed at promoting competition in the U.S. economy. The order includes 72 initiatives by more than a dozen agencies targeting everything from prescription drug and hearing aid prices to airline refunds and meat product labeling rules.
"Powerful companies require workers to sign non-compete agreements that restrict their ability to change jobs," the order states. The agreements, which typically prohibit employees from working with rival companies for a certain period, are estimated to cover nearly a fifth of all U.S. workers. A 2019 survey from the Economic Policy Institute found that between 27.8% and 46.5% of private sector workers are subject to non-competes, and it estimated that the practice is growing.
The order's instructions on non-compete clauses are brief, consisting of one sentence encouraging the Chair of the FTC to consider working with the commission to come up with rules to "curtail the unfair use" of the agreements.
The lack of details led employers to wonder about the future of non-competes. Denver-based Snell & Wilmer partner Elizabeth Wylie said she has been getting "a lot" of questions about what to expect, particularly regarding salespeople, executives and other employees who have been entrusted with strategic plans and customer relationships.
"The first thing we tell them is we don't know what the restrictions will be," Wylie said. But she thinks recent state laws offer clues to how the FTC might approach Biden's directive. "What [states are] really doing is restricting the use of non-competes with workers whose compensation level falls below a certain threshold," she said, adding that the threshold ranges from around $30,000 a year to the low six figures.
Maryland, New Hampshire and Rhode Island enacted laws in the past two years making non-competes unenforceable for low-wage workers who earn around $31,000 or less annually. Virginia enacted a similar law last year, but the threshold there is currently closer to $55,000. Washington state bars non-compete agreements for employees earning less than $100,000.
It will take months for the FTC to complete rulemaking — if it decides to act at all. Until then, non-competes are still regulated by the states, so employers might want to brush up on Colorado's laws.
According to Wylie, Colorado's approach to non-compete enforcement "falls into the middle" between the most permissive states and the most restrictive. In Colorado, non-compete agreements are presumed to be unenforceable unless they are designed to protect trade secrets, recover the expense of training a new employee, target executive or management personnel and their professional staff, or are made in connection with the purchase or sale of a business.
"Even if you do fall into one of those exceptions, there's a whole other layer of restrictions that applies to non-competes," Wylie said. Courts will evaluate the agreement to ensure it is reasonable in duration, geographic scope and, Wylie said, "require that the non-compete is as narrowly drafted as is necessary to protect the legitimate business interests of the employer." Courts in Colorado are allowed to revise the agreement to make it narrower in a process known as blue penciling, but they don't always choose to do so.
A common mistake Wylie sees with non-competes is employers drafting restrictions that are too broad. One of her favorite examples of a poor use of non-competes involved her son, who got a job at a sporting outfitter as a teenager. "They required him to sign a non-compete as a teenager that was purported to be worldwide, and no limit on the time," Wylie said. "For the entire rest of his life, anywhere in the world, he could not work for any competitor of this Colorado sporting outfitter. That, I would venture to say, is clearly unenforceable." 
Her son was lucky to have two attorney parents who could assure him the agreement wouldn't affect his future job prospects. But for other low-wage workers, Wylie said, these overly broad restrictions can have "a real chilling effect." Contesting a non-compete is expensive and time-consuming, she added, "and employers obviously have an upper hand in that." According to the Poynter Institute, one study found that about 40% of respondents bound by non-competes said the non-compete was a factor in their decision to decline a job offer from a competitor. 
There have been a few high-profile lawsuits over non-compete agreements in recent years. The best-known challenges targeted Jimmy John's, which in 2016, settled lawsuits brought by the attorneys general of New York and Illinois. Some franchises prohibited employees from working at any other business that sells "submarine, hero-type, deli-style, pita, and/or wrapped or rolled sandwiches" within two or three miles of any Jimmy John's for up to two years.
Wylie said that to get around state restrictions on non-competes, some employers started introducing liquidated damages clauses that require employees to pay damages if they quit before the end of their contract term. In 2017, Sinclair Broadcast Group made headlines when it sued two on-air reporters in Florida for breaking their employment contracts early. The company, one of the biggest television station operators in the country, sought more than $17,000 in liquidated damages from one reporter who made $46,500 a year.
In addition to new state restrictions, there has been growing momentum to limit non-competes at the federal level in the past five years. In 2016, the Obama administration put out a call to action for state policymakers to ban non-competes for certain workers, improve transparency around the agreements and incentivize employers to get rid of unenforceable contract provisions. On the campaign trail last year, Biden vowed to work with Congress to eliminate most non-competes, and U.S. Senators introduced a handful of bipartisan bills in recent years to limit the agreements.
"There is a lot of momentum behind ensuring that the use of non-competes is fair to workers," Wylie said. "Employers should expect that workers are going to be more sophisticated about analyzing and getting legal advice on the enforceability of a non-compete, and so it may not have the chilling effect that it's had in the past."