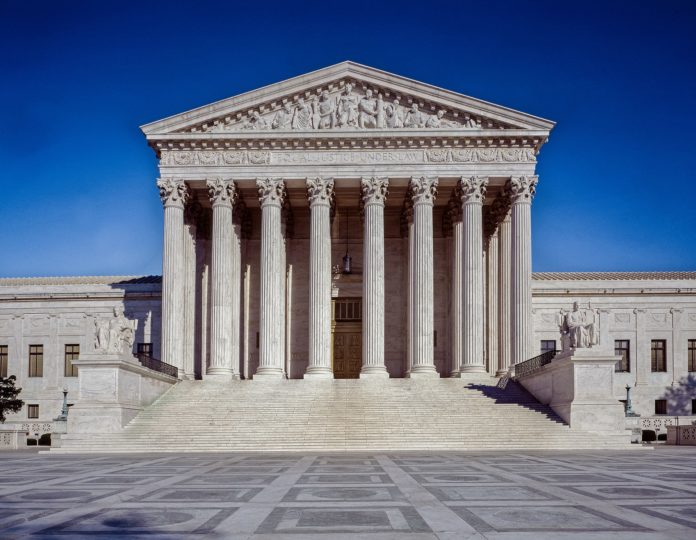 On Friday, the U.S. Supreme Court ruled the Colorado Anti-Discrimination Act can't compel a website designer to make custom wedding sites for LGBTQ+ clients. 
The 6-3 ruling published June 30 reversed a decision from the 10th Circuit Court of Appeals and found the enforcement of Colorado's public accommodation law would infringe on a web designer's First Amendment rights. 
Lorie Smith, the owner of 303 Creative, sued leadership at the state agency responsible for enforcing CADA. Smith claimed that she would like to offer custom wedding website design services but has not been able to do so because of portions of CADA that make it illegal for a business to post a message that they will deny or actually deny services to customers based on their membership in a protected class. In Colorado, those protected classes include race, gender identity and sexuality. 
According to Smith, she wanted to post a message that she would not design wedding websites for non-heterosexual couples due to her religious beliefs. She argued that her denial of services would not be based on someone's sexuality, but rather she didn't want to create a message that celebrated gay marriage. Smith argued that CADA would have required her to speak a message she didn't agree with in violation of the First Amendment. 
A district court ruled against Smith as did a 2-1 panel of the 10th Circuit that held that granting an exemption to CADA would "relegate LGBT consumers to an inferior market" because the company offers "custom and unique" services unavailable elsewhere due to the overlap between custom goods and art. 
The U.S. Supreme Court agreed to consider one question raised by Smith on appeal: whether compelling artists to speak or not speak based on public accommodation laws violates freedom of speech and freedom to exercise religion under the First Amendment.
The majority of the court held that CADA cannot compel a business to offer services that express a message the owner disagrees with. 
"The First Amendment protects an individual's right to speak his mind regardless of whether the government considers his speech sensible and well intentioned or deeply 'misguided,', and likely to cause 'anguish' or 'incalculable grief,'" wrote Justice Neil Gorsuch for the majority. 
Gorsuch wrote in the 26-page opinion that the court acknowledged the role of public accommodation laws to prevent discrimination, but said states have broadened the protection of such laws. He noted that almost half of U.S. states include sexuality as a protected class. 
"At the same time, this Court has also long recognized that no public accommodations law is immune from the demands of the Constitution. In particular, this Court has held, public accommodations statutes can sweep too broadly when deployed to compel speech," wrote Gorsuch. 
Gorsuch was joined by Chief Justice John Roberts and Justices Clarence Thomas, Samuel Alito, Brett Kavanaugh and Amy Coney Barrett. 
Justices Sonia Sotomayor, Elena Kagan and Ketanji Brown Jackson dissented. 
In the 36-page dissent, Sotomayor criticized the majority's decision as a step back for civil rights and a "first time in history" ruling by the Supreme Court to allow businesses "to refuse to serve members of a protected class."
"New forms of inclusion have been met with reactionary exclusion. This is heartbreaking. Sadly, it is also familiar," wrote Sotomayor. "When the civil rights and women's rights movements sought equality in public life, some public establishments refused. Some even claimed, based on sincere religious beliefs, constitutional rights to discriminate. The brave Justices who once sat on this Court decisively rejected those claims." 
The minority wrote that the issue at hand was not a form of speech, but rather conduct and argued Colorado's law did not regulate speech but discriminatory behavior. "The act of discrimination has never constituted protected expression under the First Amendment," wrote Sotomayor. 
Colorado's Attorney General Phil Weiser criticized the decision in a statement June 30 and warned the ruling opens the door for businesses to refuse service not only based on sexuality as well as other protected characteristics like race, gender and religion. 
"This deeply concerning opinion is far out of step with the will of the American people and American values. The opinion represents a radical departure from decades of Court precedent and fails to uphold the principle of 'Equal Justice for All' inscribed on the U.S. Supreme Court building," said Weiser in a statement.