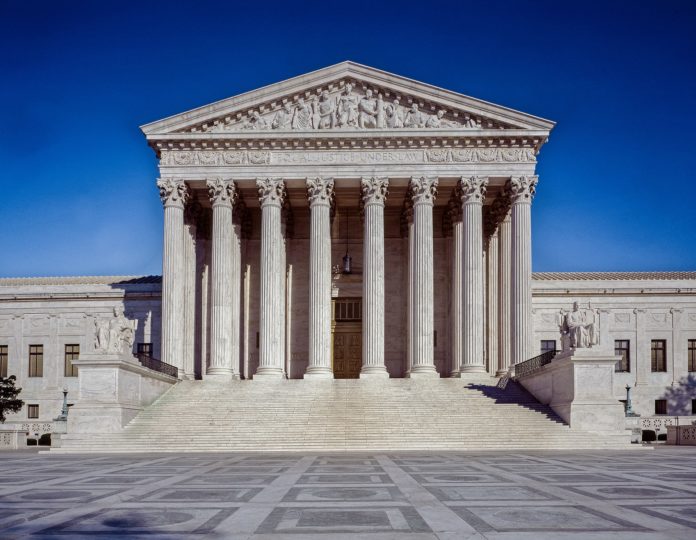 The U.S. Supreme Court on Tuesday overturned a Colorado man's stalking conviction and found prosecutors must show someone had some subjective knowledge that a statement would be threatening for it to be considered a "true threat."  
The ruling came after the Supreme Court agreed to hear an appeal in January from Billy Counterman after an Arapahoe County jury found a series of Facebook messages he sent to a Denver-area musician from 2014 through 2016 supported a conviction for stalking in the serious emotional distress category.  
Counterman's attorneys argued that due to mental illness, he didn't intend the messages to be threats or realize they'd be taken that way. They urged the Supreme Court to throw out Colorado's objective standard — would an objective, reasonable person find this message threatening — for deciding if speech is considered a "true threat" unprotected by the First Amendment. Counterman urged the court to instead require prosecutors to prove someone subjectively knew speech would be considered a threat. 
A 7-2 majority of the Supreme Court on June 27 ruled in favor of Counterman but declined to adopt the subjective knowledge standard he requested, instead applying a recklessness standard. The case brought up a number of questions about speech and expression, online communication and balancing victims' rights. 
"For true threats, recklessness strikes the right balance, offering 'enough 'breathing space' for protected speech,' without sacrificing too many of the benefits of enforcing laws against true threats," wrote Justice Elena Kagan for the majority. 
Chris Jackson, an appellate partner at Holland & Hart's Denver office, said the decision creates a new category of First Amendment cases where subjective intent comes into play. 
"Most doctrines under the First Amendment don't have subjective mental state requirements," explained Jackson, who noted the major exception is the U.S. Supreme Court's landmark 1964 ruling in New York Times v. Sullivan which requires public figures to prove actual malice behind a statement for it to be considered defamation. "But now there are two examples of that. So along with defamation for public figures, now there's also a subjective mental state requirement for true threats cases as well." 
Based on the line of questioning from the justices earlier this year, Jackson said he isn't surprised the court rejected Colorado's argument but thinks the ruling "splits the baby" when it comes to balancing victims' rights and freedom of speech protections. 
For several years, Counterman sent musician Coles Whalen a number of messages on her personal and business Facebook accounts. The messages ranged from friendly to hostile and some suggested Counterman had been following her. While Whalen never saw Counterman in person, she canceled performances out of fear that he might show up and later obtained a restraining order against him. 
Counterman's conviction for stalking was based on the Facebook messages. A panel of the Colorado Court of Appeals in July 2021 rejected his arguments that the standard used by state courts to determine mens rea for if a message constituted a true threat — an objective standard — violated the First Amendment. The state Supreme Court declined to hear the case. 
On appeal to the U.S. Supreme Court, Counterman argued that upholding Colorado's standard could chill and criminalize protected speech.
While the court didn't adopt Counterman's position, it raised the bar for prosecutors who must now show a defendant had some understanding that their statements could be perceived as threatening under a recklessness standard. 
"Given that a subjective standard here shields speech not independently entitled to protection—and indeed posing real dangers—we do not require that the State prove the defendant had any more specific intent to threaten the victim," wrote Kagan. Kagan was joined by Chief Justice John Roberts and Justices Samuel Alito and Ketanji Brown Jackson. Justice Sonia Sotomayor, joined in part by Justice Neil Gorsuch, filed an opinion concurring in judgment.
Colorado Attorney General Phil Weiser, who argued the case on behalf of the state in April, criticized it as creating a "loophole" for stalkers. In a June 27 statement, Weiser said "This ruling fails to take seriously the compelling research that documents how stalking cases—particularly in the domestic violence context—often escalate into physical violence." Weiser said the ruling will make it harder for law enforcement to protect victims of stalking and domestic violence. 
An attorney with Foundation for Individual Rights and Expression, a nonprofit legal group that represents cases around freedom of speech and expression, applauded the ruling even though it fell short of the subjective intent standard the group urged the court to adopt in an amicus brief filing. 
"While the Court did not adopt the stricter standard, we are heartened by the Court's statement that hyperbole will not constitute a true threat and that recklessness sets a high bar for any prosecution," said FIRE attorney Jay Diaz in a June 27 statement. 
Jackson noted the decision will likely only impact a handful of cases, when a defendant knew the words they were speaking but didn't know or recklessly disregarded their meaning or potential to be taken as a threat. But for those cases, Jackson said prosecutors will have their work cut out for them. 
"They have to prove not just that something was a true threat, which is difficult to prove, but also prove beyond a reasonable doubt that the defendant had a mental state, and mental states are notoriously difficult to prove," Jackson said. 
Justices Clarence Thomas and Amy Coney Barrett dissented from the majority.  
In her dissent, Barrett, joined by Thomas, characterized the majority's ruling as giving "preferential treatment" to true threats and said she would have upheld Colorado's objective standard. 
"We have held that nearly every category of unprotected speech may be regulated using an objective test. In concluding otherwise, the Court neglects certain cases and misreads others," wrote Barrett. 
In Thomas' separate dissent, he criticized the majority's holding and the precedent set in New York Times v. Sullivan, indicating he would be open to revisiting the case. 
While Thomas has previously criticized Sullivan, Jackson noted that he was the only justice to join the latest critique which could show the court's more conservative justices aren't as interested in overturning the ruling. 
"For a while, people have been wondering whether the court has an interest in overturning this older decision," said Jackson. "It's notable that only Justice Thomas joined that opinion, he was only writing for himself. And so that's a signal at least that the other conservative members of the court, they don't seem to have much of an appetite to take another look at Sullivan."