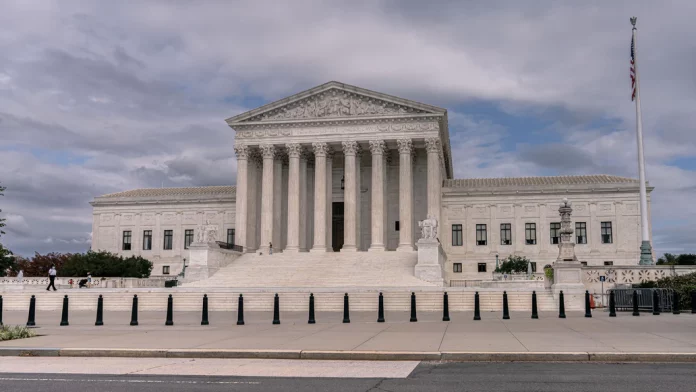 Most Americans believe the U.S. Supreme Court should be more transparent and diverse, according to a recent survey published by C-Span and Pierrepont Consulting and Analytics. The survey also found widespread support for term limits and implementing a code of ethics for the high court. 
The survey asked 1,011 U.S. voters earlier this month a series of questions on their familiarity with the judicial branch, the Supreme Court, their trust of the court's neutrality and their support for proposed Supreme Court court reforms. The survey, published on Tuesday, comes ahead of Judge Ketanji Brown Jackson's first confirmation hearing on March 21 to fill an upcoming vacancy. 
Most voters surveyed, 84%, believed U.S. Supreme Court decisions have an impact on their everyday lives, however, less of the Americans surveyed knew information about the court off the top of their heads. 
Only 56% understood that the three branches of government are co-equal, with most ranking the executive branch of government as the most powerful of the trio. Most were familiar with only a handful of landmark Supreme Court decisions, with 46% of those surveyed not knowing any decisions. The most well known cases were Roe v. Wade, with 40% or respondents naming the decision, followed by Brown v. Board of Education at 6% and Miranda at 2%. 
The survey also asked about Americans' familiarity with individual justices and with the latest nominee. While only about a third of respondents knew Jackson's name, another 15% said they remembered she was a woman and Black. As for the justices, 51% of respondents didn't know or didn't name any of the nine members of the court. Justice Clarence Thomas was the most well-known by voters, with 24% recalling his name, followed by Justice John Roberts at 22%, Justice Sonia Sotomayor at 17%, Justice Amy Coney Barrett at 13%, Justice Stephen Breyer at 11%, Justice Elena Kagan at 9% and Justices Neil Gorsuch and Samuel Alito at 7% each. 
Those surveyed also voiced support for diversifying the high court, both in terms of race and gender and the educational background of justices. About half, 47%, of respondents said having a diverse court in terms of race and gender was "very important" to them, with 22% responding it was somewhat important. Only 10% responded that it was "just a little important" and 13% said it was "not at all important." The survey also found support for diverse education on the bench. Currently, eight of the nine justices on the high court graduated from Ivy League law schools in the northeast. More than half, 59%, of those surveyed said it would be better if justices came from a pool of more diverse colleges and universities, with 22% disagreeing and 19% responding that they didn't know if that would be better. 
Respondents were also asked about their trust in the federal government, the U.S. Supreme Court and their views on court impartiality. Most, 57%, responded that they trust the federal government less than they did several years ago, with 13% responding that they have more trust and 24% reporting no change. As for the court itself, 45% of the voters said they think recent decisions by the Supreme Court demonstrated it acts in a serious and constitutionally sound manner and 55% said recent decisions show the justices are split along party lines. When compared to similar surveys run by C-Span and  Pierrepont from 2011 through 2018, voters today have higher confidence in court neutrality. The five previous surveys found between 33% and 38% of voters believed the court acted neutrally and between 61% and 67% responded the decisions reflected partisan divide. 
Discussions over Supreme Court reform have reignited in the past couple of years. Last year, the Presidential Commission on the Supreme Court of the United States released a 300-page report on court reforms, their history and public criticism over court practices. The report found bi-partisan support for 18-year term limits for justices by current and former legislatures, government staff and judicial scholars. According to the recent survey, most Americans support term limits too. 
Two-thirds of voters surveyed said they prefer 18-year term limits (38% strongly prefer, 31% somewhat prefer) and only 17% responded that they prefer the current system of lifetime appointments. Support for term limits has grown over the past four years. The 2018 survey found 25% support for lifetime appointments, with 47% placing some preference for term limits and only 27% strongly supporting limits. 
Another proposed reform, creating a code of ethics for the U.S. Supreme Court to provide guidance on matters like conflicts of interest, had overwhelming support by those surveyed. Of respondents,  72% believed the court should have a code of ethics, 15% say they shouldn't and 14% responded they're not sure. 
Respondents were less sure about court transparency, the completeness and openness of information on how and why justices decide a case. About 29% said they believe the court provides adequate information on their reasoning, 37% said they didn't believe enough was provided and 26% didn't have a strong opinion on the matter. 
One way to increase transparency, the survey suggested, would be to televise or livestream oral arguments. Most Americans, 54%, weren't aware that the high court now provides live audio of oral arguments, but out of those who had listened to live arguments, 48% said it gave them a more positive view of the court. Two-thirds of respondents said they support televised oral arguments and 70% said television coverage would increase public trust in the courts. 
C-Span has conducted similar surveys since 2009 which usually correspond with Supreme Court vacancies and confirmation hearings. The latest survey captures public perception of the court ahead of Jackson's confirmation hearings, which start next week.