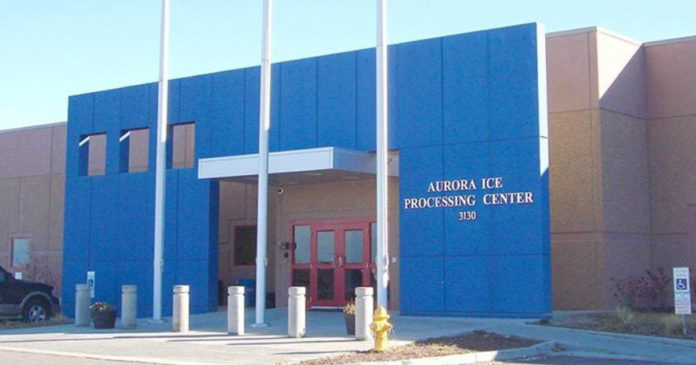 The worlds of medical and legal practice often exist in separate spaces, sometimes only crossing paths as witnesses, as experts for testimony or in malpractice. But, for Jenny Regier, her work with detained immigrants has led her to want to build stronger relationships between medical professionals and lawyers to better serve a concerned population on two important fronts.
Regier is an Equal Justice Works Fellow, financially sponsored by Pfizer Inc., meaning that she's currently in a fellowship position facilitated by the nonprofit EJW organization, hosted by Rocky Mountain Immigrant Advocacy Network and sponsored by Pfizer. The EJW helps place law students, legal service organizations, supporters and lawyers in a commitment to public service and equal justice. Each fellow must find an area to focus on. For Regier, that's equal parts law and medical.
Aside from offering legal representation to clients in detention in the Aurora Contract Detention Facility, Regier is also spearheading a stronger medical-legal relationship between RMIAN, a nonprofit legal services provider for detained immigrants, and Denver Health, a complete health care system for the Denver area dating back to 1860.
"We're really uniquely positioned here being in Denver, where we have this really vibrant medical community that is mobilized in lots of advocacy efforts," Regier said. The work that physicians and medical professionals provide to detainees can be incredibly important for medically and minority endangered immigrants.
Her job entails meeting with the members of the HRC and Denver Health to brainstorm ways of improving care for those in detention and people released from detention in need of legal services, Regier said. However, the core part of her job is facilitating referrals to and from health professionals.
"This project focuses on these populations in particular … because there's increased histories of trauma and abuse that is made substantially worse by detention," Regier said.
Health concerns for immigrants have been heightened by the pandemic, but the American Civil Liberties Union, in their 2020 report called Justice-Free Zones, said conditions and medical care were poor and inadequate, even before COVID, and that since 2017, the immigration detention system has grown across the nation.
"Denver Health and RMIAN created the medical/legal partnership to fill an overwhelming gap in services for vulnerable populations who would otherwise be trapped in detention without access to critical resources," said Laura Lunn, the managing attorney for RMIAN's detention program.
Regier said she and RMIAN are both uniquely situated for this fellowship as well. Regier had interned with RMIAN the summer of her 1L year, and during her work at the Aurora Contract Detention Facility, she said she realized the detained population wasn't only worried about their legal needs but also their medical care and conditions of confinement as well. This was the spark of inspiration that led to her current work.
These partnerships between medical and legal organizations are rare, according to Regier. To her and RMIAN's knowledge, no other organizations have a model of medical-legal partnership supporting those in detention.
The goals of the fellowship are to improve legal outcomes as well as health outcomes for women and gender minorities in immigration detention, she said. Gender minorities and women have faced higher levels of risk in immigration detention, such as reports of sexual abuse on transgender women and reports of unauthorized abortions on female detainees.
Part of this work is to strengthen the relationship that RMIAN has with Human Rights Clinic of Denver Health, an organization consisting of doctors working on forensic evaluations. The group of physicians that Regier works with is ready and able to provide evaluations and services to individuals in immigration proceedings in Colorado, and work is voluntary.
The Human Rights Clinic was founded by a group of providers from specialties including pediatrics, internal medicine, gynecology, infectious disease, family medicine and clinical psychology, to address acute issues faced by some immigrants, according to the Denver Health Foundation Facebook page. Before it was created, there was no coordinated way of conducting forensic exams for asylum seekers in the Denver area. They have served detainees affected by female genital cutting, or other mental health consequences of torture due to personal beliefs, ethnicity, sexual orientation or gender and more.
This can include Denver Health identifying individuals in need of legal services, and sending them in the direction of RMIAN, she said. Or it can work the opposite way, like legal experts requesting forensic, physical and psychological evaluations describing past trauma, mental health conditions and other challenges to providing credible testimony or corroborate.
"Opinions from medical experts serve as critical evidence in immigration cases," Lunn said. "A single diagnosis can mean the difference between indefinite confinement and liberty." And forensic evaluations can be key for helping to corroborate detainee claims of torture or other abuses in the countries they fled from.
A physician can provide "critical" help for survivors of torture, domestic abuse, trafficking and other forms of prosecution to help substantiate claims for asylum. This help comes in the form of a forensic medical evaluation of the asylum seeker, resulting in a document providing evidence of physical and psychological trauma, according to Medicine Beyond Borders, a brief about providing care through forensic examination and legal referrals from the Eugene S. Farley, Jr. Health Policy Center at the University of Colorado Anschutz Medical Campus.
"Asylum seeking immigrants are a hidden population in the US," said Dr. Janine Young, the medical co-director of the HRC and member of several refugee serving organizations. "There is a huge need to support this population in accessing evidence-based medical care through a medical home and not just through an ER when they are seen for more costly acute needs."
Expert medical opinions in immigration cases can demonstrate the hardships faced by families when separated and help to corroborate the trauma and fear asylum seekers experience, Lunn said.
"When submitted with an application for asylum, these evaluations can make the difference between a person being granted safe haven in the United States and being forcibly returned to the very country where they were persecuted or harmed," the brief states.
With these examinations, the grant rates of asylum increase, according to research presented in a 2007 article in the Journal of Immigrant and Minority Health. Documentation of medical evaluations in asylum adjudications has not been documented in many cases, but between 2000 and 2004, a group of medical workers performing evaluations looked at 746 cases during the time of the study. Of those cases, 89% were granted asylum, compared with a national average of only 37.5% who didn't receive evaluations.
Regier's work with the HRC has been an essential part of better advocacy for the health and well-being of asylum-seeking immigrants in the state, Young said. While helping building a more robust medical-legal partnership with RMIAN, Regier's work within the HRC team in systematizing the approach to writing humanitarian release letters for detainees has been instrumental, she said.
But a focus of her fellowship is on improving legal and medical outcomes for gender minorities, Regier said. The timing for her fellowship was fortuitous, because about the time she was beginning her fellowship, a detention center in New Mexico was closed down. As a result, an influx of transgender detainees entered into the Aurora facility, and Regier says there are now more transgender people in Aurora than ever before.
And transgender women face many challenges in immigration detention. At any given time, "scores" of transgender women are in U.S. immigrant detention, according to the Human Rights Watch, an investigative organization consisting of lawyers, journalists and other professionals working on advocacy for vulnerable populations. Although the exact number is unclear, the HRW reports that ICE estimates approximately 65 transgender women in their custody on any given day. Until recently, transgender women were held in men's facilities.
Regier has also been in developing materials for detainees and immigrants without attorneys who may be vulnerable. She said she's been creating material for attorneys working pro bono with RMIAN on her areas of expertise.
During the pandemic, Regier said that expert letters for the relief and release from detention on the basis of health conditions has become a large part of her work as well. She said the risk factors faced by those in detention are high during the pandemic, but also those detainees with health concerns that make them higher risk for COVID-19 concerns.
Regier said the objective view of medical professionals looking through health records, and then providing recommendations based on a specific situation have been effective. She added it was amazing to see the amount of support coming from the medical community in letters and forensic evaluations.
Despite the timing of Regier's fellowship in the middle of a pandemic, Lunn said that Regier has served as a critical resource in facilitating medical services and legal representation for people in detention "at the greatest risk" if they were to become infected with coronavirus.
But Regier's work won't stop or slow down with the vaccines, Lunn said. In the upcoming months Regier will be providing training for medical providers on immigration law and educating attorneys on how to advocate for clients in detention facing health emergencies.
"Before the conclusion of her fellowship, Jenny will craft a roadmap for others to create similar collaborations across the country," Lunn said.