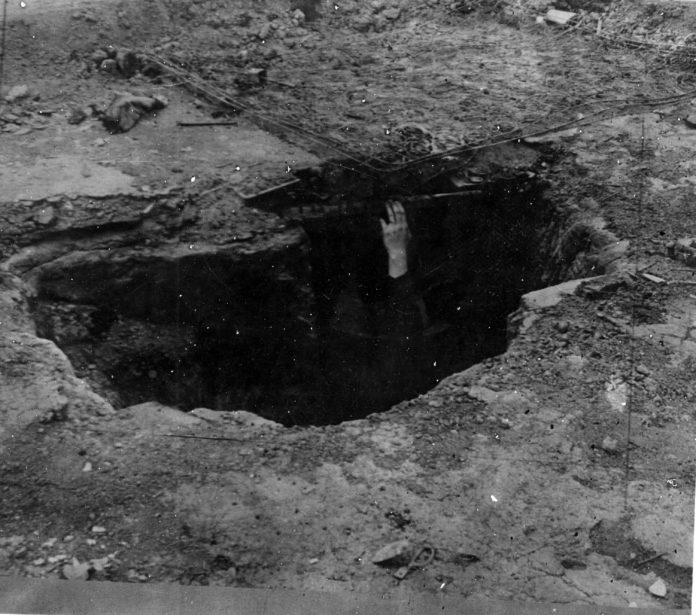 Stuart Mace Jr. had a life like a movie. 
Mace Jr. was a successful dog sled business owner and operated a mountain rescue business in Boulder. In the winter of 1948, after his neighbors complained about his sled dogs "singing with the nearby chapel bell" and he was allegedly illegally zoned out of his property by the city, he decided to forgo fighting the zoning issue in court and move to Aspen. The sled dogs also came in handy in Aspen and Mace Jr. said in an oral history with the University of Denver in 1991 that he and some wartime buddies started the first mountain rescue there.
But Mace Jr., aside from having an interesting backstory of rescues on icy mountains and writing a doctoral thesis on high-altitude plant genetics, had an equally interesting family history. 
For example, he said he was always puzzled by a hat he found in his father's trunk in the attic. It was riddled with holes. 
To understand the hat though, he had to understand his father, who was a photojournalist for the Rocky Mountain News and the Denver Times. According to his obituary in Editor & Publisher in October 1923, Stuart Mace died suddenly at age 42 in Denver. Mace Jr. was only around 4 years old when Mace Sr. died. In an article published by History Colorado earlier this month, West Texas A&M University history professor emeritus F. Darrell Munsell pieced together accounts from Mace Jr. and other records to get to the truth behind what happened to Mace Sr.
Mace Jr. reportedly said Barron Beshoar showed up at his door in January 1951. Beshoar was a journalist and author of "Out of the Depths," which was first published in 1942 and is a biography of Colorado mining labor leader John Lawson. According to Munsell, Beshoar told Mace Jr. that The Denver Post sent Mace Sr. and Beshoar to Ludlow in 1914 to cover the fighting that had broken out between striking miners and the militia in what's now known as the Ludlow Massacre. In a shootout between the striking miners and the militia, Mace Sr. and Beshoar allegedly hid in a steel coal car. Mace Jr. said Beshoar told him the holes in the hat came from that crossfire, as Mace Sr. and Beshoar held their hats in the air to draw fire so Mace Sr. could have a chance "between salvos of gunfire to jump up and take a picture." 
According to Mace Jr., Mace Sr. and Beshoar escaped the skirmish with the photos but strikebreakers followed them back to Denver and reportedly bribed Denver police to let them break into the Post building and destroy the images along with everything Mace Sr. had ever photographed. 
Munsell reported Mace Jr. elaborated in a 1992 recording, noting the famed Rockefeller family "ordered the destruction of Mace's Ludlow photographs, which, as physical evidence, they considered far more damaging to them than any newspaper article they could refute." 
"The story, while compelling, was factually misleading in several important ways, with some details better suited for a movie script than a history book," Munsell wrote. Munsell explained that Mace Sr. wasn't employed by the Post at the time and worked for both the Rocky Mountain News and the Denver Times when he photographed Ludlow. Beshoar, Munsell wrote, was "a young boy of seven in 1914, could not have been the reporter sent to the strike zone to accompany Mace. Nor was he in the coal car with him during the battle of Ludlow." 
But Munsell wrote that Beshoar established something had happened to Mace Sr. Large corporations like the Colorado Fuel and Iron Corporation allegedly silenced news staff and outlets like the Rocky Mountain News in the wake of the Ludlow Massacre. "To make their point more forcibly after the Times ended its relationship with him, CF&I blacklisted [Mace Sr.] from gaining employment with any Denver newspaper in the future," Munsell reported. 
Mace Sr. opened a photography business, according to Munsell, but developed "emphysema from inhaling the poisonous vapors of the 'closet' — the dark room — from which he had worked for the Denver Times." 
He briefly landed a job at the Denver Post as a staff photographer in 1920, according to Munsell, but lost his contract after the outlet published a photo he'd taken of John Rockefeller Jr. and his sons while they were on vacation in Colorado. Mace Sr. reportedly reached out directly to Rockefeller and "pleaded his case" and was soon back on the streets of Denver "to snap pictures of burned-out trolley cars and federal troops during the trolley strike in August, 1920." 
"His attempt to return to his profession was interrupted when he suffered a nervous breakdown in 1921 that confined him to his bed for eight months," Munsell reported. Mace Sr. contracted pneumonia in July 1923, according to Munsell, and seemed to be recovering again before he died suddenly from a brain aneurysm in September. 
While Beshoar may not have been at Ludlow as Mace Jr. said in the 1991 recording Munsell referenced, Mace Sr. did take photos of the militia response at Ludlow in 1914. These images, as well as his photographs of the August 1920 Denver street car riots, are stored in Denver Public Library's Digital Collections. 
Of Mace Sr.'s alleged hole-filled hat, Munsell wrote, "The mysterious hat in the trunk symbolized the life of a man whose ingratiating personality and disregard of danger and hardship allowed him to produce photographs that represented the best in American newspaper photography."