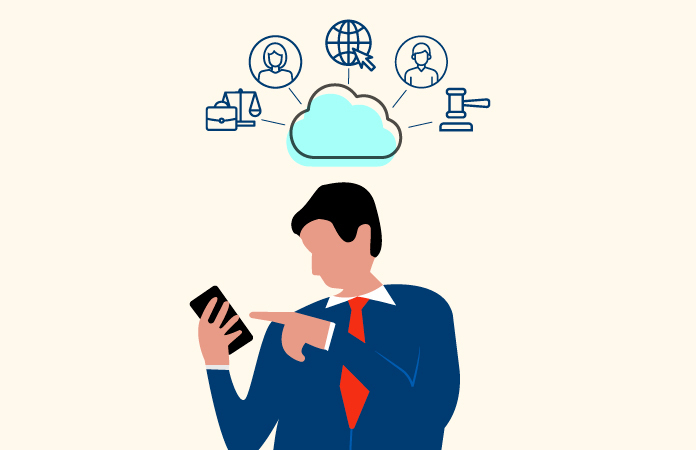 Young professionals are addressing wellness in new ways — one of those ways is through an online community on the popular video sharing platform, TikTok. Typing in "lawyer TikTok" returns a plethora of accounts and videos from attorneys talking openly about the profession. Some of the videos are about the more humorous things that can turn up in court transcripts, and some of the videos talk about professional issues like lawyer dress codes or leisure activities that some may perceive to clash or contrast with the practice and work-life balance. 
During the pandemic, attorneys from all practices and age ranges have struggled with wellness and mental health. As public health orders changed from week to week, courts and law offices closed to in-person activity. And with those closures came other issues for seasoned lawyers and young attorneys alike. 
Last week, Law Week spoke with managing partners from Burg Simpson, Stinson LLP, Davis Graham & Stubbs and Hernandez & Associates. Christine Hernandez of Hernandez & Associates and Michael Burg of Burg Simpson discussed the inability to train young lawyers in trial court scenarios through this time. All partners agreed the lack of in-person activity over the last year and a half has had negative impacts on staff, with some young attorneys in Hernandez' immigration practice quitting the legal profession altogether. 
"We had two of our associates leave us at the beginning of the year, one to start his own firm, and the other said, 'immigration is a mess I'm done, I don't want to practice immigration anymore,' and she's no longer doing law," Herandez told Law Week. Deborah Bayles of Stinson noted that the fundamental shift in how attorneys practice is likely here to stay even if it was brought on by the pandemic. Tess Hand-Bender of DGS noted, "it's an evolution of what has been happening in the legal profession over the last decade or so." 
Kristen Uhl Hulse, senior director of attorney recruiting and development at Snell & Wilmer L.L.P., said in a statement to Law Week that "junior lawyers are craving connection, be it online or in-person. After over a year and a half of predominantly online work and learning, it is instinctive and easy [to] seek an outlet that is also online." But she also warned, "while that may be in one's comfort zone, it is not necessarily a forum that is re-energizing in light of the cumulative effects of technology fatigue." Hulse noted that social connection in addition to more physical activity may be a better option for lawyers predominantly working online.
Some lawyers like Cecillia Xie, an associate and privacy lawyer for ​​Morrison & Foerster based in New York, used TikTok at the beginning of the pandemic to talk about the pressures of practicing law while working from home. Xie talks about her start in law in addition to how she maintains her health and wellness throughout the week. She also throws in a few videos discussing work-life balance and wellness culture that can be established from the top down at firms.
Jay Eveland takes a different approach to wellness on the platform. As a divorce lawyer and partner at ​​Eveland & Foster Family Law, he creates TikToks to remind his clients that they're not alone. Eveland also shows his legal and emotional support for his clients in unique ways on the platform.  
While using the video creation platform to address unique wellness concerns and bond with the larger legal community, some lawyers are also using TikTok to market their services and firms. Anthony Barbuto, founding partner of Barbuto & Johansson, addresses some of the concerns over finding legal services on TikTok in his Aug. 10 video with more than 22 thousand plays. He's amassed more than 2 million followers on TikTok. Mike Mandell of Mandell Law bills himself as the "#1 Social Media Lawyer" with over 5.6 million followers. His "Lawyer Explains" series on TikTok addresses legal questions for millions of people at a glance.