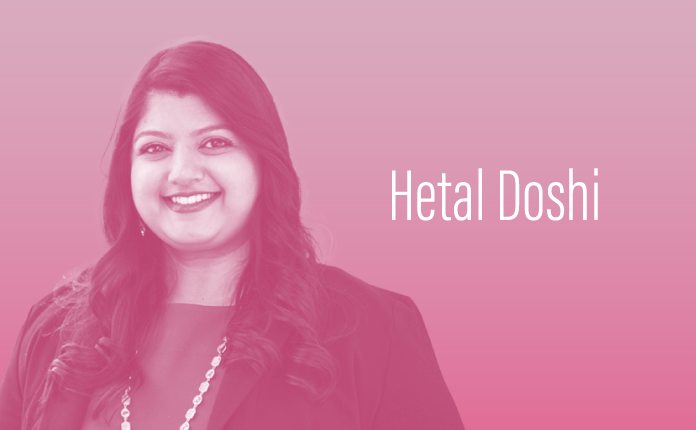 Hetal Doshi considers paperwork to be a gift. Her family does too, even if they didn't always.
"In America, the beauty and the genius of our constitutional design, our government, our judicial system, is that it's all based on our respect for paper," the assistant U.S. attorney, 42, said. "That paper is the manifestation of our rule of law. Lawyers are heroes in the sense that, when we push paper around, [we're operating] the machinery of our democracy."
Her father, a nuclear engineer, did not always see it that way. His dream was first to become a physician himself and then for his daughter to choose that path. 
"My dad, who has a science background, was very much – I don't think he described it this way, but it was very much his point – like, 'lawyers seem like the transaction costs for society. Businesses are inhibited by lawyers, you need lawyers to do deals, you have lawyers who have different types of lawsuits, it's just a social cost,'" Doshi said. "He asked me, 'don't you want to be part of real progress and make a difference in the world? Or do you want to push paper around?' He, from his science background, thought that was the way to affect change and progress – with research and innovation."
Doshi, who enjoyed debate in high school and excelled at it so much that her talent helped persuade Emory University to recruit her as an undergraduate, felt differently. "I always knew I wanted to go to law school, not medical school, because the sight of blood makes me faint," she said. "It continues to make me faint."
After earning her undergraduate degree in 2001, Doshi began her career in the telecommunications industry. Unfortunately, her launch coincided with the dot-com bust and the aftermath of the terrorist attacks on Sep. 11, 2001 that afflicted the U.S. economy during the first years of the new century. "The telecom industry…was facing really significant headwinds," she said. The time was right, Doshi decided, for her to chase her law school aspirations.
Enrolling at the University of Virginia in Charlottesville, Doshi had no inkling then that she'd eventually become a prosecutor. "This is an embarrassing fact," she said. "I didn't know what an assistant U.S. attorney was when I was in law school. I just assumed that DAs handled all criminal law enforcement." Instead, she found herself drawn to learning about the constitutional law of other nations in an interdisciplinary curriculum that is emphasized by the law school founded by Thomas Jefferson in 1819. "That really hit directly at what my dad was talking about," she said, deciding that while she did need the usual "super-practical classes," it made sense to "dream a little bit in law school and to find that inspiration."
When the time came to start her career, Doshi headed deep into the American South, the region where she grew up as her family moved at various times between Birmingham, Houston, and  Vidalia, Ga. –  "where the onions are from," as the veteran lawyer described it. Starting out at Alston & Bird in Atlanta, Doshi worked with a partner who was an assistant U.S. Attorney and a senior leader of the narcotics division at a Florida U.S. Attorney's office. Doing government investigations work and defense work for the firm, Doshi had a revelation. "That's the first time I was like, 'Oh, that's what I want to do,'" she said.
From there the young lawyer, after meeting the man she would marry, went to New York after he took a position in a company there. Landing at Quinn Emanuel, Doshi was an associate in Gotham for two years. Describing it as a time when she worked with "some of the most talented trial lawyers and litigators in the world," she chose to move on only when an instance of "serendipity" came her way. Her husband was offered a chance to work for the World Bank in Kenya. "New York City spoke to my soul in terms of art and culture and the diversity of people," Doshi said. But "the grind was real in New York City. I kept thinking about that dream of being a U.S. Attorney. How's that going to work?" So the couple decided to move to Nairobi for 14 months, where Doshi "took some time to reset" and volunteered for several human rights organizations in the East African nation and for the Kenyan parliament.
When the duo returned stateside, they knew they were at a crossroads. "My husband and I decided if we didn't leave New York City then, when we were in Kenya, we just never would," she said. "We made a map. We had UN Security Security Council rules – each of us got a veto – and we started talking about cities. True story." The couple settled on Denver after considering Austin and Portland, too, even as neither had visited the Mile High City more than a couple of times. "My husband and I wanted to live in a place where people wanted to vacation because that meant it would be easy, if we were forging a brand new life in a place where we didn't really know anyone, to have friends and family come visit us," Doshi said, noting the draw of "the great Rocky Mountains. Besides, there was "significant work to be done for Colorado clients or western clients right here," she continued. "We're not trying to play in someone else's sandbox on the coasts." 
First setting in at Faegre Baker Daniels for about two years, Doshi finally got the chance to join the Justice Department in November 2014. She has since established a practice as one of the office's prosecutors handling economic crimes, a duty she finds highly fulfilling."The work that I do now is all in service of trying to ensure that our markets are free from fraud and corruption, that they're fair and just," she said.
Now halfway through her second decade in practice, Doshi said she has seen big changes in the way the profession welcomes women. "I have a lot of stories about how I was assumed to be the court reporter or the paralegal," she said. Those were scenarios in which she, like other women, did not necessarily receive the presumption of "competence and skill" they had earned. "I think that has changed significantly in the last 15 years." Today, thanks to "a lot of women a generation or two ahead of me have done the hard work of hearing that baseline respect for competence and skill," Doshi sees now that more male lawyers are willing to acknowledge and address bias against their women colleagues. "I've seen significant progress," she said. "Are we there yet? Absolutely not." 
Young women entering the profession are, she thinks, now less likely to "self-censor." "They're not worried about being trial lawyers, and what juries are going to think about their appearance or the way they conduct themselves in the courtroom, in the way that I was trained on that," she said. "I can't wait to see what this generation of young women lawyers bring to the table in terms of not apologizing for their perspective or for taking up space or for being ferocious advocates for their clients."
The profession's commitment to equity is also improving, in Doshi's view, but there are imperatives that must not be forgotten. "I think it's critical in terms of building a judiciary and a legal profession that looks like America and has the experience, more importantly, of Americans, that we take our mentoring obligations really seriously," she said. To assure that all lawyers have a fair chance to do the work their talents and skills qualify them for, Doshi urges her colleagues to keep in mind the need to avoid the "same-old, same-old" thinking about what makes a candidate suitable. "There's all sorts of different kinds of experiences that we all bring to the table that inform the way we think about certain issues," she said, mentioning barristers that were the first in their family to go to college, grew up in rural areas, come from military families or, like her, are members of an ethnic minority. "I think we need to be mindful of access points to certain roles that exercise discretion or that have some sort of power."
Achieving that goal requires mentoring and, on that point, Doshi said that she tries to put into practice a habit taught her by a fellow lawyer years ago. Lawyers should ask themselves, she said, "what are we really doing in terms of pushing our dreams forward or our mentees' dreams forward?" To assure that it is actually happening, Doshi suggests setting aside ".1 – six minutes – into yourself or into someone else, where it's not about reacting to anything." 
Doing that for young lawyers, Doshi explained, can help them systematize some tools that will help them progress. Among them might be assisting mentees in developing a "personal board of directors" – a group of colleagues, friends, associates, and family members that "you can always turn to and they will be a gut check in terms of your decision making, tell you the hard truth, and push you." Another must be, Doshi insists, the habit of being "really honest and open and not defensive about feedback." "We put such pressure on ourselves to be perfect," she said. "But when we don't take risks, [when] we aren't bold, we aren't really growing." To fix that, young lawyers should not view feedback as "a referendum on your professionalism or your competence." The third emphasis Doshi keeps in mind as she focuses on equity goals in her professional life is the need to remember the value of thoughtfulness in the way work gets done. "Inertia is the enemy of progress," she said. "Every day is a new day. Be happy with what you are doing and be thoughtful about the processes by which you do it."
Doshi has traveled to nearly five dozen countries. She enjoys cooking and has an "obsession" with the Great British Baking Show and Top Chef, is an avid reader and fan of historical fiction and an array of authors including Arundhai Roy, Zora Neale Hurston, Jane Austen, Zadie Smith, Sally Rooney, Alice Walker, Jhumpa Lahiri, Sandra Cisneros, Betty Smith, Charles U, Isabel Allende, Celeste Ng and Imbolo Mbue. She also indulges the "guilty pleasure" of reality TV. 
But what about her father's view of her career? 
"He's really come around on this," Doshi said. "It's largely because I think he now understands what it is that I do. I think my family has really come full circle in understanding that that paper is not just something that impedes progress. That paper is itself a manifestation of progress, which I think is incredibly gratifying."