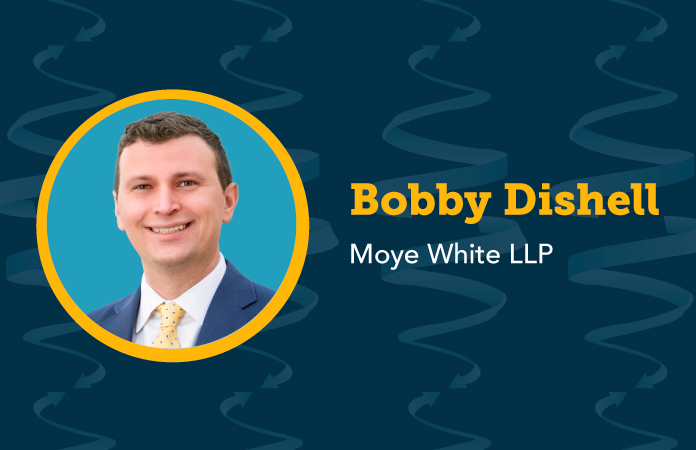 Like many new lawyers, Bobby Dishell launched his legal career during the pandemic. But what stands out about Dishell is his level of involvement — professionally and in the public sector — despite being fresh to the practice. 
Dishell, an associate at Moye White, graduated law school from the University of Colorado in 2020 and passed the bar last year. In addition to his work at Moye White, Dishell was elected to the Regional Transportation District's District D board of directors in November 2020. 
Involvement in his community — inside and outside of the law — is something that seems to be a constant for Dishell and he shows no sign of stopping. 
His election to the RTD board during his final year of law school has been one of his proudest moments, said Dishell. "Being sworn into the RTD board on the public sector side was a big milestone," he explained, "for me, for my family, to be an elected official, knowing that RTD is not the grandest board in the world, it's still really exciting and it still impacts over 3 million people a day."
Before moving to Colorado for law school, Dishell taught middle school English and Humanities in Baltimore Public Schools. Two years working with Teach for America pointed Dishell toward a career in law. "I realized I wanted to work on a systems level rather than direct service," Dishell said. "I wanted to go into a profession that could ensure I could financially support my family but have the flexibility to be able to engage in public service." 
Dishell works on the firm's real estate team and handles transactional matters including industrial acquisition, disposition and development as well as commercial lease agreement and multifamily assets. He also advises clients on solar and leasing development and works with cannabis clients on leasing matters and third-party certifications. Since joining Moye White, Dishell has handled "some of the firm's largest, most historic and important clients with eight plus-figure real estate deals," wrote Lindsay Vassar, the firm's marketing manager, in Dishell's nomination to Law Week.  
Professionally, Dishell explained his proudest moment was his increased responsibility and trust at the firm. "On the private sector side, this is gonna sound odd, but when I first started getting clients coming directly to me, not filtering it directly through the partner" is when he knew he was proceeding to new levels of trust, Dishell explained. "Each time stands out as a strong moment for me when the clients said 'you know, I trust you to do this work.' From there it grew into clients, and same with the partners, saying 'we want you to take a more active role in these transactions.'" 
At Moye White, a certified B Corp company, Dishell sits on the firm's B Corp Committee to uphold the social and environmental responsibility requirements for the certification. He said he valued the B Corp Certification when he first joined the firm as an intern. He played a part in passing required Justice, Equity, Diversity and Inclusion training for RTD board members to better serve the community. 
"I wanted to go into a profession that could ensure I could financially support my family but have the flexibility to be able to engage in public service." – Bobby Dishell, associate at Moye White
Originally from Los Angeles, Dishell moved around the country before putting down roots in Colorado. He graduated in 2015 from the University of Michigan with a bachelor's degree in public policy and served as the Student Body Vice President and President. After college, he moved to Maryland to teach and earned a master's degree in educational studies from John Hopkins University School of Education before heading west to attend law school in Boulder. 
Dishell plans on staying in Colorado for the near future, he said. He has several more years on RTD's board of directors, his wife joined a Ph.D. program at the University of Denver and the couple recently bought a home in Denver where they adopted a flock of chickens all named after characters from the Canadian television show "Schitt's Creek." He also looks forward to continuing his legal practice at Moye White, "in the legal field, it's really growing and honing my trade," he said. 
In his free time, Dishell enjoys hosting dinners and trying restaurants. "Food and the way that community is built around food and drinks, I find fascinating. I enjoy it and I enjoy that cultural aspect of it," he said. "As someone who's Jewish, food and community based on food-based holidays is such a big part of the cultural aspect," he explained. "We do Shabat most Friday nights and try to have people over, Jewish and not Jewish, whenever we can."
For attorneys who are also launching careers during the pandemic, Dishell said cultivating connections within the firm and seeking out feedback from colleagues and clients are crucial. "It's about picking up the phone and it's about making the effort and not exclusively relying on email communication or text communication."