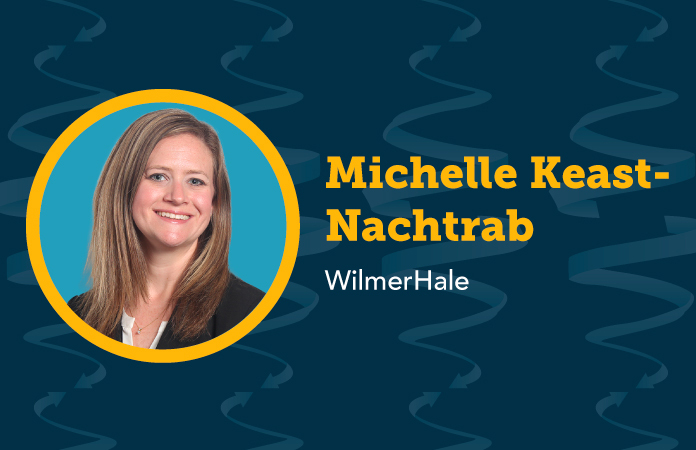 Michelle Keast-Nachtrab says launching a second career in law is among her proudest accomplishments in recent years. But she hasn't completely left her first career as an investigator with the U.S. Air Force behind. The WilmerHale associate manages to balance a demanding career in BigLaw with her duties as an Air Force reservist.
She says lessons from her military experience have helped make her a better lawyer. "It helps me on a personal level because I've had work experience and life experience and I've seen things, which I think gives me kind of a different perspective than maybe some of the other third-year associates," she said, adding the work ethic she gained carries into her work as an attorney.
Keast-Nachtrab grew up around the military. Her father was a Department of Defense civilian with the Army Corps of Engineers and his career took the family around the world to Italy, South Korea and Japan. She went to university on an ROTC scholarship and later joined the Air Force Office of Special Investigations, where she was an active-duty special agent and served as a detachment commander overseeing criminal, fraud and counterintelligence investigations. She also served in Afghanistan in 2008. Now, as a reservist with the Office of Special Investigations, she spends at least 24 days a year with the Air Force.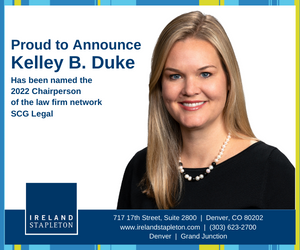 While she always had an interest in the law, she credits her work as an investigator with helping to stoke that interest and push her toward a career as an attorney. "When you're an investigator, you're always looking at 'Why can't they use this in court?' or 'Why is the [prosecutor] not taking this case?'" she said. "I think that reaffirmed my desire to go to law school and understand why some of your cases don't end up going as far as maybe you think they should go." 
As a litigator at WilmerHale, Keast-Nachtrab helps clients with governmental investigation responses and internal investigations. She was part of a small team hired by the City of Aurora to complete an independent investigation into the Aurora Police Department's response to an incident involving an officer who was found drunk and unconscious behind the wheel of his patrol car. The team produced a 329-page report on the high-profile incident and presented their findings to city council members and the public in March 2020.
Although her practice has shifted toward investigations, she also has experience in intellectual property law. In one recent case, she was a key member of a team that won full dismissal of trademark claims against a financial institution. In another case, she helped defend an aerospace startup against accusations of trade secret misappropriation. Her team successfully argued a motion to compel, forcing the plaintiff to disclose the trade secrets they thought the client misappropriated before the client divulged its own technology. "We were able to work with the client and get them through the process and actually come to a settlement," Keast-Nachtrab said. 
In addition to advocating for her clients, she has become an advocate for veterans and military members in the legal profession and a leader in her firm's veteran initiatives. She was involved in the formation of WilmerHale's veterans' affinity group and helped update the firm's policy on military leave. She also assists with the firm's veteran recruitment initiative and participated in a panel for law students transitioning from military service.
"I think it's important to help other people who make that transition from the military. I think you'll start to see more and more of us," Keast-Nachtrab said. "Some of my closest friends in law school were military veterans, and when you see each other, you kind of speak the same language, even if you weren't necessarily in the same branch."
She has taken on pro bono cases through the National Veterans Legal Services Program to help veterans get the benefits they need. Her pro bono successes include securing Combat-Related Special Compensation pay for a disabled veteran.
She has also volunteered on behalf of asylum seekers and immigrants, winning asylum for a client who fled Honduras at age 18. Keast-Nachtrab is part of a group of volunteers nominated for the Colorado Lawyers Committee Team of the Year Award for their work on the Preparing Asylum Seekers for Success Pilot Program. The program helps prepare asylum seekers for their credible fear interview, which is the first step in the asylum process. "That's been really rewarding to actually see some people get asylum and help them join the community," she said.
When she's not working, volunteering and fulfilling her duties as an Air Force reservist, Keast-Nachtrab likes spending time with family, accompanying her two children to their extracurricular activities and enjoying Colorado pastimes such as camping and skiing. She also enjoys cooking, a hobby she has been able to indulge in a lot more over the past year and a half. "One of the unique things about the pandemic is that I've been home for dinner, and so I like to cook a new recipe almost every night," she said. "My kids are always groaning because they're like, 'Not another Food Network recipe!'"