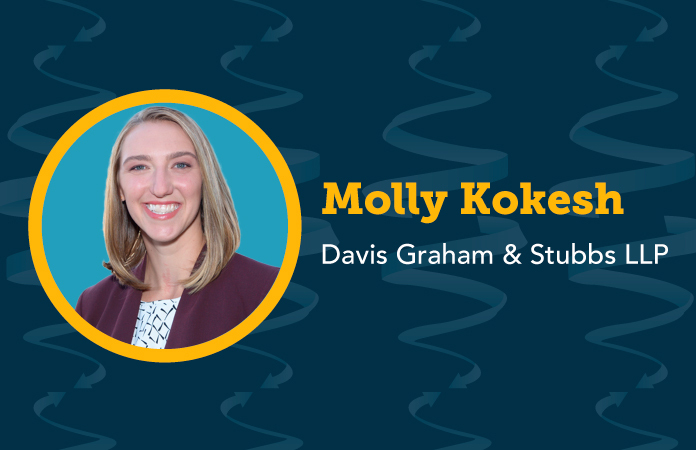 For Molly Kokesh, an associate at Davis Graham & Stubbs, being a lawyer was a possible career choice, not to mention a great way to help out people with their problems. Coming from a small town, graduating high in her class and already cementing herself as an integral part of appellate work for her firm, Kokesh makes it easy to see why she's an Up and Coming Lawyer.
"There's a lot of great Up and Coming Lawyers in Denver and Colorado, and I'm glad to be part of the group," Kokesh said.
When she was growing up, Kokesh either wanted to be a lawyer or a surgeon working to treat children with cleft lips and palates, she said. Though the surgeon route was close to her heart, as she was born with a cleft palate, Kokesh said her love of writing throughout her life kept pointing her toward the law.
"It's a way to use reading and writing skills in a way that can really help people, impact their lives, [in] every community, lawyers can be helpful," Kokesh said. Growing up in a small community of less than a thousand people, she said seeing the local lawyer in town helping out residents with their problems inspired her to look into the legal profession.
Kokesh represents commercial clients in trial and appellate matters, ranging from defending clients in the energy sector to environmental litigation involving the Clean Water Act and employment matters. Her colleagues note her "indomitable" work ethic which has gathered the respect of her peers, superiors and clients.
Keeping her practice broad so far is something she appreciates, Kokesh said. Everything she does somehow seems to connect to breach of contract, usually between commercial clients, but the variety of clients she's represented has helped her see how an attorney can move skills from one industry to another.
"For someone so early in her career, she has demonstrated the highest levels of competence and integrity and never shies away from championing a new challenge," her Up and Coming Lawyers nomination states.
As a go-to associate for numerous DGS trial teams, Kokesh was an instrumental help in winning a Colorado Court of Appeals case, where the opinion upheld all counts of a complete defense trial verdict on a contract dispute involving interpretation of mineral reservations appearing in deeds dating back to the 1800s.
History is very interesting to Kokesh, she said, and the minerals case involved her reviewing original documents to ascertain the intent of the contracts from more than 200 years ago. Working on the appeal, she said the deeds needing interpretation focused on whether the mineral rights, specifically oil, were intended to be given over.
In college, Kokesh was in the top 1% of her class at the University of Denver's Sturm College of Law, where she was also a teaching assistant for constitutional and criminal law. She also clerked for the Hon. David Ebel of the 10th Circuit Court of Appeals and Colorado Supreme Court Chief Justice Nancy Rice.
Her firm says she's an "exemplary role model on many levels," noting that her commitment to legal excellence and service to the legal and broader communities are "second to none."
In her pro bono work, Kokesh helped to obtain an asylum verdict allowing a Cameroonian national to stay in the U.S. Working with the Rocky Mountain Immigration Network, she said it was a great experience. 
In addition to her robust law practice, Kokesh keeps herself busy with volunteer opportunities in and out of the profession. She completed a 500-mile trek along the Colorado Trail in about 30 days, which was just a short vacation between her clerkship and entering practice.
One thing that Kokesh said she feels about the legal profession is that there is a place in the field for anyone. Coming from a small town and without lawyers in her family, she said she's felt imposter syndrome in the legal industry. But, she said she's met so many different kinds of lawyers with different backgrounds and coming from other areas has helped her see a person can be very successful without having "all the connections in the world when you start out."
Kokesh also serves as a board or general member of multiple organizations, like the Tenth Circuit Historical Society, the Rocky Mountain Chapter of the Huntington's Disease Society of America and Mile High United Way Catalyst Society. She also mentors students going through law school via the Law School . . . Yes We Can program and at DGS she also manages the work of junior and summer associates and paralegals.
"Ms. Kokesh's selfless involvement in legal and broader communities confirms that she is not just another stellar lawyer but rather someone who seeks to change lives for the better," her nomination form states.