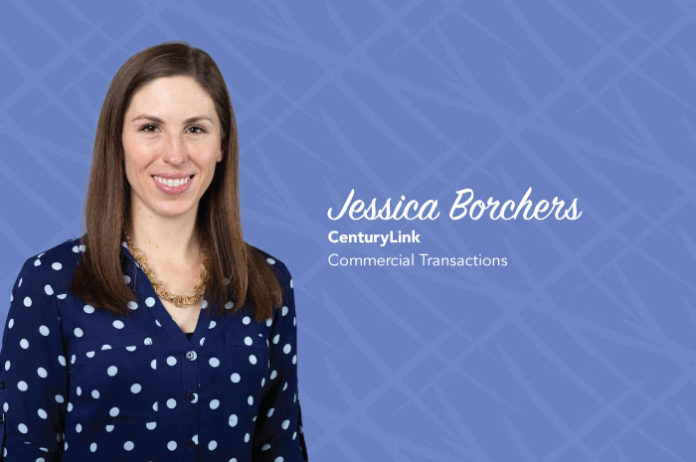 When CenturyLink acquired Level 3 Communications two years ago, it meant Jessica Borchers was going back to where she got her start as an attorney.
Out of law school, Borchers worked for CenturyLink in its legal resident program (like a clerkship except for in-house practice) and later got a corporate counsel position at Level 3 providing legal support to its sales team. When the two telecom giants combined on Nov. 1, 2017, she landed back at CenturyLink. Despite her familiarity with the acquiring company, it was a lesson in adaptability for an in-house lawyer who was entering her third year of practice.
"The merger was a challenging process and a huge learning curve for me," Borchers said. She was likely not alone in that assessment, as each Fortune 500 company had to meld different cultures, personnel and processes.
As a CenturyLink senior attorney working on the company's government contracts, she had to navigate the new layout of the company and coordinate with personnel who had different ways of doing things, and even different terminology for the same concepts. Externally, she had to explain to customers how CenturyLink's products or contract terms were changing.
But for Borchers, adapting to change led to big opportunities. She was CenturyLink's sole attorney on the $34.5 million contract the company closed with the State of South Dakota this year. Under the contract, which has an initial term of five years with an option for another five years, the state will switch over to CenturyLink to provide its 911 services upgrade that system to newer technology.
Borchers describes her practice as commercial transactions with a tech focus. "My role is to help teams sell … to help get deals done and negotiate contracts with customers." She helps CenturyLink respond to Requests for Proposals, negotiates the contracts when the company wins them, and works on additional transactions, disputes or other matters that can arise over the life of a contract.
The South Dakota project wasn't the largest contract she'd ever worked on in her five years of practicing law; in her first month at CenturyLink, Borchers assisted behind the scenes with a massive outsourcing transaction the company did. 
But the South Dakota 911 services contract is the biggest transaction where she was sole lead.
Responding to South Dakota's RFP was par for the course as far as state contract opportunities went, Borchers said. "But where it got really interesting, and where my role really kicked up several notches, was when we got the award and the state invited us to come actually negotiate the contract with them." Then it was off to the races to iron out the nuances of the contract and close it in an eight-week period. The massive scope of the project had Borchers "working with every group that you can imagine" from finance to product, where she would discuss pricing models, service level agreements, damages, warranties, and how all those and other contract provisions would interact.
Quarterbacking a huge contract from the contractor side requires the lawyer to be a liaison among business groups and ask everyone the right questions, Borchers said. It's also important for in-house attorneys not to just leave their legal answers at "No, we can't do that," but to "keep digging" in case there might be a legal solution, she added.
Having been in-house her entire law career, Borchers' career path has been nontraditional. But even if she were in a law firm, she said, her practice wouldn't look much different.
"I love doing transactional work and drafting and negotiating contracts," she said. "Like many lawyers, I'm type A and I have an eye for detail, and so that kind of thing just works really well with my skill set."
Without outside counsel experience, it's been all the more important for Borchers to be self-motivated in growing her expertise and connections. When she reaches out to attorneys in other parts of the company with questions on tax issues, regulations, and other specialties they handle, she likes to learn the "why" of the answer, too, if there's time, she said.
She also credits the Association of Corporate Counsel, where she sits on the Colorado Chapter's board, for providing CLEs and opportunities to network with other in-house lawyers in different companies and industries. On the board, she helps plan the chapter's CLE programming.
Through the ACC, Borchers has become quite visible in Colorado's in-house legal community for a fifth-year attorney. 
She also chairs the chapter's Emerging Leaders Group, and she co-authored an article in the ACC Docket Magazine this summer, "A Mid-Level Attorney's Guide to Building Social Capital in the Workplace," with Fisher Phillips' LaLonnie Gray.
Growing as a mid-level attorney involves "raising your hand and volunteering and putting yourself out there," she said. "And then when you do, you have to follow through and do a good job."
It also requires adaptability. During the Level 3 and CenturyLink merger, they realigned the legal department so that every practice group had attorneys from each company. 
For that reason, management asked Borchers if she was willing to move into state and local contracting. 
Saying yes to that change gave Borchers the opportunity to work on the significant contracts and transactions that color her recent output.
In a parallel universe where Borchers isn't a transactional attorney, she would be training and riding horses for competition, she said. She grew up doing eventing, a sort of equestrian triathlon that combines dressage, cross-country and show-jumping. She stepped away from riding when she entered college; if she couldn't invest the time to train and ride competitively at a high level, keeping a horse wouldn't be worth it to her, and just taking casual rides on trails wouldn't be the same, she said.
To help satisfy her need to get outside, Borchers took up road biking — a more negotiable pastime considering the demands of her day-to-day.
"The nice thing is when you're not riding the bike, it goes and sits in the corner, and it doesn't need care and feeding and cleanup and such every day," she said. "So it's been a good compromise."
— Doug Chartier