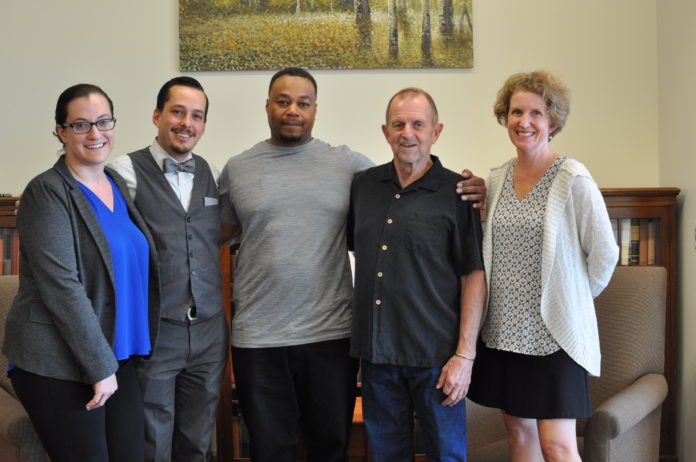 Alvin Green's friends in prison were giving him grief. He had submitted a petition to have his sentence commuted by the president and was cautiously hopeful that this shot in the dark might set him free.
"They were saying, 'You're wasting your time putting that in.' But I said, 'I've tried everything else, so I might as well,'" Green said.
Two years later, his buddies were congratulating him.
"I told them, 'Yeah, you should have tried,'" said Green, smiling as he recalled the twist of fate. 
Green was one of thousands of people serving mandatory life sentences in federal prison for non-violent drug offenses under laws adopted at the height of the "war on drugs" in the '80s and '90s. By the 2000s, there was growing awareness these laws disproportionately affected black and Latino men and had led to a bloated prison population, and new laws were passed to address unfair sentencing guidelines, often with bipartisan support.
But these changes didn't affect those already serving time. For Green, only executive clemency offered a chance at leaving prison. Prior to 2014, this would have been nearly impossible. Of prisoners sentenced to life without parole for federal drug offenses, George W. Bush granted clemency to just one while Bill Clinton didn't grant clemency to any, according to the Buried Alive Project. But with the help of some dedicated University of Denver law students, Green became one of more than 500 "lifers" to have his sentence commuted late in Barack Obama's second term.

ERROR AND TRIAL
Richard Banta, a Denver-based attorney who represented Green at his original trial, talks about Green's commutation with an important caveat.
"Alvin was doing something he wasn't supposed to be doing, and he deserved to be punished for it," he said. "But not a life sentence."
 In September 2000, an informant tipped off an FBI agent about a crack cocaine distribution network in Denver. The Metro Gang Task Force investigated the group for the next nine months, and after the investigation concluded in June 2001, the FBI put out arrest warrants for suspects, including Green.
In total, 27 people were charged in federal court in Colorado on a total of 77 counts. Green and most of the others were charged with conspiracy to distribute and possess with intent to distribute 50 grams or more of crack cocaine. A majority of those indicted accepted plea bargains to dismiss some of the charges. But Green didn't like the terms of that deal and decided to stand trial.
Green, along with six others who stood trial, was convicted. He was found guilty of the conspiracy count as well as other crimes including money laundering. The late Judge Wiley Daniel, who had presided over the trial, delivered Green's sentence: life in prison.
"Judge Daniel was a really good judge," said Richard Banta, who represented Green in his original trial. But the judge's hands were tied.
"That was right in the heyday of these federal sentencing guidelines," he said. Because Green had two prior drug convictions, both for possession, a life sentence was the statutory minimum he could receive under the federal guidelines.
Green sought freedom through the courts. He and several of his co-defendants appealed without success, and Banta said there was little hope the U.S. Supreme Court would take on the case after that. Over the years, he filed several unsuccessful motions to reduce his sentence in the hope of one day getting out.
Banta stayed in contact with Green, often writing letters attesting to Green's character and confirming that he hadn't caved to pressure to testify against others. As Green moved from prison to prison, it helped to have his lawyer's word that he wasn't a snitch.
The attorney also kept in touch with Green's mother and other relatives. Green's family would sometimes call Banta to tell him that other lawyers were making them big promises – always with equally big price tags.
"I would just say, 'Do not waste your money,'" Banta said. Without a drastic change in the law, there wasn't much that could be done, he told them.HAIL MARY
In 2014, Alvin Green was on the computer in the legal library at USP Big Sandy, a high-security federal prison in Kentucky, when he saw a notification about a new clemency program and clicked it to see if he qualified.
In April of that year, the Obama administration had announced a clemency initiative to encourage federal inmates to petition to have their sentences commuted. The initiative targeted non-violent offenders who had already served 10 years and would likely have received a lesser sentence if they had been convicted in 2014. 
Green said he thought he fit the criteria. There in the library, he filled out a short questionnaire and sent off the application, hoping for the best. 
Meanwhile, in Colorado, Lindsey Webb, an associate professor at University of Denver Sturm College of Law, was looking for cases for the students in her civil rights clinic. She usually supervised students on prisoners' rights cases, but the clemency initiative presented a rare opportunity for her students that fall.
"The clemency initiative came in such a unique, short period of time, and I thought, 'We have to take cases,'" said Webb.
The Clemency Project 2014, a group set up by the ABA, ACLU, Families Against Mandatory Minimums and other legal organizations, helped connect petitioners with lawyers. In late 2014, the group assigned Webb and her students two cases.
Back at Big Sandy, Green got a call from Webb and her team of students. They asked him if they could help with his petition, and he agreed.

DEAR MR. PRESIDENT
The students started researching and gathering files from Green's case. They reached out to Banta for copies, but he had moved a few times in the decade and a half since the trial and didn't have as many files as he'd thought. They faced the opposite problem during their trips to the court clerk's office, where the students found themselves trawling through two or three carts of files from the multi-defendant case.
It seemed even nature was trying to thwart them when they discovered files from Green's appellate lawyer had been swept away in a flood that hit a Boulder storage unit.
Work on Green's clemency petition continued into the fall of 2015, when two new students, Nathalie Caplan and Elie Zwiebel, were assigned to the case. In addition to continuing the previous students' research, the two were tasked with drafting the petition.
There was no class they could take on how to write a successful clemency petition, something so rare that even a seasoned criminal defense attorney would struggle with how to approach it.
"Clemency is an extra-legal process. It doesn't fall into any of the processes a criminal case normally runs through," said Webb. "It's its own world."
Zwiebel said they had some vague guidelines from the Clemency Project about what made a good petition, but even then "it was a shot in the dark." 
Part of the goal was showing that Green wouldn't have received the same sentence under new laws, including the Fair Sentencing Act of 2010, which reduced the disparity between how crimes involving crack and powder cocaine were treated. Changes in state law and documents showing Green had been a model prisoner also helped their case.
They also had to show who Alvin Green was as a person. Green talked to them by phone, but it was hard to really connect through prison calls, Caplan said. Conversations with Green's family helped her paint a picture of him as a son, a father and a man with ambitions.
"That really was the most compelling part of the petition," Caplan said.
The lack of clear rules was both freeing and intimidating for the law students. They weren't bound by the rules of evidence that govern most legal writing, Caplan said. There were also differences in style.
"We wrote a letter that started: Dear President Obama," Caplan said.
"It kind of made me feel like an eight-year-old," Zwiebel added.
In March 2016, they submitted the petition. It was about 12 pages, not including all the letters of support from Green's family, friends and lawyers. They didn't feel quite ready, but they felt pressure to get the request in quickly.
"We were coming to a point in the 2015-2016 school year where we were starting to think, okay, the 2016 election is coming up. We've got to get this in," said Zwiebel. Rumors were swirling that the Department of Justice would stop accepting petitions soon and that the department didn't have the staff to review the thousands of requests it was receiving. 
"It felt like a huge weight to submit was lifted," said Zwiebel. "But it also kind of felt like shouting into the void."
Typically, after a clemency petition is submitted, it goes to the Office of the Pardon Attorney, whose recommendations are reviewed by the White House Counsel before being passed on to the president.
Green and the team at DU had no idea how far the petition would make it. They just waited.
"I knew this was my last shot. This was my last shot, and I was just praying," said Green. 
Green was realistic about his chances, but his family – especially his mother – was convinced he was coming home. He was stressed during the wait but, he said, "I learned a lot of patience."

SECOND CHANCES
Zwiebel graduated that spring and started working for a judge. Bar exam results were released on Oct. 6, 2016, and the judge let him know during a hearing that he had passed.
"I thought that was going to be the best news I heard that day," Zwiebel said. After a celebratory lunch, he returned to a voicemail from Caplan telling him to call her. Caplan said she had received an e-mail from Robert Zauzmer, the pardon attorney, asking her to call back immediately, but she was still a student and couldn't take the call alone. Webb was out of the office, so Caplan found a fellow at the law school who had also worked on the case.
While Caplan was trying to find someone to join her on the call, Green was sitting in an office at a prison in Florence, Colorado, where he had been transferred during the petition process. He knew he was waiting for a legal call but didn't realize the pardon attorney's office was trying to connect him with Caplan.
"When I heard your voice and you say, 'Congratulations!' I broke down and started crying," Green said to Caplan during a group interview at Sturm last week.
After what he said was the longest month of his life, Green was transferred from Florence to a halfway house in Denver. One day in November, Banta picked him up to take him to DU, where Green met Caplan, Zwiebel and Webb for the first time. 
Green was one of 102 prisoners to have his sentence commuted on Oct. 6, 2016. Another client of the DU civil rights clinic, who has yet to be released, was also granted clemency that day. By the time Obama left office, he had commuted the sentences of 1,715 prisoners, more than the previous 13 presidents combined, including 568 serving life sentences.
"[W]e must remember that clemency is an extraordinary remedy, granted only after the President has concluded that a particular individual has demonstrated a readiness to make use of his or her second chance," wrote Neil Eggleston, White House Counsel under Obama, in a blog post in Feb. 2017, the same month Green left the halfway house. 
"Since my release, I'm doing pretty good," Green said. He works — sometimes 16 hours a day — as a forklift operator and occasionally at a funeral home and other jobs he has gotten through his friends and advocates.
Green said the hardest part of life behind bars was being away from his kids and wondering whether he'd get a chance to see his mother again. He always told his sons to stay out of trouble when he called them from prison. His oldest son is now a pre-med student with plans to become a cardiologist, while his youngest is in high school.
"We praise [Green] because he's done wonderful things, but many people have done these wonderful things and deserve the chance that he's had," said Webb, who worked as a public defender before becoming a law professor.
"I think [Green's] life sentence is a […]  reality of what was really broken about our system. And I think his release is a wonderful turn of events, but one that also sheds light on, you know, this man sitting right here beside us [is one who] society said should still be in prison," she said.
Since Green was sentenced, there has been creeping progress in criminal justice reform. Donald Trump blasted the Obama clemency initiative from the campaign trail in 2016, saying, "Some of these people are bad dudes." But as president, he signed the First Step Act in Dec. 2018, which made retroactive the Fair Sentencing Act's reduced disparity between crack and powder cocaine sentences and reduced mandatory minimum sentences for some drug offenders. The bill had broad support from both parties in the Senate and the House.
"I think the one thing that gives me constant hope with our justice system is that I think the way we're talking about the justice system has changed significantly in the last decade," Zwiebel said. "And I think there's a lot more honesty about who gets caught in the justice system, that it is young men of color, predominantly." 
Caplan, now at Thorburn Walker, said even though Obama's clemency initiative for non-violent drug offenders ended when he left office, she would never discourage anyone from filing a petition under any administration. 
Zwiebel, who has started his own juvenile civil rights practice, agreed and said he files pro bono clemency petitions. He is still encouraged by his first big win as part of the legal clinic.
"It is the well from which I draw whenever I have a hard day where I feel any despair or cynicism or jadedness about practicing law or about our alleged justice system," said Zwiebel.
— Jessica Folker, [email protected]