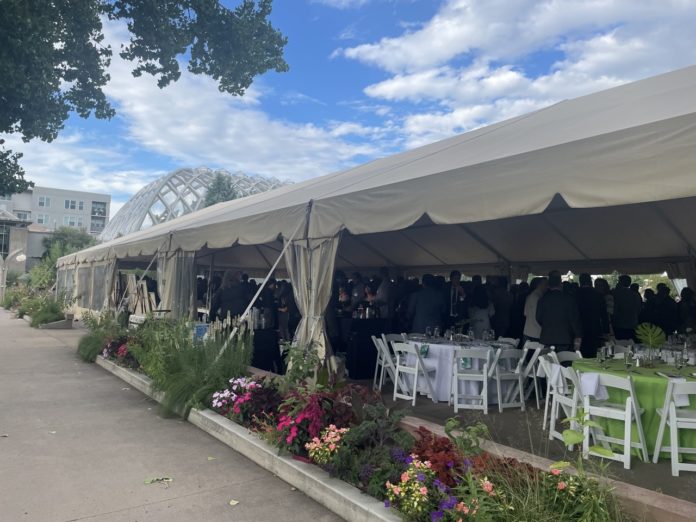 The Colorado Hispanic Bar Association hosted its 2023 En el Jardín Annual Banquet Saturday.
This year's banquet and after-party were held at the Denver Botanic Gardens and hosted a sold-out crowd of 360 attendants, making it the bar association's largest in-person gathering since COVID-19. On top of celebrating CHBA efforts over the last year and recognizing attorneys who've worked towards serving the state's Hispanic community, CHBA leadership reflected on recent setbacks and the need to bolster diversity in the legal profession. 
CHBA was formed in 1977 as a legal advisor to Colorado's Hispanic community and an advocate for increasing the number of Hispanic lawyers in the industry. Since its formation, CHBA's members and volunteers have participated in legislative and legal advocacy efforts, volunteer and pro bono projects, hosted CLEs and other events and provided scholarships for Hispanic law students in Colorado. According to CHBA, it currently has 320 official members which is the largest the organization has been since it was founded. 
The event included a keynote speech from Colorado Fox 31 and Channel 2 broadcast journalist Vicente Arenas and was hosted by mistress of ceremonies journalist Sonia Gutierrez with The Denver Foundation. 
Looking Back, Looking Forward 
CHBA president and Crowell & Moring Denver partner Amber Gonzales recapped what the bar association has been working on over the last year including its ups and downs. 
"Familia, what a year it has been. We've accomplished so much and yet we are facing so many challenges, some of them old and many of them new," said Gonzales.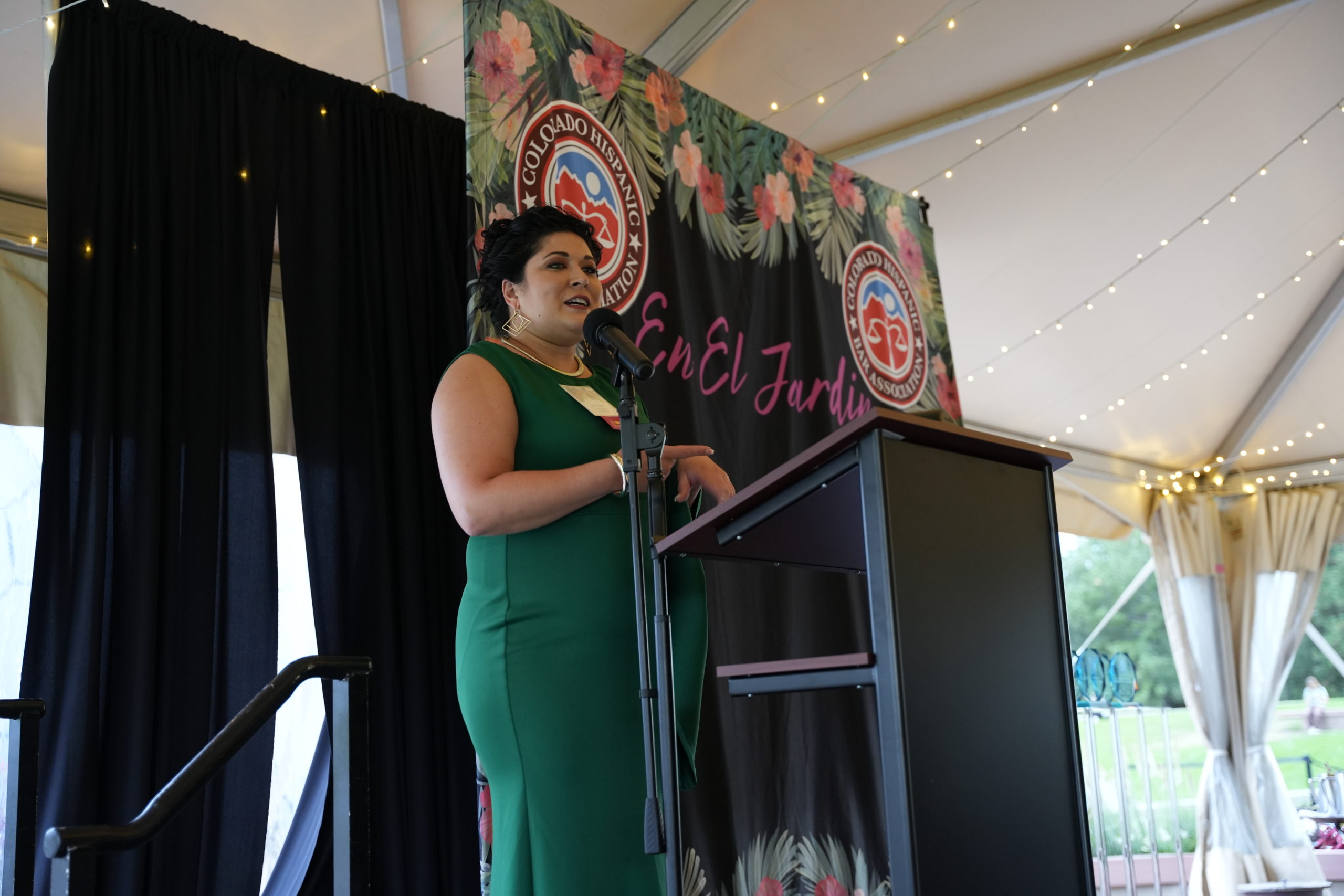 In the last year, Gonzales said CHBA has been working to rekindle community connections coming out of the pandemic by hosting a number of in-person events across the state. She said the bar association has been making efforts to better involve lawyers who live outside the Denver metro area which in 2023 included hosting Cinco de Mayo celebrations in Weld and Larimer counties. For Hispanic Heritage Month, Gonzales added, multiple CHBA board members will participate in a panel discussion at Fort Lewis College in Durango.
Also over the last year, CHBA has worked to support Colorado's Hispanic community through volunteer and public policy work. The bar association relaunched its monthly small business and career-focused legal clinic with the Mi Casa Resource Center which connects CHBA volunteers with community members seeking limited legal assistance, Gonzales said. The group also filed an amicus brief in a pending Colorado Supreme Court Case, People v. Clark, where a trial court declined to remove a juror in a criminal case who expressed opposition to diversity in his county. CHBA's efforts to increase diversity and Hispanic representation in the judiciary have also been in full swing over the last year, Gonzales added. 
CHBA and Colorado's Hispanic legal community hit some hard points this year too. 
One of those was the death of Ellen Alires-Trujillo in June. Alires-Trujillo, a longtime CHBA member, is remembered for her decades of legal work advocating for marginalized communities in Colorado through involvement with CHBA, Colorado Legal Services and more. In 2022, CHBA unveiled the Lorenzo and Ellen Trujillo Scholarship for law students pursuing a career in public service named in honor of Alires-Trujillo and her husband Lorenzo Trujullo. Alires-Trujillo was a pillar in Colorado's legal community, Gonzales said. 
This year, CHBA announced the inaugural recipient of the Lorenzo and Ellen Trujillo Scholarship as 2023 University of Colorado Law School graduate Kayla Marie Mendez who passed the bar this summer and is set to start as an associate with Squire Patton Boggs' environmental, health and safety practice group this year. 
"Ellen's lifetime of service continues to be an inspiration for the foundation and our community at large. We are honored to administer the scholarship in her honor with the help of her husband," said Angela Vichick, a partner at Lewis Roca and a board member for the CHBA Foundation. 
Another headwind for the bar association came this summer after the U.S. Supreme Court struck down affirmative action admission policies in higher education. 
"The relationship between CHBA and the foundation, the Colorado Hispanic Bar Association Foundation, is more important than ever to ensuring a strong pipeline of Latino attorneys," said Gonzales. "With so much uncertainty about how schools can approach admission and scholarships, it is incumbent upon us, those of us in this room, to really decide our fate as a community." 
Gonzales explained that CHBA hopes its efforts to bolster diversity in the legal community can help combat potential impacts of the Supreme Court's ruling. One way it hopes to do that is by increasing the scholarships CHBA provides for law students at the University of Colorado Law School and the University of Denver Sturm College of Law through its non-profit arm, the CHBA Foundation. 
The CHBA Foundation is the 501 (c)(3) sister organization of the bar association that was created in the mid-2000s to offer, among other things, financial support for Hispanic law students. As well as administering the Lorenzo and Ellen Trujillo Scholarship, the CHBA Foundation awarded University of Colorado Law School 3L student Jose Rodriguez with the inaugural CHBA Foundation Scholarship. 
"We need to increase the support for students like Kayla and Jose, who should feel welcome, wanted, safe, supported and valued on law school campuses across the country," said Vichick. 
During the event, the CHBA Foundation raised $15,925 with contributions from 95 donors in the crowd. CHBA matched $5,000 in donations which pushed the fundraiser just over its $20,000 goal for the night.
Honoring Impact
CHBA also handed out a number of awards to members who have made an impact within the organization and in Colorado's legal community. 
Fisher Phillips partner Todd Fredrickson received CHBA's Lifetime Achievement Award, the highest honor from the bar association. The Lifetime Achievement Award isn't handed out every year and goes to an attorney older than 55 who has made significant contributions to the Hispanic community. Fredrickson, who practices traditional labor law, was recognized for his service as a former CHBA and CHBA Foundation president, his pro bono and volunteer work through CHBA and other organizations and his involvement with a number of Colorado nonprofits. 
Judge Mariana Vielma of the 17th Judicial District received CHBA's 2023 Christopher A. Miranda Outstanding Hispanic Lawyer Award. The award is given to Hispanic attorneys in practice for over seven years who have shown a commitment to the Hispanic community and principles of the profession. Vielma was appointed to the Adams County Court in 2020 and was a 17th Judicial District magistrate judge for several years prior. Vielma was recognized for her efforts to increase diversity in the legal profession in Colorado and other states. Vielma has been active in a number of efforts by bar associations and judicial organizations to increase diversity on the bench and the bar. 
The 2023 Outstanding New Hispanic Lawyer Award was given to Alex Mancero, general counsel for international money transfer company Ria Money Transfer. The award is given to Hispanic attorneys in practice for seven years or less who have demonstrated a strong commitment to the Hispanic community and principles of the law. Mancero, a first-generation Ecuadorian American, was a former space command and control officer in the U.S. Air Force and is involved in CHBA as well as other diversity efforts across Colorado's legal community. 
CHBA's Individual Community Service Award went to Elizabeth Espinosa Krupa who was recognized for her commitment to providing services benefitting the Hispanic community. Espinosa Krupa opened her own office in 2012 and previously worked for the Office of Attorney Regulation Counsel, the Office of the State Public Defender and the Denver office of the U.S. Securities and Exchange Commission. She has been involved with CHBA as well as the Law School… Yes We Can! program and other community support programs and nonprofits. 
The 2023 Judicial Excellence Award was given posthumously to former Boulder County Court Judge Kristy Martinez who died in February. The award recognizes outstanding members of the bench who show a continual commitment to the Hispanic community and principles of the legal profession. Martinez was appointed to the bench in 2019 and prior to that was the first director for the University of Colorado Law School's Korey Wise Innocence Project. The CHBA noted that she is remembered for approaching everyone who appeared before her in court with dignity and respect. The award was accepted on Martinez's behalf by 20th Judicial District Chief Judge Ingrid Bakke. 
The CHBA Outstanding Corporate Commitment Award was given to Lewis Roca Rothgerber Christie as a company that has demonstrated exceptional commitment to the Hispanic community and promoting diversity, equity and inclusion in its policies and actions. Lewis Roca was recognized for its regular volunteering efforts with the Mi Casa legal clinic, for its filing of amicus briefs on behalf of CHBA and other organizations, for its scholarship programs and for its internal DEI efforts.