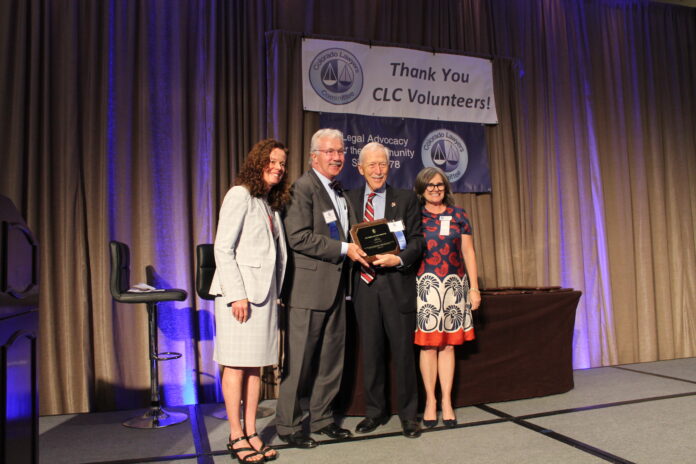 "Since the last time that we gathered in September 2022, the Colorado Lawyers Committee has been very busy," said Kristin Bronson, executive director of the Colorado Lawyers Committee at the organization's annual luncheon Sept. 27 at the Ritz Carlton Hotel in Denver. 
According to its 2023 annual report, CLC has coordinated more than 1,200 volunteers who contributed more than 9,500 hours and about $3.3 million worth of time to 25 projects and task forces focused on areas like children's rights, community development, immigration and more. 
"We have so much to celebrate," added Bronson. 
Bronson joined CLC in May after serving as Denver's city attorney for six years. 
"She has brought energy and vision to the Colorado Lawyers Committee," said Richard Westfall, board chair of CLC, at the luncheon. "She has a deep understanding of the myriad of issues touching on the civil rights of the people of Colorado."  
CLC also welcomed back Kathleen McCrohan, who started as the associate director in 2016 and became the chief operating officer in 2022. 
"Her experience with the lawyers committee and her knowledge of the Denver legal community is invaluable," added Westfall of McCrohan. 
Bronson replaced retired attorney Connie Talmage, who attended the luncheon. 
"Connie's mark on this organization and on this community cannot be overstated," said Westfall. "As many have said, she is a force of nature whose accomplishments are too many to count."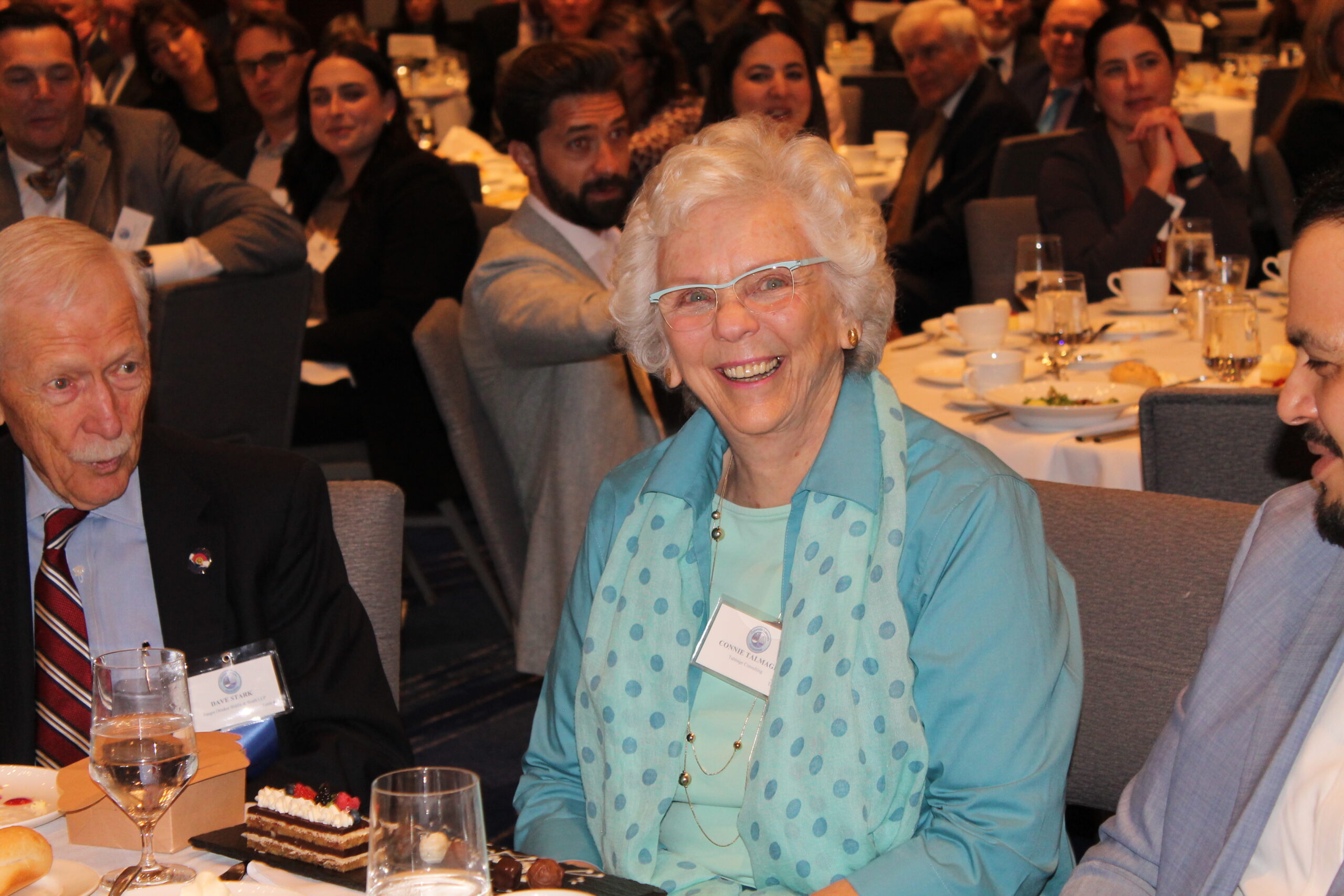 "This organization truly would not be the force for good that it is and has been for the last 23 years were it not for Connie Talmage," added Westfall. 
Edgar Barraza of Clark Hill PC, who is also the board chair for CLC's Young Lawyers Division, gave a special presentation about the YLD. 
With more than 350 young lawyers and law students, the YLD has accomplished a lot in its first eight years of operation — taking over CLC's Denver Legal Night, governing charter, expanding the Hate Crimes Education Program and more. 
The YLD has also created a new CLE Series where members learn trial advocacy skills through training with trial attorneys and judges. In 2021, the YLD joined with the Racial Justice Task Force to hold the Racial Justice Summit which was held again in September 2022. 
Through fundraising events, the YLD has raised more than $35,000 for future projects including the YLD Grant program. 
The new Young Division Board includes Adrienne Boyd (Arnold & Porter LLP), Rosa Baum (Brownstein Hyatt Farber Schreck, LLP), Jessica Dangoia-Crandall (Davis Graham & Stubbs LLP), Miah Eaton (Ogletree, Deakins, Nash, Smoak & Stewart, P.C.), Jared Ertle (Stinson LLP), Erika Carter (The Harris Law Firm), Elizabeth Froehlke (Berg Hill Greenleaf Ruscitti LLP), Jenn Kinkade (Ireland Stapleton Pryor & Pascoe, PC), Meredith O'Harris (Haddon, Morgan, and Foreman P.C.), Elizabeth Michaels (Lewis Roca Rothgerber Christie), Stephen Robin (YLD Chair-Elect; Foley Hoag LLP), Emily Tichenor (Polsinelli PC), Mack Wilding (The Rodman Law Group) and Whitney Wolfe (Merriam Law Firm, P.C.). 
The YLD also welcomed a new team member focused on election-related projects and will launch a non-partisan election call center in November.
Tamir Goldstein of Sherman & Howard LLC and CLC's Executive Committee introduced Colorado Supreme Court Justice Melissa Hart as the keynote speaker of the luncheon. 
Hart collaborated with the standing committee on family issues to simplify the discovery and trial process in simple divorce cases. She helped set up the Judicial Department's Pathways to Access Committee. For several years, Hart has served as the court's ex officio member of the Colorado Access to Justice Commission. The mission of which is to expand access, quality and fairness in the judicial system for all Coloradans. Hart led an effort for the commission to hear directly from the people which resulted in a statewide listen-and-learn tour that conducted 41 different virtual meetings with more than 500 legal and community service providers in each of Colorado's 22 judicial districts. This culminated in findings that aid the commission's work to close the civil justice gap. 
"It just was never a question," said Hart of her passion to close the civil justice gap. "It's always been there, but it gets stronger every year."
In 2023, Hart won the Denver Bar Association's Judicial Excellence Award. 
"A lawyer is a public citizen having special responsibility for the quality of justice," quoted Hart from the preamble of the Colorado Rules of Professional Conduct. "It seems obvious to me that one of those special responsibilities is to provide pro bono services." 
Jessica Yates, attorney regulation counsel for the Colorado Supreme Court, presented the Legal Legacy Award. According to CLC, this award honors an attorney whose legacy of dedicated service and leadership has fostered a culture within a firm or the larger legal community that elevates the importance of pro bono legal work. 
This year's award went to David Stark of Faegre Drinker Biddle & Reath LLP.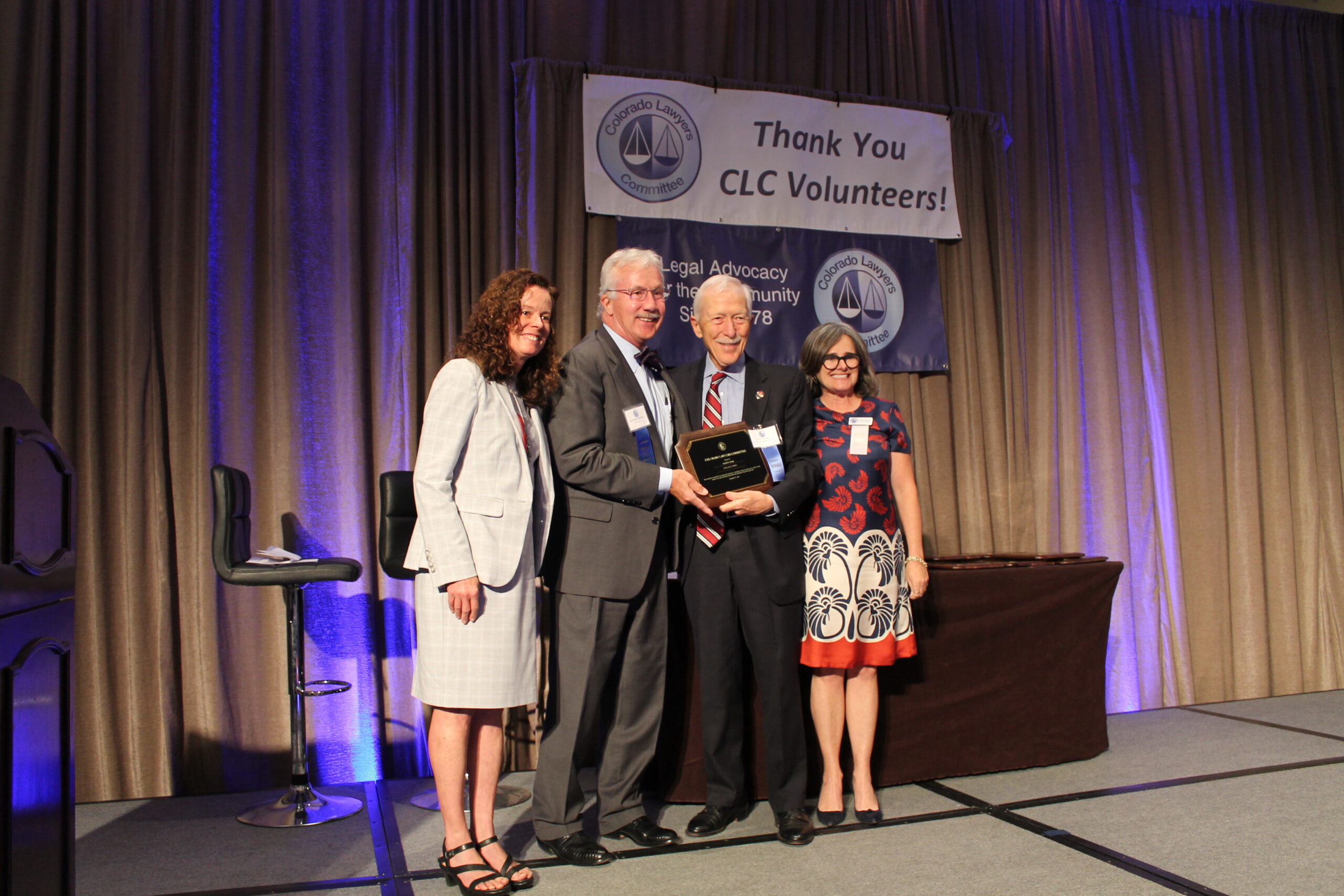 "He definitely sort of encapsulates the perfect person of embodying the spirit of pro bono work," said Yates. "It's his willingness to take on the cases, to take on the work." 
Stark has had a career-long commitment to giving back, as shown through his pro bono work on behalf of children's rights and education, veteran rights and access to justice. 
"I'm really humbled and thankful for this award," said Stark. "I want to thank all the lawyers who over the years have agreed with me that pro bono is not only good for the profession but it is also our obligation, our debt to society, our debt to the profession for giving us the opportunity to serve as attorneys … and for that, I'll be forever grateful."
This year's nominees for the Team of the Year Award were Denver Legal Night, Hate Crimes Education Program, Non-profit Legal Audit Clinic and School Expulsion Pilot Project. 
The winner was Denver Legal Night. Since 2006, CLC has co-sponsored along with the Denver Bar Association Young Lawyers Division, a bi-monthly legal night clinic providing advice, referrals and more to individuals and families who cannot afford legal services. In 2022, after being remote during the pandemic, CLC returned to host in-person Legal Night where 403 volunteers assisted 969 clients.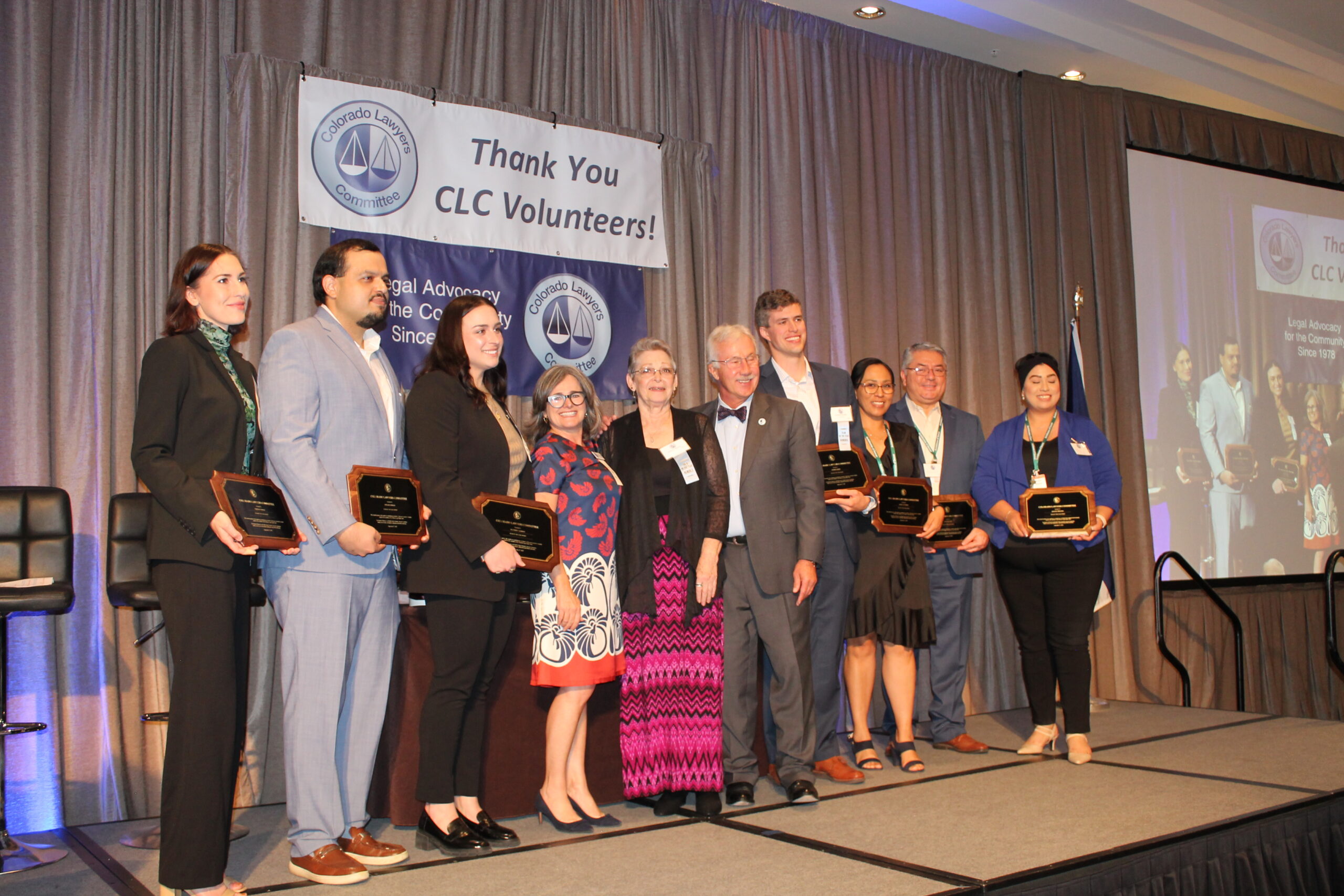 Since its inception, Denver Legal Night has served roughly 32,000 individuals. Barraza noted Denver Legal Night serves almost 100 individuals at each clinic. Thanks to a benefactor, the clinic will now be able to pay its interpreters, Barraza added. The clinic is hosted by Centro San Juan Diego.
The Denver Legal Night team includes Edgar Barraza (Clark Hill PLC), Shannon Calhoun (Sherman & Howard LLC), Erika Carter (The Harris Law Firm), Maru Gutierrez (Centro San Juan Diego), Anton Krayniy (BrightNight Power), Alfonso Lara (Centro San Juan Diego), Madalia Maaliki (Richards Carrington LLC), Araceli Miranda (Centro San Juan Diego), Meredith O'Harris (Haddon, Morgan and Forman P.C.), Angela Reyes (retired), Stephen Robin (Foley Hoag LLP) and Whitney Wolfe (Merriam Law Firm, P.C.). 
This year's nominees for the Law Firm of the Year Award were Ballard Spahr LLP; Holland & Hart LLP; Ogletree Deakins P.C.; and WilmerHale LLP.
Ballard Spahr was awarded Law Firm of the Year and was recognized for its work with CLC in 2022, where 19, or 66%, of the firm's attorneys, participated in nine CLC projects and donated more than 530 hours of time.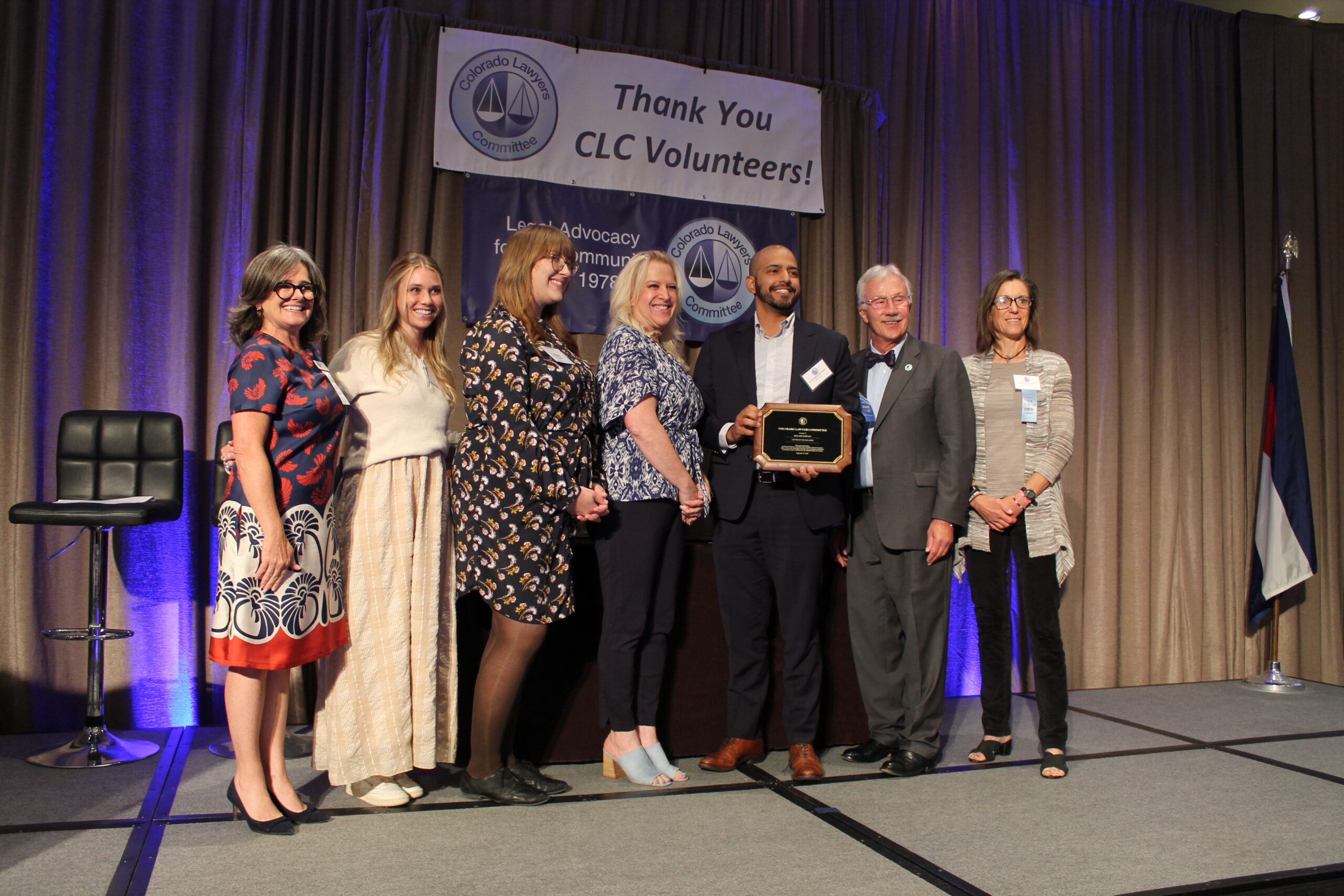 This year's recipient of the Special Recognitions Award was Polsinelli PC and the Colorado Afghan Asylum Project. 
Polsinelli announced it would house CLC in 2018. For nearly six years, CLC has received support from Polsinelli's staff. 
CLC's Colorado Afghan Asylum Project completed 604 asylum applications over a nine-month period. Organized by CLC's steering committee, 355 volunteers and 41 interpreters spent almost 5,500 hours of time working on the applications.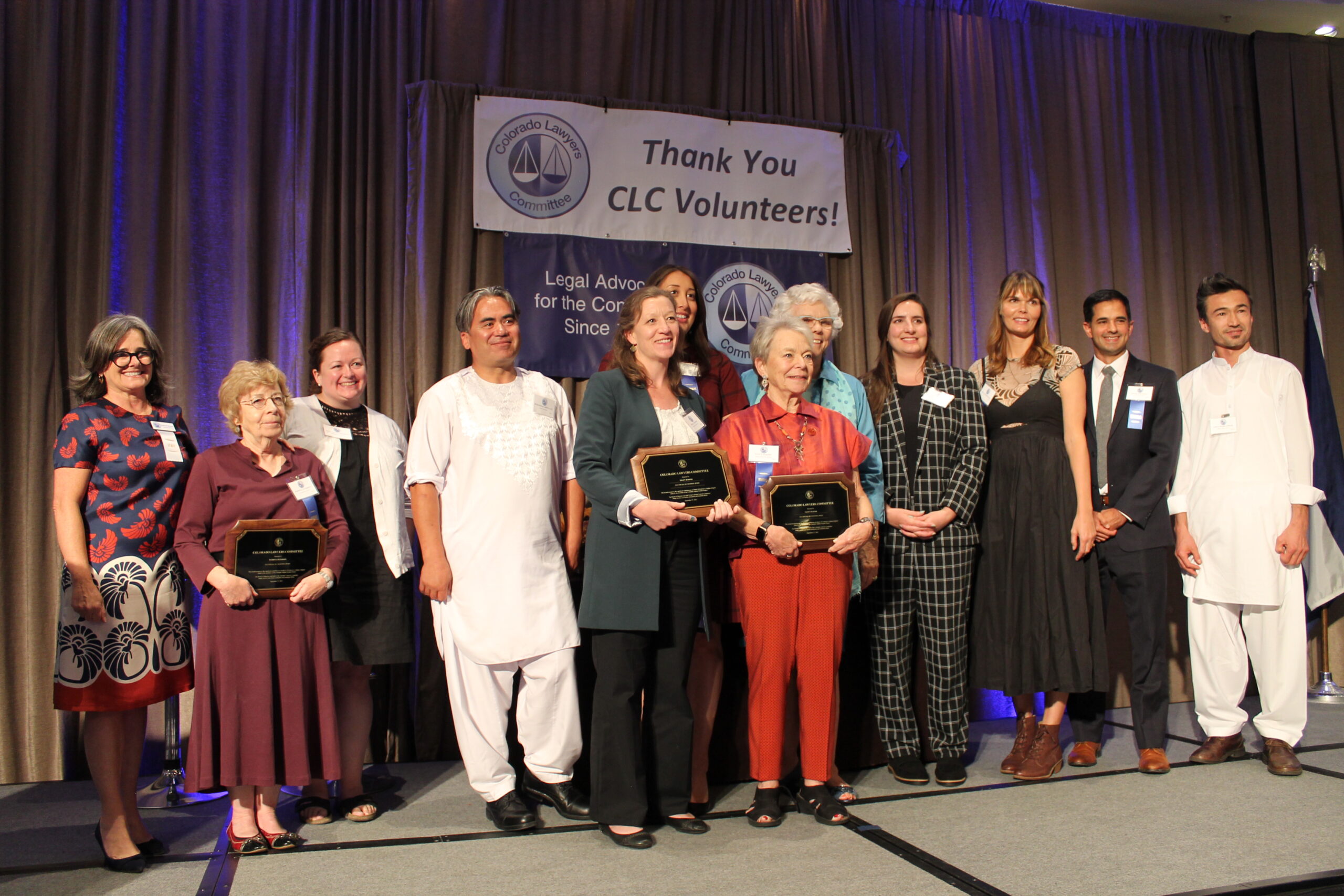 A video by Jennifer Castor highlighting the project was shown to luncheon attendees. 
"I was so proud of and grateful to the Colorado Lawyers Committee for the support and the work that Connie did and all of the volunteers," said retired Palmer Polaski P.C. attorney Nancy Elkind. "This project would not have happened without Connie and Tracy Harper and Steven Williams."
To close out the luncheon, Westfall encouraged the attendees to sing to Talmage, whose birthday was Sept. 28.