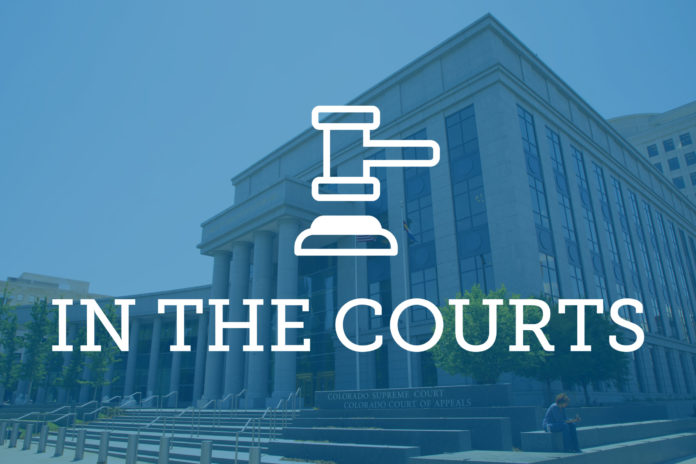 Editor's Note: Law Week Colorado edits court opinion summaries for style and, when necessary, length.
The Colorado Supreme Court answered a question left unanswered in its recent Linnebur v. People decision: Does double jeopardy bar retrial of a felony DUI charge where a defendant was convicted of misdemeanor DUI? The court concluded it doesn't.
Kevin Viburg was charged with felony DUI, which applies to those accused of driving under the influence with three or more prior alcohol-related traffic offenses. Viburg moved for his prior convictions to be treated as an element of the crime that must be proved to a jury beyond a reasonable doubt. But the trial court denied the motion, concluding the prior convictions were a sentence enhancer that need only be proved by a preponderance of the evidence. 
A jury found Viburg guilty of misdemeanor DUI. At a post-conviction hearing, the trial court found Viburg had three prior convictions and entered a felony DUI conviction.
A division of the Court of Appeals reversed the decision, finding that prior convictions are an element of felony DUI and must be proved beyond a reasonable doubt to a jury. The division also said that if Viburg raised a double jeopardy defense on retrial, the trial court must rule on the defense. However, the intermediate court didn't weigh in on the merits of a double jeopardy defense.
The state appealed to the Supreme Court, asking it to clear up the question of whether prior convictions are a sentence enhancer or an element of the offense. But the court answered that in its Linnebur decision in 2020 while Viburg's cert petition was pending. In Linnebur, the high court held that prior convictions must be proved to a jury beyond a reasonable doubt. 
The state sought to retry Viburg for felony DUI on remand. Viburg moved to dismiss, arguing that double jeopardy prevented the state from retrying him for felony DUI because he had already been convicted of misdemeanor DUI, the prosecution failed to produce evidence of his prior convictions during the first trial and he had already been tried by one jury and could not be tried for one count by two different juries. The trial court denied his motion.
Viburg appealed directly to the Colorado Supreme Court, which agreed to address his double jeopardy arguments. The court concluded that double jeopardy does not bar retrial because Viburg was not previously acquitted of felony DUI. The justices also rejected Viburg's arguments that retrying him for felony DUI would violate his due process rights or Colorado's mandatory joinder statute.
In this interlocutory appeal, the Colorado Supreme Court clarified that a medical finance company that does not confer a "benefit" to an injured party is not a collateral source under the state's collateral source rule.
Maribel Ronquillo alleges she was rear-ended by Jessie Williams, who was driving a vehicle owned by an employee of EcoClean Home Services and towing an EcoClean trailer. Ronquillo incurred about $250,000 in medical expenses for injuries sustained in the accident. 
Ronquillo didn't have health insurance at the time, so she entered into a medical finance lien agreement with Injury Finance to allow her to receive immediate medical care. Under the agreement, Injury Finance purchased her medical bills at a discounted rate and received a lien and security interest in any settlement or verdict in her favor to cover the amount of her bills. Regardless of the outcome of any litigation, Ronquillo is contractually obligated to repay Injury Finance for all charges billed by the health care provider, not just the discounted rate Injury Finance received. 
Ronquillo sued EcoClean for negligence and other claims. As part of discovery, EcoClean subpoenaed Injury Finance for information about its purchase rates, provider contracts and other documents related to its operations. Injury Finance didn't respond, and the court granted a motion to compel. EcoClean also moved to determine whether Injury Finance is a collateral source subject to the pre-verdict evidentiary component of the collateral source rule. 
Under Colorado's collateral source rule, benefits obtained from a third-party "collateral" source accrue solely to the injured plaintiff and do not reduce the amount of damages recoverable from the tortfeasor. The rule's pre-verdict evidentiary component requires courts to exclude evidence of compensation received by a collateral source.
The district court ruled that Injury Finance is not a collateral source, and EcoClean may offer evidence of Injury Finance's relationships with Ronquillo and her health care provider and the amounts billed and paid for her medical treatment. 
Ronquillo brought an interlocutory appeal and asked the Supreme Court to weigh in on the dispute. The Supreme Court agreed with the lower court that Injury Finance is not a collateral source because it doesn't confer a benefit to the injured party. Ronquillo is still responsible for paying the full amount billed for her medical care, the majority opinion said, so the arrangement with Injury Finance does not confer a benefit for the purposes of the collateral source rule. 
This case is about the interplay between two Colorado Rules of Criminal Procedure. Rule 35(a) allows a person convicted of a criminal offense to correct an illegal sentence at any time. Meanwhile, Rule 35(c) and its statute of limitations require most felony defendants to seek postconviction review within three years of conviction. 
The Supreme Court's majority opinion noted that the high court had addressed the interaction between the rules before in its 2008 Leyva v. People decision. But two divisions of the Colorado Court of Appeals have interpreted Leyva in conflicting ways.
One division found that correction of an illegal sentence renews the limitations period for all arguments for postconviction relief. In the case of William Hunsaker, Jr., a different division found that correction of an illegal sentence only renews the limitations period for arguments "related to how the illegality in the original sentence potentially affected a defendant's original conviction." 
Hunsaker missed his 2014 deadline to file a Rule 35(c) motion. But his original sentence was illegal and the district court corrected the sentence in February 2016. That same month, he filed a Rule 35(c) motion for postconviction review, raising six arguments. The trial court dismissed the motion on the merits, and Hunsaker appealed.
A division of the Court of Appeals found only one of Hunsaker's arguments was related to the illegality of his sentence, while he argued to apply the intermediate court's other, broader reading of Leyva, which would restart the limitations period for all arguments he wanted to raise.
On appeal, a majority of the Supreme Court affirmed the Hunsaker division's reading of Leyva, finding that one of his arguments is related to the illegality of his sentence and he may raise this argument on remand. His other five arguments are related to a different sentence that was lawful, the majority said, and therefore "their late filing cannot be excused by the correction of Hunsaker's sentence."
This case "presents a potpourri of issues," according to the Supreme Court's unanimous opinion written by Justice Carlos Samour. 
First, at what point was defendant Weston Thomas under arrest for the purposes of the crime of resisting arrest? The high court held that when law enforcement officers placed Thomas in handcuffs, "they applied a level of physical control over him so as to reasonably ensure that he would not leave," and that's when his arrest began. As a result, Samour wrote, the Court of Appeals erred when it resolved Thomas' sufficiency of the evidence challenge by relying in part on conduct that followed his handcuffing.
Also at issue is whether bodily injury to an at-risk person, a class 6 felony, is a lesser included offense of third-degree assault, which is a class 1 misdemeanor. Relying on its 1983 decision in People v. Lowe, the high court found that Thomas' convictions for the offenses "cannot both stand and must merge." The Supreme Court's merger jurisprudence requires the court to "maximize the effect of the jury's verdicts," the court said, and it remanded Thomas' case with instructions to merge the convictions into a single conviction for bodily injury to an at-risk person.
Finally, the Supreme Court considered whether it was an error for the trial court to adjudicate Thomas a habitual criminal, and sentence him as such, when two of his three prior felony convictions had been reclassified from class 4 and 6 felonies to level 4 drug felonies. The court expanded on its 2019 decision in Wells-Yates v. People to clarify that, following their reclassification, Thomas' past drug possession convictions couldn't serve as triggering or predicate offenses for habitual criminal purposes. Thomas should not have been adjudicated a habitual criminal, the court found, and the trial court must resentence him on his bodily injury to an at-risk person conviction.