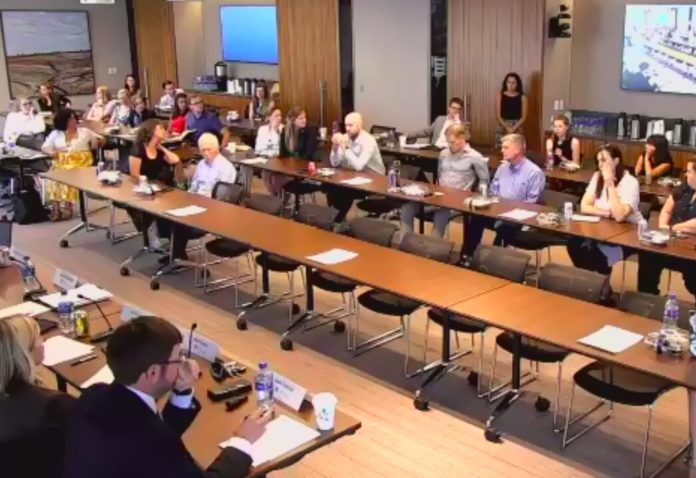 Former U.S. Supreme Court clerks and constitutional law experts recently met up and reflected on the U.S. Supreme Court's 2021 term and its impacts on the law, appellate practice and society. 
Held on Aug. 4, the discussion was the 11th annual Supreme Court review panel put together by the University of Colorado Law School. Led by CU Law professor Douglas Spencer, the panel included Colorado solicitor general Eric Olson, who clerked for former Justice John Paul Stevens from 2002 through 2003, Faegre Drinker partner Mark Taticchi, who clerked for Justice Anthony Kennedy from 2010 through 2011, and CU constitutional law professors Jennifer Hendricks and Helen Norton. This year, the panel was joined by both virtual and in-person audiences at Faegre Drinker Biddle & Reath's downtown Denver office. 
The U.S. Supreme Court's 2021 term, which ended June 30, was one of the most consequential in recent history. With a 6-3 conservative super majority, the court issued opinions on keystone issues including reproductive rights, the First Amendment, gun restrictions and more. 
"From free speech to the Second Amendment to COVID, mandates to arbitration, religious freedom [to] reproductive rights, this has been a term like no other," said Spencer opening the panel. One trend that's been evident this term, Spencer said, is that the court has been taking fewer cases, taking longer to decide them and publishing longer opinions. "All of this speaks to a court perhaps that is more fractured, we're seeing more dissents published, [it's] perhaps less collegial."
Spencer added the public opinion of the U.S. Supreme Court is at an all time low due to several landmark cases decided this term. "We'll think a little bit about what it could be about the way these cases are being decided or the cases that are being chosen, that might be leading to some of these trends that we're seeing more dissents and lower public approval."
Dobbs
On June 24, the U.S. Supreme Court issued its decision in Dobbs v. Jackson Women's Health, overturning 49-year-old pre-viability abortion rights established by Roe v. Wade. Dobbs was the most widely discussed court decision this session and in the weeks since, many states have scrambled to enact or enforce abortion laws that were outlawed by Roe. 
Hendricks, who teaches constitutional law, thinks the Dobbs decision will have several long-term impacts on the law and fundamental rights. 
"In Roe and Casey, and in most other cases dealing with fundamental rights, the courts have used a two-step analysis for determining when a fundamental right under the 14th Amendment has been infringed," explained Hendricks. The first step, she said, is determining if a law infringes on a protected sphere of liberty and if so, the court tries to understand if the government has a strong enough interest to justify doing so. 
But rather than looking at the two-step analysis to determine if states have a justified interest in regulating the decision to carry a pregnancy, Hendricks said, the Supreme Court in Dobbs found the 14th Amendment didn't establish a fundamental right, which meant "the state can regulate them how it likes and it's subject only to rational basis review." 
Hendricks critiqued the court's use of history to find abortion isn't a long-established practice and tradition in the U.S. through an originalist lens. "By choosing that method, you have determined in advance that women's bodily integrity is not going to be protected because it wasn't back then." She added that "the logic of the opinion undermines the foundation of sort of all the 20th century modern fundamental rights that the court has recognized under the 14th Amendment."
Arbitration Wins
For his portion, Olson focused on what he called "the one real sort of progressive win at the court this year" and what they teach about presenting an effective case in front of the current court. 
Olson said many of the Supreme Court's recent decisions have centered around an essential question: who decides? While this has extended to questions like those in Dobbs as well as the reach of the executive branch, Olson thinks this term has also underlined the Supreme Court's position as the final and ultimate decision-maker. 
This term, the court has released several decisions around who decides when it comes to arbitration and courts, Olson said. In the context of arbitration, he explained, "the 'who decides?' question really isn't a procedural question, it's a 'is there a remedy?' question or 'is there a real remedy?' question." 
The first notable arbitration case the court took was Badgerow v. Walters, which held that state courts have jurisdiction to vacate an arbitration award when the underlying dispute over the arbitration is a state-law issue. Olson said the court's ruling was a win for progressive views as it offers "meaningful checks on some of the abuses of arbitration." 
The next arbitration case was the May holding in Morgan v. Sundance Inc. which found that like other contractual rights, a right to arbitration can be waived by parties. Olson thinks the court's decision has made it easier for employees to get out of arbitration agreements if a company doesn't aggressively assert the waiver. 
The third arbitration win for employees was in the June ruling for Southwest Airlines v. Saxon which Olson explained took an expansive interpretation to the Federal Arbitration Act's exemptions for interstate workers. 
The only case which was a hit to employee rights, according to Olson, was the June ruling in Viking River Cruises v. Moriana.
As a whole, the court's rulings in arbitration matters stood out to Olson, he said. "I was really struck, because there was really no other part of the court term this year where the underdog won." 
Olson thinks the victories showcase takeaways for Supreme Court looking to make effective arguments in front of the current court. 
The first lesson came from the argument made by Colorado attorney Dan Geyser in Badgerow. While parties are allowed a 13,000-word brief, Geyser's brief was only 7,329 words. "His brief was basically half the length of what it could be. Because he focused on his two key arguments, and let the other ones go," said Olson. 
Olson thinks the way Jennifer Bennet, the winning attorney in Southwest Airlines, approached oral arguments was "exceptional in many ways." Bennet acknowledged multiple times that the court was asking hard questions, but doing so strengthened her case rather than hurt it, he explained. "But [she] really gained so much credibility with the court and was viewed as someone who was helping the court figure out this hard question as a trusted advocate, rather than preaching to the court about what should be done."
Establishment Clause and Agency Authority 
Two other areas of note this session came from cases the court took around the separation of church and state and the reach of federal agencies. 
Key cases which show the current court's position on the Establishment Clause, according to Norton, were Kennedy v. Bremerton School District and Carson v. Makin. 
"The Establishment Clause prevents the government from sponsoring religion and the Free Exercise Clause prevents the government from interfering with religion," explained Norton. "And it turns out that folks have different views about what it means to sponsor religion or instead interfere with religion."
Both 6-3 Supreme Court rulings fell in favor of the Free Exercise Clause, Norton said, with the court first ruling in favor of a high school football coach who was fired by a school district after publicly praying before a game and the court then invalidating a Maine law that only allowed state assistance for private school tuition to go toward secular schools. 
Norton believes tensions between the Establishment and Free Exercise Clauses will likely still pop up, but the Supreme Court made its view on the conflicts apparent. 
The court also solidified the definition of the major questions doctrine in three cases this session over the scope of federal agencies' authority, according to Taticchi. 
The first two cases were based on mandates from the Occupational Safety and Health Administration and the Department of Health and Human Services around COVID-19 vaccine requirements. The U.S. Supreme Court upheld a rule that required employees at Medicare and Medicaid enrolled healthcare facilities to be vaccinated against COVID-19, but it struck down an OSHA rule that would've required large employers to create vaccine-or-testing procedures for all employees. 
The Supreme Court's divergent rulings on the cases came down to the major questions doctrine, Norton said. "If you're going to allow an agency to decide for itself, something that is so significant that has such significant impacts on such a large swath of the American population, [the U.S. Supreme Court would] expect Congress to have actually said so in so many words."
Another case that shaped the major questions doctrine was the court's decision in West Virginia v. EPA, which struck down a rule from the Environmental Protection Agency which would've required states to shift their power portfolio to meet certain requirements for renewable energy generation. 
"This time, the major questions doctrine moves from the concurrence expressly into the majority," said Norton. "And the chief [justice] says, this is a major questions case. This is something that's very consequential…this is not something that's within the bailiwick of the EPA."