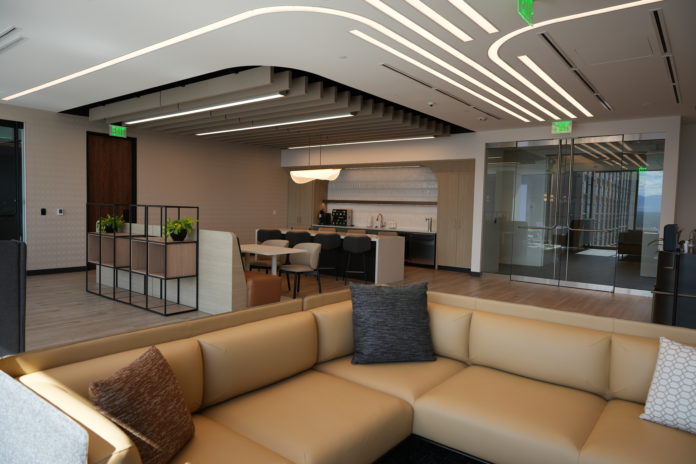 Last Monday, national firm Lathrop GPM's local office moved into a new space. The new office, located in Denver's central business district, looks pretty different from its former location as the firm adapts to new workplace norms. 
"It's really just about trying to create a place that is more efficient than our old, larger space, but that has a look and a feel of comfort for our people," said Denver office partner-in-charge Patrick McRorie. McRorie was part of the team that designed the new office's layout from scratch and explained the space was built to meet new standards for corporate work. 
Located on the 26th floor of Block 162 at 15th and California Street in downtown Denver, the new office features panoramic views of the front range, an open living and dining reception area and 15 shared offices. 
The new office is a significant downsize from its former location near Union Station, McRorie said. He estimates that the current office is around a 40% decrease in square footage from the previous space Lathrop GPM Denver was based out of for around six years. The firm announced plans to move its Denver office in January. 
The Future of Work 
With a smaller footprint, Lathrop GPM's Denver office had to make some adjustments to accommodate its 30 or so attorneys and staff, McRorie said. 
More employees are working from home part of the week, a change created in part because of the pandemic, and the office has adopted a hoteling model for attorneys to "check out" an office to use on the days they come in. 
McRorie explained that before the pandemic Lathrop GPM had technology in place that made a transition to remote work easier. Adjusting to remote work wasn't as turbulent as it could've been, he said, and the office learned how to operate with everyone working from home. 
In the current leg of the COVID-19 pandemic, with many restrictions lifting and in-person gatherings coming back, McRorie said the firm has changed its remote work policies. Before the pandemic, there wasn't an in-office requirement, but now Lathrop GPM asks employees to come in one day a week with many attorneys and staff opting to work from home. 
Multiple studies since the pandemic have found remote and hybrid work has benefitted employee productivity, performance and overall well-being. Perhaps unsurprisingly, many corporate offices and law firms have embraced remote and hybrid work since the pandemic. 
A March 2022 study by Law Week of Colorado concerning corporate counsel found two-thirds of attorneys reported working from home three days a week or more. Additionally, more and more law firms are hiring remote and hybrid associates as young lawyers report high rates of satisfaction with remote work. 
In designing the new office, McRorie said he and the team were tasked with creating the layout kept the new norms for corporate work in mind. That included designing a space that welcomes employees at every level, he said. 
"One of the things you'll notice is that we did away with the corner offices," McRorie said. In their place are two seating areas with panoramic views of downtown Denver and the front range. "What that does is one, it really equalizes the space. So you don't have these big fancy corner offices where people are made to feel one way or the other about the occupation of that office. It also brings in this incredible natural light." The 15 offices are all the same size and have the same furniture, he added: an electric standing desk, two monitors and telescopic arms to adjust their positions. 
Under the hoteling model, workers at Lathrop GPM's Denver office keep their personal work items in a locker and a caddy and bring them into whatever office they are using for the day. McRorie said the firm's other offices plan to adopt the hoteling model as well once their leases run out. Denver is the firm's first office to make the switch. 
The office's lobby area is another design choice meant to appeal to employees, McRorie added. 
Walking into the office, you're met with a large room with couches, booths, tables and a small kitchenette with a coffee station and a mini fridge. With floor-to-ceiling windows framing downtown Denver and the front range, the space is filled with light and welcoming. 
That area is McRorie's favorite part of the office, he said. "I want a space where [employees] can come out here and feel like they can gather, they can have lunch and feel like they can work with their laptop out here instead of their office to get a change of scenery. I wanted to just create a much more homey feel than a corporate law firm's office while still being client-facing."
Shrinking Pains
With a smaller footprint but a steady headcount, there have been a few "shrinking pains," McRorie said. 
He explained that while every employee has said they like the new space more than the previous office, hoteling has been an adjustment. 
"There's a certain level of comfort that comes along with seeing your diplomas on the wall," McRorie said. "Yeah, so it's definitely changed and I think people are adjusting." Having moved in on Sept. 12, he added that it's a little too soon to tell what the long-term reaction to the hotelling model will be, but added that there's been resounding positive feedback about the office design and features. 
With a hybrid workplace, McRorie added there's also been some difficulty nurturing a sense of connection in the office. "But you also sometimes lose mentorship and you lose stickiness and you lose culture if human beings aren't in 3D, interactive."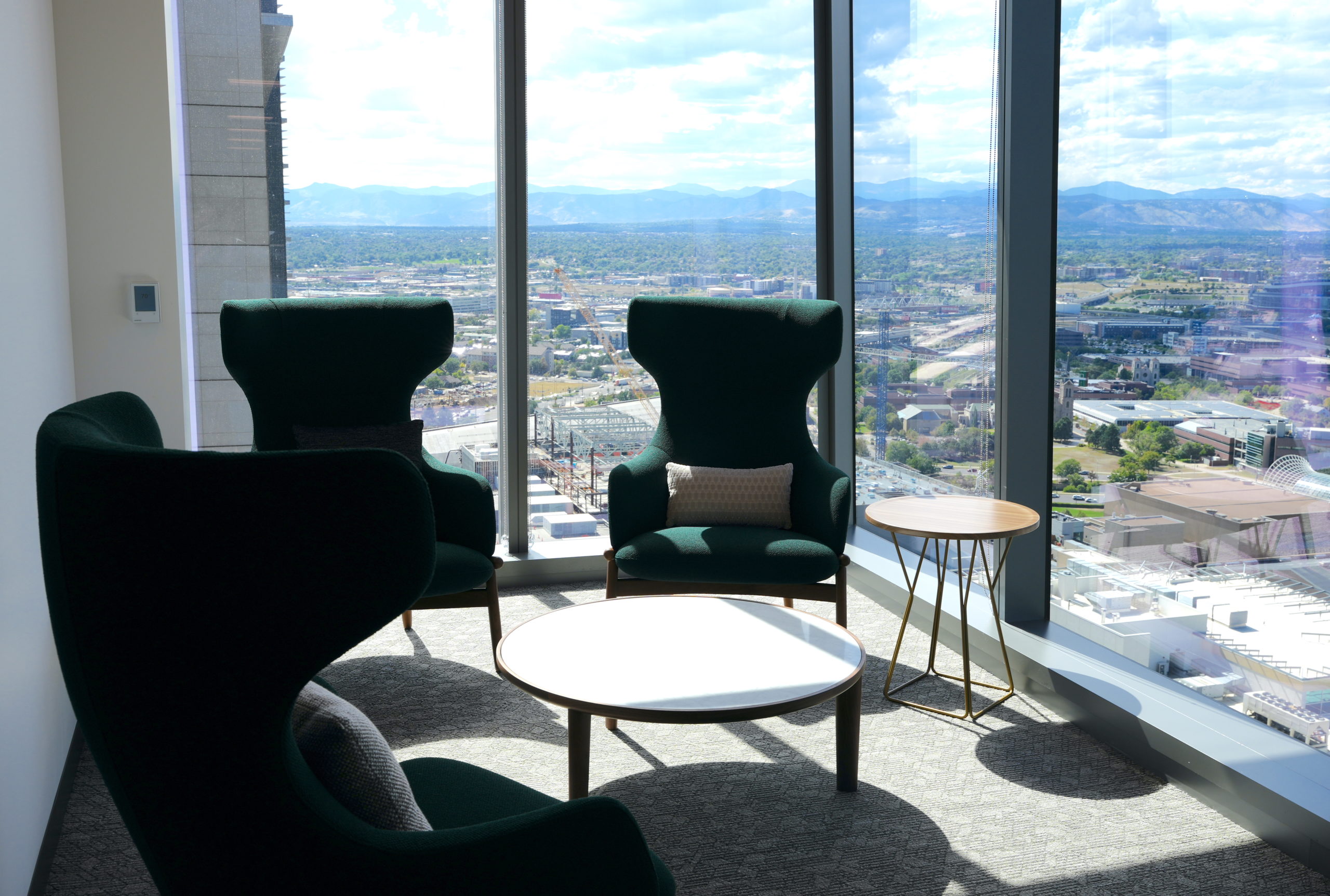 To preserve the sense of culture and connection, McRorie said some teams will all come in on the same day and the firm has started hosting weekly events to bring people together. This includes "Thirsty Thursdays" where everyone in the Denver office ends work at 4 p.m. to hang out, listen to music, drink and socialize. 
The future of workplaces is changing, and Lathrop GPM's new Denver office seeks to meet new employee needs and wants.