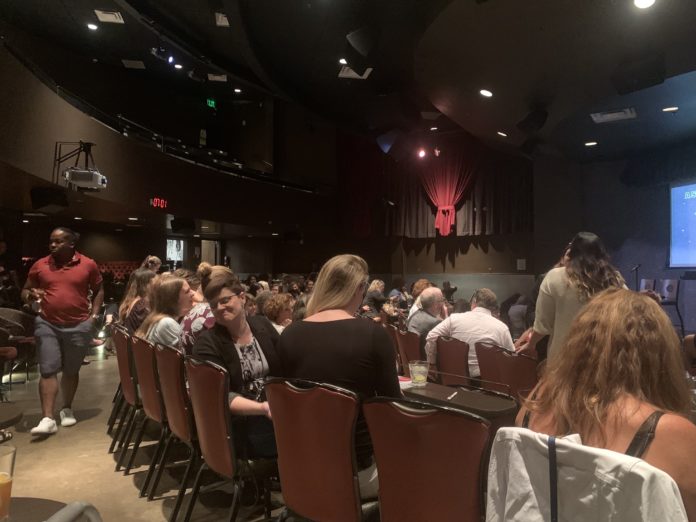 What does stand-up comedy have in common with the U.S. Supreme Court's overturning of Roe v. Wade? Not much, but following a serious discussion of the impacts of the court's ruling on public policy with comedy was a spoonful of sugar approach at a Colorado Women's Bar Association public policy fundraising event. 
Hosted Aug. 31 at Comedy Works in Greenwood Village, the CWBA brought in a panel of reproductive rights experts followed by four stand-up comedians to raise money for the organization's lobbying efforts. 
The CWBA fundraising event — Don't 'Kid' Me: Comedy, Discussion & Drinks in a Post Roe World — raised money to support the CWBA's lobbying efforts which include advocating for reproductive justice and support services in Colorado. 
The benefit included a silent auction where attendees could bid on services and items donated by local businesses before a comedy set headlined by Denver comedian Nora Lynch with local comedians Hayden Kristal, Hannah Jones and Derrick Stroup. 
Opening the show was a panel that discussed the impacts of the Supreme Court's recent ruling in Dobbs v. Jackson Women's Health on medicine, policy, Colorado and beyond. The panel included Colorado Sen. Julie Gonzalez, emergency medicine provider Dr. Julie Winkle and Dani Newsom from the abortion access and advocacy organization Cobalt. 
While Colorado codified abortion access earlier this year, the panel explained that Dobbs will still impact women, medical providers and others in Colorado. This year, the CWBA helped pass House Bill 1279, the Reproductive Health Equity Act, which codified individual rights to have or not have contraception and abortion under state law. Other organizations involved in passing the bill included Cobalt and the Colorado Organization for Latina Opportunity and Reproductive Rights. 
Come 2023, CWBA representatives explained, the organization is hoping to keep advocating for legislation and public policy around reproductive rights and access.
"The incredible work of Senator Gonzalez, COLOR and Cobalt has placed Colorado in a position of much greater protection than so many other states and much greater protection for pregnant persons and reproductive autonomy," said CWBA 2022-23 president Kathryn Starnella. "But the fight continues and we know that and that's why we are gathered here tonight." 
Since it was founded in 1978, the CWBA has advocated in the state legislature for the interests of women and children. Every session, the organization is active at the Colorado state capital with volunteer attorneys frequently testifying to lawmakers on behalf of CWBA, themselves and their clients. 
All proceeds from the event supported the CWBA's public policy and lobbying sections. Organizers estimated that around 200 people joined the CWBA's in-person audience. Adrina Busby, the CWBA public policy committee co-chair, said the organization hopes to host a similar public policy comedy night fundraiser next year. 
According to the panelists, while abortions are still legal in Colorado, the impact Dobbs on neighboring states has spilled across borders. 
Newsom, an attorney and U.S. history professor, moderated the panel and opened the conversation with background on the history of reproductive justice movements in the U.S. She explained that Cobalt was founded in Colorado in 1967 when the state first decriminalized abortion but prior to the U.S. Supreme Court's landmark abortion ruling in Roe v. Wade. Since then, Newsom said Cobalt has grown to advocate for abortion access in Colorado and neighboring states through legislative lobbying as well as offering financial support for women seeking abortions. 
Newsom said that since the Dobbs ruling earlier this year, Cobalt has seen an increase in demand for abortion support funds and an increase in the number of women traveling to Colorado to access abortions. 
From a doctor's perspective, Winkle explained that Dobbs will likely have an impact on multiple types of medicine in Colorado and across the country. She said that emergency doctors in states where abortion is now illegal are anticipating a rise in cases caused by complications from both self-induced abortions as well as complications like sepsis, from women carrying inviable pregnancies and prior to Dobbs would've been aborted. 
More locally, Winkle said that on top of increased demand from patients who travel to Colorado for abortions, doctors have seen increased demand for adjacent medical services. For example, Winkle said she'd seen multiple out-of-state patients seeking abortions in the ER for travel-related issues like extreme dehydration and low oxygen levels. 
"They are having to leave the comforts of their home, they're having to take on all these additional burdens," said Winkle.
On the policy side of things, Gonzalez said that while Colorado has abortion protections in place, she's concerned that women who travel for the procedure might face criminal prosecution back home. She said that lawmakers may need to consider creating additional protections following Dobbs including creating legal protections for medical providers or creating out-of-state extradition abortion prosection protections. 
Despite abortions being legal in Colorado, the panelists underlined that Dobbs will impact the state going forward. 
After the panel, the CWBA hosted a lineup of local comedians who donated their time to perform at the event. While the performers touched on the importance of Dobbs and reproductive justice, the night closed on a lighter note.