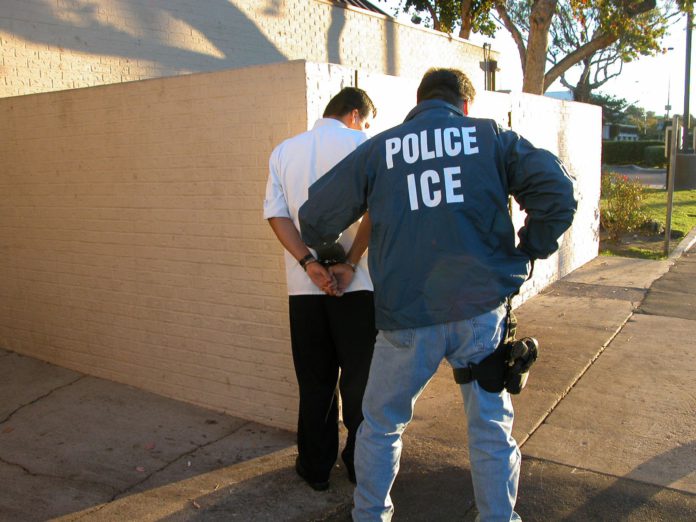 After Immigration and Customs Enforcement arrested about 680 workers across Mississippi in a coordinated immigration sting in early August, it had immigrants and employers alike bracing for the possibility that their workplace, too, could be raided.
The Aug. 7 ICE operation, which was the largest-ever immigration enforcement action in a single state, was focused on agricultural processing plants. But business immigration lawyers say the Trump administration has been casting a much wider immigration enforcement net to include industries beside the traditional targets of agriculture, hospitality and food service. And while the threat of an ICE raid has many employers concerned, the mundane immigration law compliance risks have been keeping them more preoccupied in recent years.
So far in 2019, ICE has announced the detainment of nearly 2,000 suspected undocumented immigrants through removal operations, according to the American Immigration Lawyers Association. Many of those arrests took place at the suspects' workplace, ranging from a repair shop in Texas to a grocery store in California to a manufacturing plant in North Carolina.
As the Trump administration has stepped up the federal government's immigration enforcement activity compared to past administrations, employers across numerous sectors are finding themselves in ICE scrutiny where they hadn't previously. In the past two years, many companies have received their first letters from the federal government putting them on notice for immigrant employment practices.
"There really isn't a safe industry," said Jocelyn Campanaro, a Denver-based partner in Fisher Phillips' global immigration practice group.
There's been a "steady stream" of workplace immigration activity over the past two decades, even though the focus wasn't always the same, Campanaro said. Bush administration enforcement seemed to primarily target employees, and then the Obama administration shifted the focus to employers. "We're seeing a swing back" to employee-focused enforcement, she added, "but that's not to say companies aren't at risk."
Under the Trump administration, Colorado has seen few large-scale ICE operations compared to other states. The largest coordinated action under the Trump administration that involved the state came in April 2017, when ICE arrested 21 foreign nationals in Colorado over four days. Still, the specter of a raid has been top-of-mind for businesses seeking immigration counsel.
"Employers, when they come to us, are most afraid that they're going to have a raid," Campanaro said. But at first, employers may be conflating the dramatic search warrant operations like those seen in Mississippi with the more common I-9 audits where the agency arrives on-site to review workers' documentation. 
Employers must complete a Form I-9 for all new hires to verify they are authorized to work in the U.S. That authorization comes in the form of a green card or other documentation foreign nationals present to the employer, but ICE's concern is whether employers are insufficiently filtering out workers who submit falsified documents, or worse, knowingly hiring ineligible immigrant workers. Campanaro said her firm is seeing a definite uptick in employers receiving I-9 Notices of Inspection from ICE over the past two years
ICE has recently issued a surge of more than 3,000 I-9 NOIs to employers, which is roughly as many as the employers received in all of fiscal year 2012.
Employers have also seen the return of Employer Correction Request Notice letters from the Social Security Administration. Also known as "no-match" letters, these documents alert employers of discrepancies between their workers' provided Social Security numbers and what the government has on record. While those letters don't mean an employee is unauthorized to work in the U.S., it could be a sign of issues with immigration documentation.
ICE has been known to follow up with employers to see what action they took in response to the no-match letters, according to Ann Lee, of counsel with Ogletree Deakins Nash Smoak & Stewart in Denver. SSN no-match letters aren't a novelty under the Trump administration, Lee added, but they're being used more broadly. The SSA sent out more than 500,000 of these letters this spring.
Lee said that even though immigration compliance is a greater concern now for most companies than previously, there are still some measures employers can let fall through the cracks. 
When they're undergoing mergers and acquisitions, for example, companies might overlook I-9 compliance and business immigration practices when conducting due diligence, and an immigration employment issue with the acquired company could take them by surprise.
It's also as important as ever for employers to make sure the electronic systems they use to sort I-9s are up to date, Lee said. The system should have a clear audit trail that records all entry revisions and the dates they were revised, and the records should be easily attainable in the event ICE audits them. Personnel should be well trained on the system — during a site visit, agents might ask someone to demo the I-9 program for them, Lee said.
For employers, the greater federal scrutiny on immigrant hiring practices has encompassed more than just the ICE raids that grab headlines. Even if ICE searches and mass arrests have mostly ignored Colorado so far, that's only so comforting to employers in the state and immigrants in their workforce.
"I think, nowadays, we can't assume that [a raid] like in Mississippi is off the table for any state," Lee said.
— Doug Chartier