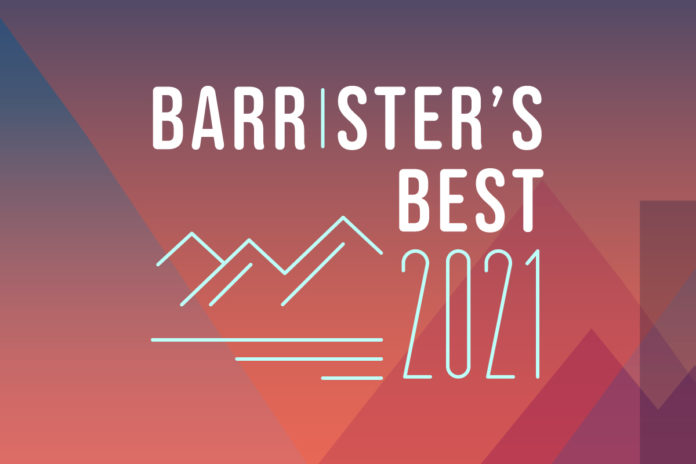 Corporate law lawyer
PEOPLE'S: David London, Hogan Lovells
In today's world, technology and intellectual property is a bigger concern than ever for companies. David London has made it his business to be as knowledgeable and savvy as possible to negotiate IP license, joint venture, development, manufacturing and distribution agreements for his clients.
BARRISTER'S: Aubyn Krulish, Armstrong Teasdale LLP
In a 2020 interview with Law Week, Aubyn Krulish said that her goal as Armstrong Teasdale's office managing attorney was to help its Denver location grow thoughtfully. She also highlighted the firm's desire to put people first, whether their clients are large established companies or startups.
Appellate law lawyer
PEOPLE'S: Sean Connelly, Connelly Law, LLC
Sean Connelly has said that he founded his firm in order to take on cases that have a personal significance to him and a social impact in the community. He's worked for decades as both an appellate law attorney and appellate judge.
BARRISTER'S: Anne Gill, Gill & Ledbetter LLP
Anne Gill focuses her practice solely on appeals. She represents clients across Colorado in divorce, land use, easements, contract breaches, constitutional violations, probate and family law issues.
Family law lawyer
PEOPLE'S: Kyle McFarlane, Broxterman Alicks McFarlane PC
Kyle McFarlane is the chief marketing officer of Broxterman Alicks McFarlane and co-founded the firm. She worked for both government and private entities before co-founding BAM with Margot Alicks and Heather Broxterman. She graduated from the University of Denver Sturm College of Law, where she simultaneously obtained her degree while working for the Public Defender's Office and then transitioned to the District Attorney's Office. She currently practices exclusively in family law litigation for prosecution and defense.
BARRISTER'S: Suzanne Griffiths, Griffiths Law PC
Suzanne Griffiths is a family lawyer, but the firm she helped found continues to grow its civil litigation practice too. A graduate of the University of Cape Town, South Africa, her legal experience spans two continents and four decades. She's previously received Law Week's Lawyer of the Year, Top Women and Barrister's Best awards.
Private equity lawyer
PEOPLE'S: Keith Trammell, WilmerHale
Keith Trammell is a big name in Colorado's legal community for his work with private and public companies and private equity funds in M&A transactions. His list of big transactions includes representing major entities such as Vail Resorts, Regal Entertainment and Nordstrom in transactions as well as private equity firms in major investments. Last year, Trammell partnered with other attorneys in ColoradoCOVIDRelief.org, an organization that offers legal help in business issues, bankruptcy and eviction through the pandemic. 
BARRISTER'S: Pat Linden, Linden Law Partners
This isn't Pat Linden's first time to be named in Barrister's Best. He founded his own firm in 2015, but he brings BigLaw experience to his work with companies and entrepreneurs in early-stage and venture capital financings.
Real estate lawyer
PEOPLE'S: Rebecca Fischer, Sherman & Howard
Rebecca Fischer's commercial real estate practice encompasses the development of resort, ranch and mixed-use communities. She advises in due diligence investigations, state and local law entitlement questions and loan documentation for wind and solar energy developments in Colorado, according to her Sherman & Howard online biography.
BARRISTER'S: Jay Kamlet, Kamlet Law
From an outside perspective, Jay Kamlet seems like the kind of lawyer who just doesn't slow down. In addition to founding attorney coworking space LawBank, Kamlet focuses his practice on the negotiation and structuring of complex real estate developments, acquisitions, dispositions and leasing transactions for all types of developments. He has negotiated deals worth more than $15 billion in Colorado and elsewhere.
Banking lawyer
PEOPLE'S: Christian Otteson, Otteson Shapiro LLP
Christian Otteson is a regular on Law Week's Barrister's Best list, earning the recognition for the sixth year in a row. He directs his firm's financial services practice and is outside counsel for an array of banks. Otteson also has experience as in-house counsel for a public regional bank.
BARRISTER'S: Chalyse Robinson, WilmerHale
Chalyse Robinson offers a broad range of experience representing national and international companies and private equity funds active across a diverse range of industries. She uses this experience to help guide public and private companies and private equity sponsors through all aspects of their debt financing transactions, according to WilmerHale's website.
Bankruptcy lawyer
PEOPLE'S: Tim Swanson, Moye White LLP
Super Lawyer Tim Swanson has been named a Rising Star in creditor/debtor law and his extensive experience makes it clear why. His practice focuses primarily on commercial bankruptcy, creditors' rights and commercial litigation.
BARRISTER'S: David Miller, Spencer Fane LLP
David Miller has appeared on our Barrister's Best list before. In addition to his practice focusing on bankruptcy law and commercial litigation, he often lectures about bankruptcy law and related topics in Colorado and Wyoming.
Tax lawyer
PEOPLE'S: David Crandall, Holland & Hart LLP
David Crandall got his start in tax law in 1987 and since then has assisted with more than 150 tax and estate plans for individuals and companies in the region. His extensive background working with large-scale corporations has lent to his overall success and he's received a number of industry recognitions over the years. 
BARRISTER'S: Gregory Berger, Brownstein Hyatt Farber Schreck
Gregory Berger, chair of Brownstein's corporate and business department and co-chair of its tax group is so familiar with tax policy that he's even contributed to legislative proposals on the subject. Berger has assisted with massive legislative efforts including the CARES Act and the 2017 Tax Cuts & Jobs Act. His approach to tax law factors in not only big-picture thinking but also includes a structural approach factoring in relevant policy and systemic issues. 
Securities lawyer
PEOPLE'S: Luke Ritchie, Moye White LLP
Luke Ritchie earned our recognition through his work coordinating multi-firm efforts in defending claims involving federal and state securities laws, fraud and other business torts. In addition, he is also a prominent writer and presenter on securities topics.
BARRISTER'S: Robert Blume, Gibson, Dunn & Crutcher
Robert Blume, a partner in Gibson Dunn's Denver office, focuses his practice on complicated securities issues and complex civil litigation. He served as a federal prosecutor with the United States Department of Justice, gaining recognition from the Attorney General. He's no stranger to awards and has appeared in Best Lawyers for the last eight years straight.
Mergers and acquisitions lawyer
PEOPLE'S: Rochelle Rabeler, Holland & Hart LLP
Rochelle Rabeler has appeared on our Barrister's Best list each year since 2014. Rabeler's robust experience in power purchase agreements has made her a leading attorney in M&A and a regular on our attorney recognition list.
BARRISTER'S: Ted White, Moye White LLP
As a name partner for Moye White, Ted White looks to add business value in every M&A situation. His focused efforts in M&A often involve funding formation and complex planning with clients to make the deals as smooth and beneficial as possible.
Renewable energy lawyer
PEOPLE'S: Michael Connor, WilmerHale
Michael Connor has earned a reputation as an authority on natural resources, water policy and Native American law. He often provides legislative and legal support for businesses and works often with tribes seeking sustainable use of land and water resources.
BARRISTER'S: Rochelle Rabeler, Holland & Hart LLP
Rochelle Rabeler makes her second appearance on our Barrister's Best list. Her focus on renewable energy involves counseling developers, investors and independent power producers with energy projects throughout the U.S.