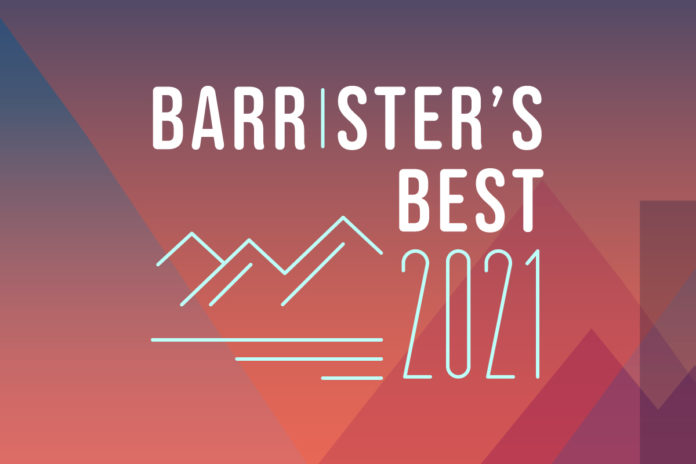 Personal injury law lawyer
PEOPLE'S: Ross Ziev, Law Offices of Ross Ziev, PC
It's no surprise that attorney Ross Ziev came to readers' minds when asked to pick a personal law injury lawyer considering his successful track record. He won a $10.5 million verdict for a family injured by methamphetamine fumes in August and was awarded the Case of the Year Award from the Colorado Trial Lawyers Association with his teammates for their work on the class-action case Agazi Abay et al. v. City of Denver in 2020.
BARRISTER'S: Jim Chalat, Chalat Law
Practicing personal injury law since the late 1970s, Jim Chalat has developed a national reputation for being one of the best in the business. He makes a point to pass on the knowledge he's gained by mentoring aspiring lawyers. He previously developed a lecture for Harvard Law School and Sturm College of Law. "I never turn down an opportunity to lecture, teach, challenge and to be challenged by law students," his website states.
DUI lawyer
PEOPLE'S: Jay Tiftickjian, Tiftickjian Law Firm PC
Before becoming a DUI attorney, Jay Tiftickjian litigated more than a thousand DUI cases on the other side of the courtroom as a Colorado Deputy District Attorney. This experience gives him insider knowledge of a prosecutor's thought process that he uses to help his clients fight DUI charges. 
BARRISTER'S: Abe Hutt, Recht Kornfeld PC
Abe Hutt has been a mainstay in our Barrister's Best issue over the years for his impressive work as DUI lawyer. He's also defended individuals facing other criminal cases and won acquittals beyond DUIs, including cases of first-degree murder, child abuse and embezzlement.
Marijuana law lawyer
PEOPLE'S: Nick Richards, Greenspoon Marder LLP
Nick Richards is known for his expertise as an attorney in the cannabis industry and was named by Cannabis Law Report as one of the Global Top 200 Cannabis Lawyers for 2021-2022. He continues to be involved in the industry outside of his work with Greenspoon Marder as well and serves as an industry board member for multiple cannabis organizations. 
BARRISTER'S: Melissa Kuipers Blake, Brownstein Hyatt Farber Schreck
Melissa Kuipers Blake has established herself as an influential advocate for the cannabis industry on a state, federal and local level. A co-chair of Brownstein's cannabis and industrial hemp industry group, she counsels clients on cannabis policy compliance and workplace issues and works with the government to craft and enact relevant policies.
Criminal defense lawyer
PEOPLE'S: Madalia Maaliki, Richards Carrington LLC
Madalia Maaliki encourages her office to think about the issues of police brutality, mass incarceration and racial bias that they see in the criminal justice system. Beyond her work in private practice, Maaliki is an adjunct professor at the University of Denver Sturm College of Law. She also teaches the National Trial Team there, working to encourage law students and help them grow in skill.
BARRISTER'S: Rick Kornfeld, Recht Kornfeld PC
Rick Kornfeld's clients include multiple Fortune 500 companies that he provides white collar criminal defense, corporate compliance and internal investigations services for. Prior to starting his own practice, Kornfeld worked as a federal prosecutor. He is a regular legal commentator on major national and local news outlets.
Criminal defense: White collar lawyer
PEOPLE'S: Shanelle Kindel, Ridley, McGreevy & Winocur, PC
Formerly an attorney in the Denver Trial Office of the Colorado State Public Defender, Shanelle Kindel now focuses her practice on state and federal criminal defense cases. The accusations against her clients range from misdemeanor to felony charges. 
BARRISTER'S: Jeffrey Springer, Springer & Steinberg, PC
Co-founder of Springer & Steinberg, PC, Colorado native Jeffrey Springer and his attorneys largely focus on personal injury, criminal defense, business litigation and family law matters. "I'm proud of what I accomplish for my clients and the tens of millions of dollars that I have recovered on their behalf," Springer said on the firm's website. 
Immigration lawyer
PEOPLE'S: Brad Hendrick, Caplan & Earnest LLC
The leader of Caplan & Earnest's immigration law section, Brad Hendrick and his team focus on immigration and employer compliance. He regularly assists companies and individuals with obtaining permits, visas and permanent residence. 
BARRISTER'S: Catherine Chan, The Chan Law Firm
As a second-generation immigrant to the United States, Catherine Chan is passionate about her work for families, non-profits, businesses and individuals resolving difficult deportation and immigration cases. She's litigated immigration cases at every state and federal court in Colorado over her career.
Trust/estates lawyer
PEOPLE'S: Heidi Gassman, Moye White LLP
Heidi Gassman makes her Barrister's Best debut this year. She joined the Moye White Trusts and Estates team in 2019 to advise clients on estate planning manners. She earned both her bachelor's and law degree in Washington and is licensed to practice in both Colorado and Washington. 
BARRISTER'S: Kristofer Simms, Caplan & Earnest LLC
Kristofer Simms has only been with Caplan & Earnest LLC for less than a year, but he's clearly already made a large impact amongst his peers for his work there. His ​​expertise focuses on estate planning, trust administration, probate, taxation and real estate, according to his profile on Caplan & Earnest's website.