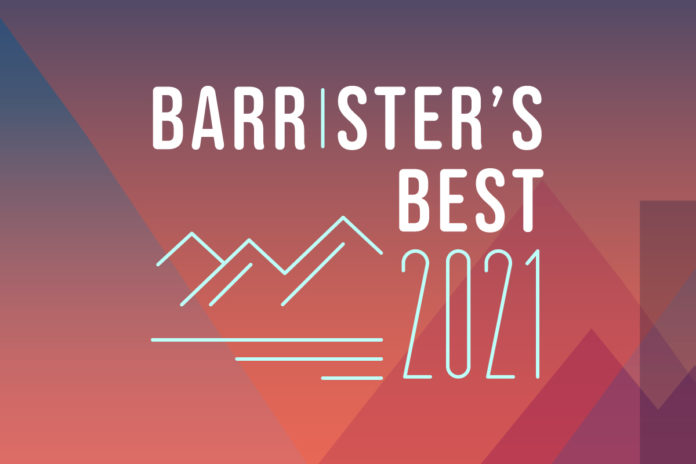 Arbitrator 
PEOPLE'S: David Tenner, Ridley, McGreevy & Winocur, PC
David Tenner has a successful and varied career as a trial lawyer, special master to Denver-area courts and a trained mediator. And he's making another appearance in Barrister's Best for his work as an arbitrator. A member of the commercial panel of the American Arbitration Association, Tenner tries complex claims in both domestic and international arbitrations.
BARRISTER'S: Bill Meyer, Judicial Arbiter Group, Inc.
After 16 years at the Denver District Court, former Judge Bill Meyer joined JAG as an arbiter in 2000 where he now acts as the managing arbiter. He is known for his expertise on evidence and has taught evidence courses for the Colorado Judicial Branch and the National Judicial College.
Litigator 
PEOPLE'S: John Walsh, WilmerHale
John Walsh is a familiar name even to those outside of the legal industry thanks to his years as U.S. Attorney for the District of Colorado. Following his service, he brought his experience working for the government to WilmerHale where he practices criminal and complex civil litigation.
BARRISTER'S: Duncan Griffiths, Griffiths Law PC
While Duncan Griffiths started his legal career in construction defects litigation, he and his firm have since become known for complex civil litigation. In a March interview with Law Week, Griffiths said he takes cases that move him. "I'm not afraid to lose a case if I feel like it's righteous enough or is worth the chance."
Mediator
PEOPLE'S: Ben Stetler, Ben Stetler, PLLC
Working as an attorney-mediator and an arbitrator, Ben Stetler helps his clients to negotiate resolutions when possible. He believes that mediation over litigation can ease the financial and emotional burden caused by a dispute. Stetler specifically focuses his practice on civil and domestic matters.
BARRISTER'S: Skip Netzorg, Sherman & Howard
Skip Netzorg uses his prior experience working for both prosecution and defense to his advantage as an arbitrator. His skill in this arena has been noted before by organizations like Super Lawyers and Best Lawyers, and he is an active member of the American Arbitration Association's National Panel and the National Academy of Distinguished Neutrals.
Overall Litigator
PEOPLE'S: John Walsh, WilmerHale
John Walsh had the rare honor of being selected by Law Week's readers twice this year for his skills as a litigator. He is a Colorado native, attended Williams College for his undergraduate studies and later earned his J.D. from Stanford Law School.
BARRISTER'S: Duncan Griffiths, Griffiths Law PC
Duncan Griffiths was also previously singled out on this list as the Barrister's Choice for litigator. He's resolved cases up to over $13 million and his experience in complex litigation is extensive.
Commercial Litigator
PEOPLE'S AND BARRISTER'S: Michael Burg, Burg Simpson
It's no surprise that Michael Burg was selected in both categories here for his work as a commercial litigator considering his impressive career spanning over four decades. He's served as lead counsel on more than 185 jury trials and secured more than $1 billion in settlements, judgments and verdicts on behalf of his clients.
Civil Litigator
PEOPLE'S: Heidi Storz, Kerrane Storz PC
In addition to this distinction, Heidi Storz has been recognized as one of the state's top lawyers by multiple sources. She's already made the 2022 Colorado Super Lawyers and Women Colorado Super Lawyers lists. Her understanding of construction has allowed her to assist thousands of homeowners in construction defect issues and insurance litigation.
BARRISTER'S: Mindy Sooter, WilmerHale
Currently the partner-in-charge at WilmerHale's Denver office, one might assume Mindy Sooter has always worked in the legal field, but she comes from an engineering background. Before attending law school, she worked as a consultant and the director of software engineering for a Colorado startup. She credits this experience with giving her the ability to readily communicate with the jury and present technological information to them.
Employment lawyer for plaintiffs
PEOPLE'S: Diane King, King & Greisen, LLP
Diane King practices all aspects of employment litigation and civil rights at her firm King & Greisen, LLP. Since graduating from law school at the University of California at Berkeley in 1987, she's tried, mediated and arbitrated hundreds of employment cases with positive results for clients.
BARRISTER'S: Faisal Salahuddin
A former Colorado state public defender, Faisal Salahuddin has since shifted his focus to civil rights. He currently sits on the American Civil Liberties Union of Colorado's Board of Directors and recently helped bring a lawsuit against the City of Colorado Springs alleging racial profiling by police officers.
Employment lawyer for defendants
PEOPLE'S: Todd Fredrickson, Fisher Phillips
Practicing traditional labor law, Todd Fredrickson frequently finds himself representing employers in everything from contract negotiations to issues concerning the Fair Labor Standard Act. Recently, he represented a restaurant chain against multiple employee claims for unpaid wages and overtime work.  
BARRISTER'S: Leah VanLandschoot, The Litigation Boutique LLC
As The Litigation's Boutique LLC's lead attorney, Leah VanLandschoot utilizes her experience with anti-discrimination laws and the Colorado Wage Claim Act to protect her clients' rights. She's worked on cases for both employees and employers regarding sexual harassment, discrimination, retaliation and personal injury.
Intellectual property lawyer (non-litigator)
PEOPLE'S: Darin Gibby, Kilpatrick Townsend & Stockton LLP
Darin Gibby helped launch patent firm Kilpatrick Townsend's Denver office in 1995 and has worked to help it grow in the area ever since. He focuses on intellectual property counseling, transaction, licensing and patent prosecution, working with small start-ups and larger businesses across all industries.
Intellectual property litigator
PEOPLE'S: Justin Krieger, Kilpatrick Townsend & Stockton LLP
A managing partner at Kilpatrick Townsend's Denver office, Justin Krieger is known for challenging third party patents and defending against such challenges. He uses this experience in the classroom, where he teaches a course on patent trial and appeal board studies at the University of Denver Sturm College of Law.
Medical-malpractice lawyer for plaintiffs
PEOPLE'S: Jim Leventhal, Leventhal Puga Braley PC
Jim Leventhal has been acknowledged as the Barrister's Choice in this category several times over for his performance over the decades on personal injury and medical negligence cases. In addition to his work in the courtroom, Leventhal is involved with numerous charity organizations, including the American Red Cross, Jewish Family Services and the American Cancer Society.
BARRISTER'S: Dan Lipman, Parker Lipman LLP
Dan Lipman is often recognized by peers for his practice. He was elected to the American Association of Justice Board of Governors. An avid skier, Lipman also is the co-founder and co-chair of the AAJ Ski Area Litigation Group.
Medical-malpractice lawyer for defendants
PEOPLE'S: Barbara Glogiewicz, Caplan & Earnest LLC
Barbara Glogiewicz has spent her career working for medical professionals in cases ranging from wrongful death claims to birth injuries. She's also advised health care organizations on risk management and has represented hospitals in the past. 
BARRISTER'S: Kevin Kuhn, Wheeler Trigg O'Donnell LLP
This is the fourth consecutive year Kevin Kuhn has appeared in Barrister's Best. As a trial lawyer specializing in medical malpractice cases, he has taken more than one hundred trials to verdict. 
Construction-defects lawyer for plaintiffs
PEOPLE'S: Mari Perczak, Burg Simpson
Co-practice group leader of the construction defects department, Mari Perczak and her department have worked tirelessly to handle large construction defect cases for Colorado homeowners. Perczak has won numerous multi-million dollar settlements and recoveries for her clients over the years.
BARRISTER'S: Heidi Storz, Kerrane Storz PC
This is the second category, after civil litigator, that Storz has appeared in. Away from the workplace, she enjoys beekeeping, gardening, cooking and traveling.
Construction-defects lawyer for defendants
PEOPLE'S: Dan Wennogle, Moye White LLP
As the firm's litigation section partner, Dan Wennogle focuses on construction and real estate litigation. However, he makes an effort with his clients to try to resolve disputes without litigation if possible.
BARRISTER'S: Doug Stevens, Caplan & Earnest LLC
At Caplan & Earnest, Doug Stevens focuses on civil litigation matters including construction, personal injury, medical malpractice and commercial and contract dispute issues. Beyond that, he has developed a particular niche in advising outdoor recreation providers on legal and risk management questions. 
Class action/mass tort lawyer for plaintiffs
PEOPLE'S: David Hersh, Burg Simpson
During his career, David Hersh has tried more than 100 civil jury trials to verdict. He largely focuses on litigating commercial issues, involving contract, construction or ownership disputes. However, he has acted as class counsel on several tort cases, where he's represented up to 65,000 individuals before.
BARRISTER'S: Andrew Quisenberry, Bachus & Schanker LLC
Andrew Quisenberry's passion for law runs in the family. His uncle is a trial attorney who runs a plaintiff practice in Los Angeles. Working at his uncle's firm after college, Quisenberry developed an interest in litigation and decided to follow in his relative's footsteps. After a few years of learning from him there, he moved to Denver to attend the University of Denver's Sturm College of Law. He's been living and practicing law in the city since his graduation in 2011.
Class action/mass tort lawyer for defendants
PEOPLE'S AND BARRISTER'S: Michael O'Donnell, Wheeler Trigg O'Donnell LLP
Michael O'Donnell has been ranked nationally for his mass torts defense by Chambers USA because of his successful major settlements and trials. Colorado Super Lawyers also ranked him as the top lawyer in the state for nine years in a row. 
Insurance lawyer for plaintiffs
PEOPLE'S: Stephen Shapiro, Otteson Shapiro LLP
Stephen Shapiro's practice largely concerns commercial litigation in areas from construction disputes, loan enforcement, real estate and insurance recovery. His practice involves bench and jury trials, as well as arbitration attempts before taking the case to court.
BARRISTER'S: Chris Mosley, Sherman & Howard
In representing corporate policyholders against their insurance companies, Chris Mosley has helped businesses recover more than $150 million. In addition to these legal victories, Mosley has also been involved with crafting legislation benefiting corporate policyholders from their insurers in the state.
Insurance lawyer for defendants
PEOPLE'S: Terence Ridley, Spencer Fane LLP
A veteran litigator, Terence Ridley focuses his practice on civil litigation. He received his law degree from the University of Denver in 1985 and has practiced law in the state since.
BARRISTER'S: Carolyn Fairless, Wheeler Trigg O'Donnell LLP
A co-managing partner of Wheeler Trigg O'Donnell, Carolyn Fairless works with clients on complex commercial litigation issues. She defends insurance, finance, real estate firms and employees in a variety of matters.
CORRECTION NOTE: This article has been updated to reflect the correct spelling of Stephen Shapiro's name. Law Week regrets the error.