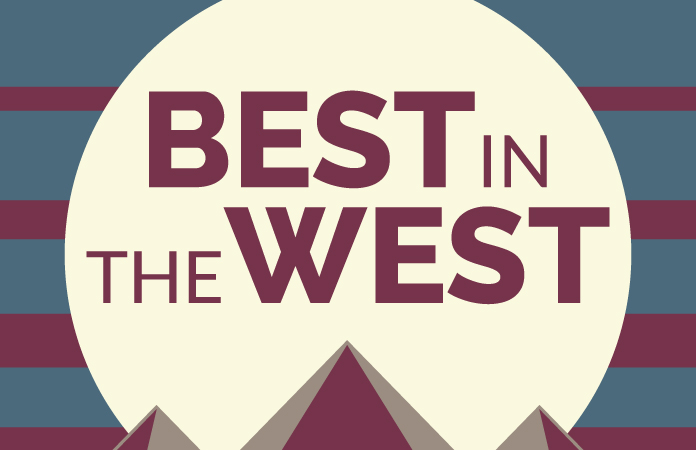 This year's Best Lawyers list is packed with attorneys from the Colorado business world.
We caught up with some of the lawyers who told us they made the list this year to learn more about their practice and how the business world is changing. Whether it was the pandemic, economy, stock market, interest rates or a major merger, it's been a wild 12 months.
Ballard Spahr's Denver office partner Andrew Petrie, who is a commercial trial lawyer, asserted a big change for him was a shift in the pandemic.
"Oddly enough, it has been the mechanics for the practice – transitioning back to in-person court appearances and depositions, and in-office work at our firm, with other lawyers, and with clients, as we come out of COVID-19 pandemic lockdowns," Petrie wrote.
Adam O'Brien, a member at Wells, Anderson & Race, LLC in Denver, whose practice focuses on commercial and insurance litigation along with product liability, added the pandemic created a backlog of trials. O'Brien also noted the return to in-person court appearances.
"I tried a case remotely by videoconference early in the pandemic, but it is great to see courts back open for in-person jury trials and complex cases," O'Brien wrote.
Looking ahead in the practice and for businesses, O'Brien also said a major impact could be the new law concerning noncompetes.
"Among other things, the new law severely restricts the use of non-compete agreements and sets forth criminal and civil penalties for prohibited conduct," O'Brien wrote.
Partners from Davis Graham & Stubbs LLP in Denver addressed the mergers and acquisition market, along with the state of the economy. 
Partner Kristin Lentz, whose practice areas include mergers and acquisitions and finance transactions, expressed the slowing of the pandemic had a major impact on business.
"With record-low interest rates and a robust M&A market, we also experienced a high volume of loan transactions get done in 2021," Lentz wrote. "This activity carried forward into 2022 but given market conditions, has significantly slowed as the year has progressed."
Lentz was also involved in many big transactions over the last year including the acquisition by DGS client PDC Energy of Great Western Petroleum, which was a $1.3 billion deal. 
"My greatest accomplishments last year, and really for each year, are continuing to strengthen and build on the relationships we have with our clients," Lentz wrote. "Being involved in any transaction, no matter how big or small, is rewarding simply because of our ability to partner with our clients in achieving their desired outcomes."
DGS partner Brian Boonstra, whose practice includes mergers and acquisitions, maintained the second half of 2021 was the busiest he's ever seen, citing a growing economy, low interest rates and strong stock market valuations.
"I am particularly proud of my team who were instrumental in helping me close six sizeable transactions over the last six weeks of 2021, including three transactions in the last eight days of the year," Boonstra wrote.   
Boonstra noted the M&A market cooldown but said he still thinks it'll be a strong year for transactions.
DGS partner John Elofson cited the economy, issues with interest rates, commodity prices, COVID-19 and growth expectations, as having a major impact on his practice.
Elofson's practice includes securities offerings and compliance, mergers and acquisitions and corporate governance. 
"I have been fortunate enough to work on some large transactions this year, but whether the project I'm working on is big or small, the goal is always to help the client navigate the complex rules to which they are subject in a way that allows them to best achieve their business objectives," Elofson wrote.
Local attorneys at Sherman & Howard also weighed in on business and practice impacts from the past year. 
Peter Koclanes, who is a trial lawyer focused on business disputes, believes COVID-19 has been at the forefront of his practice.
"The COVID pandemic put substantial pressure on and shut down many aspects of our daily lives," Koclanes wrote. "Despite this, the number of business disputes requiring some form of resolution during the pandemic not only failed to drop but, in my experience, they increased. My clients and I participated in several preliminary injunction hearings, arbitrations, trials, and evidentiary hearings during that period."
Koclanes added that during the past year, courts, judges and arbitrators put forth extraordinary efforts to stay open whether virtually or in-person. 
Koclanes wrote his greatest accomplishment the past year was their team "obtaining justice for a Denver-area individual and his sole proprietorship which distributed medical devices in pursuing claims against an international medical device manufacturer that wrongfully took our clients' distributorship business."
Sherman & Howard member Emily Keimig, who is an employment law counselor, focused on clients finding a new normal and on the many new state and federal labor laws. She said the recent changes have forced her and others in the practice area to become more creative and think outside the box. 
"In my experience, clients are well-intentioned and they want to comply with the plethora of new and existing laws, even if they don't love them. It is a lot," wrote Keimig. "I think our clients, almost universally, view this new legal landscape—both inside and outside our state and region—as overwhelming and difficult to get their arms around."
Among the changes Keimig mentioned include changes involving COVID-19, dress codes and noncompetes.  
Sherman & Howard member and employment attorney Ray Deeny also discussed the pandemic's impact on the practice area.
"Zoom hearings and the potential for trials moving to a virtual format have depersonalized the practice somewhat, which can appear artificial and take away that personal touch on which we pride ourselves," Deeny wrote. 
Despite all this, Deeny has kept busy appearing in more than 30 arbitrations and federal and state court proceedings.
Sherman & Howard member Patrick Miller, who works with health and safety policies, reiterated COVID-19's impact on business and the law including the Occupational Safety and Health Administration's latest vaccine guidance. Miller wrote there isn't a mandatory vaccine or testing requirement except for certain areas like the healthcare industry, but OSHA could still enforce COVID-19 precautions under a "General Duty Clause" which would apply in the absence of a particular standard.
"Employers continued to grapple with the safety and health landscape which has been reshaped by the pandemic," Miller wrote. "From OSHA enforcement to on again/off again requirements related to the virus, it has been a challenge for clients to keep up."  
Many of the attorneys Law Week spoke with expressed they were honored to be recognized by Best Lawyers for 2023.