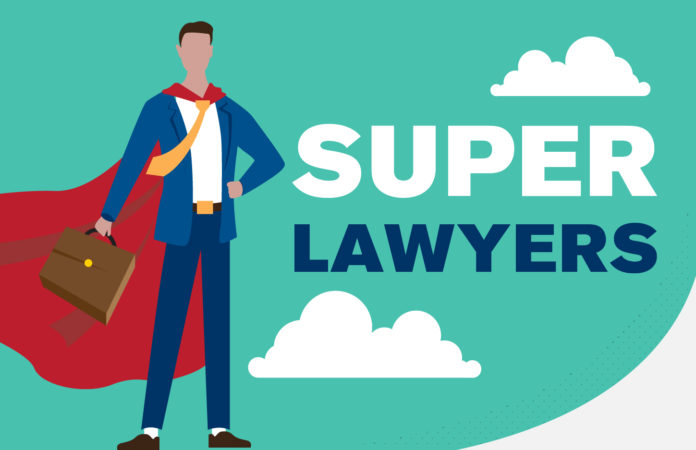 The Super Lawyers Rising Stars list recognizes attorneys starting their careers who've received high praise from peers. A Rising Star must go through the same selection process as a Super Lawyer but is only eligible if they are 40 years old or younger or have been in practice for 10 years or less. Thomson Reuters' Rising Star list is only open to 2.5% of a region's lawyers. 
Law Week received more than 50 Super Lawyers Rising Stars announcements from local firms and caught up with some of them to hear more about the start of their careers. 
Werge Law Group
Greg Corbin, a partner at local boutique firm Werge Law Group, was named a 2023 Rising Star for his business and corporate law practice, the firm announced. Corbin is a litigator and transactional attorney working with business clients and has been recognized on the Rising Star list since 2021. 
Corbin told Law Week the recognition is a testament to his own dedication and the work of his colleagues for clients. He said in his early years of practice, he's struggled to balance the demands of being an effective advocate for clients while learning the ropes of managing a law practice. He founded Signal Law which later merged forces with another firm to become Werge Law Group. 
"I was able to overcome these challenges by seeking guidance from experienced mentors, staying committed to continued professional development and being disciplined with my time," Corbin told Law Week in an email. 
For attorneys who are launching their careers, Corbin recommends creating connections with mentors and colleagues early in your career and staying committed to your craft. 
"Embrace learning opportunities, even if they at first feel like losses. Remember, building a successful legal career takes time, so be patient with yourself and stay focused on your long-term goals," Corbin added. 
Robinson Waters & O'Dorisio
Robinson Waters & O'Dorisio announced shareholder Nicholas Labor was recognized as a Rising Star for his work as a commercial litigator. Labor works in the Colorado firm's litigation practice group where he's worked on business, franchise, antitrust, trademark and real estate litigation. 
This is the first year Labor has made Super Lawyers' Rising Stars list and said the recognition demonstrates respect from the other side of the courtroom. 
"It is rewarding to know that a litigation adversary can zealously advocate for their client while maintaining respect and admiration for opposing counsel, such that they nominate them as a Rising Star," wrote Labor in an email to Law Week. 
Labor added learning the ropes of commercial litigation hasn't always been easy since the practice area is far-reaching and dense. Despite that challenge, Labor wrote "collaborating with other attorneys and focusing on quality over quantity helped me become confident as a litigator."
For attorneys who are at the start of their careers, Labor recommends working with other attorneys who have high standards and will hold you to them. 
Sheridan Ross
Multiple attorneys at Denver-based intellectual property firm Sheridan Ross made the Rising Star list this year, the firm announced. Shareholder Kendria Pearson and of counsel Alex Ruge were both named Rising Starts for their work in intellectual property. 
Pearson graduated with a bachelor's and master's degree in engineering before she earned her J.D. in 2012 from the University of Colorado Law School. She works on a wide range of patent and IP matters including advising clients and representing them in disputes. She's been named to the Rising Star list since 2017. 
In an email to Law Week, Pearson said the recognition means a lot since it comes from peers in her field. 
She said she's faced numerous challenges in her career. 
"Sometimes I worked harder or longer to show I was capable and competent, other times I reminded myself to not take things personally and other times I 'played the game,'" wrote Pearson. She said she remembers when someone reminded her that we tend to hope others will give us the benefit of the doubt, but don't always extend it to those around us. "Since then, I have tried to give people the benefit of the doubt in hopes that they will do the same for me," said Pearson. 
For lawyers who are kicking off their careers, Pearson recommends fortifying relationships with other attorneys and taking your time with difficult clients or tricky matters. 
"Think of the attorneys for whom you work as the 'client' and provide them with the best legal advice you can. Check your email before you send it, and sleep on it if the email involves any underlying emotion. Remember that some clients are great and others are not. You cannot control how your client acts, but you can control if they remain your client," Pearson advised. 
BAM Family Law 
Denver-based BAM Family Law announced three of its attorneys were named 2023 rising stars — shareholders Kyle McFarlane and Steven Visioli and associate Allison Derschang. 
Both Visioli and Derschang told Law Week in an email the recognition is meaningful every year they receive it. Visioli has been named a Rising Star since 2020 and Derschang has made the list every year since 2019. 
At BAM Family Law, Visioli works on a range of family law matters from high-asset and complex divorces to pet custody. He joined the Colorado Bar in 2016 and told Law Week in the beginning of his career he's faced "countless challenges" but has overcome them by keeping valued colleagues close. "Working hard and keeping a close-knit, intelligent, and effective team on staff have been invaluable in overcoming those challenges," wrote Visioli. 
Visioli added for attorneys beginning their careers, gaining experience where you can is invaluable. "Doing more work than you can reasonably bill for will pay off in other ways down the road. Time spent practicing and perfecting your craft is never time wasted," he added. 
Derschang joined BAM Family Law in 2021 after starting her career in employment law. 
In an email, Derschang explained that figuring out what practice area she wanted to pursue was an early challenge in her career. "I loved the area of practice that I started in because I was passionate about worker's rights but family law feels like where I belong due to how fast paced the practice is," she wrote.
For attorneys who are just starting out, Derschang encourages them to ask questions or ask for help, even if it's intimidating: "It's daunting when you first start out and many attorneys are willing to give advice and support."
Sherman & Howard
Two Sherman & Howard Denver office attorneys also made the list, the firm announced. Associate Kathryn DeVries practices family law and has been named a Rising Star since 2020 and member Beth Ann Lennon practices employment law and was also recognized in 2022. 
In an email to Law Week, Lennon wrote she's faced numerous challenges, including practicing during the pandemic, learning the ropes of employment law, working at home with two small children and connecting with colleagues virtually. 
But she added the challenges have made her a dynamic attorney and helped her think on her feet. 
"Employment law has been a wild ride these last few years and staying on this ride has not always been easy. However, on the other side I know, without a doubt, I can think on my feet and help my clients weather the storm, no matter how big or small.  And I can do it whenever, wherever, and however the need arises," wrote Lennon. 
For new attorneys, Lennon recommends pushing yourself to learn while also taking care of yourself outside your career. "Remember, the practice of law is just a piece of who you are – foster the whole you and you will be a better attorney for it." 
Davis Graham & Stubbs 
Regional firm Davis Graham & Stubbs announced five of its Colorado attorneys were named as rising stars. 
DGS partner Kyler Burgi made the list for his work in bankruptcy and creditors' rights. Burgi works in bankruptcy, creditors' rights, complex commercial litigation and mergers and acquisitions at the firm. In an email to Law Week Colorado, Burgi said at the start of his career he's taken on more leadership roles with client matters, which is rewarding but not without challenge. 
"It is undoubtedly rewarding and a privilege when clients turn to you, not someone else, for advice and to help solve the most challenging problems. But it's a different pressure when the buck stops with you," wrote Burgi. To meet that challenge, Burgi said he's leaned on mentors and encourages other lawyers who are starting out to do the same. "There's much learning by doing, sure. But the quickest and best way to learn is by finding people that are great at what they do and are willing to let you look over their shoulders."   
Associate Molly Kokesh (a Law Week Colorado 2021 Up and Coming Lawyer) was recognized as a Rising Star for her work in commercial litigation. At DGS, Kokesh works on litigation and appeals matters. Since she graduated law school in 2017, Kokesh said one of the biggest challenges she faced has been finding her footing in the practice of law when it comes to building relationships, finding mentors and establishing trust. 
In an email to Law Week, Kokesh said the relationship-building challenges only grew during COVID-19 when most interactions had to be virtual. "But I committed to showing up as authentically as possible, virtually and later in real life, to all the events I would have engaged in absent the pandemic," she wrote. Trying her best to connect in remote settings has made remote and hybrid work settings easier, she added. 
For attorneys who are launching their careers, Kokesh recommends putting effort into finding and building relationships with other attorneys. "Seek mentors in your desired practice area and be an active mentee. Colorado lawyers are remarkably willing to share their expertise if you make yourself available to listen." 
Sam Seiberling, a DGS partner, was also recognized for his work in executive compensation. This is his second year being named as a Rising Star. He said the recognition reflects the work he's put in at the first leg of his career and recommends attorneys who are starting out, to find a firm where they can grow. 
"Find a law firm or company that values you and your growth and will invest in you. Whatever success I have had in my career would not be possible without the support I received from others at Davis Graham," wrote Seiberling in an email to Law Week. 
Ryan Wilcox, an associate with a practice emphasis on commercial real estate transitions, was named a 2023 Rising Star. He's made the list every year since 2020 and said recognition by other attorneys in Colorado's tight-knit real estate bar means a lot. 
For Wilcox, one of the largest challenges he's worked through as a young professional has been building confidence in his work. 
That first time a client is looking to you, as the expert, to help them resolve an issue, you truly feel the full weight of the profession," he wrote in an email to Law Week. Wilcox added that close mentorship and putting in the hours have helped him build his practice and confidence. "It's cliché, but there is no substitute for putting in the work. Reviewing statutes or case law, reading secondary materials, and enhancing your knowledge of the law, will build confidence faster than anything else." 
DGS partner Jonathan Goldstein, who works in the firm's real estate practice, was also named a Rising Star for his work with finance and acquisitions. 
Law Week Colorado also received the following 2023 Rising Star announcements: 
Ridley McGreevy Wincour

attorney

Shanelle Kindel 
Jones & Keller

associate

Blaine Bengtson

in the environmental law practice area

Higgins, Hopkins, McLain & Roswell

attorney

Morgan Simpson

in the construction law practice area

Ireland Stapleton Pryor & Pascoe

Denver attorney

James Silvestro

in the land use and zoning practice area

Ogborn Mihm

partner

James Fogg

in the business litigation practice area

Ogborn Mihm

partner

Amanda Pfeil Hood

in the personal injury plaintiff practice area

Ogborn Mihm

associate

Amy Rogers

in the personal injury plaintiff practice area

Ogborn Mihm

associate

Kylie Schmidt

in the personal injury plaintiff practice area

Ogborn Mihm

associate

Emily Stevens

in the employment and labor practice area

Levin Sitcoff Waneka

attorney

Robyn Levin

in the insurance coverage practice area

Lewis Roca Rothgerber Christie

Denver associate

Abby Harder

in the civil litigation defense practice area

Lewis Roca Rothgerber Christie

Denver associate

Elizabeth Michaels

in the business litigation practice area

Lewis Roca Rothgerber Christie

Denver partner

Angela Vichick

in the business litigation practice area

Holland & Hart

Denver partner

Michael Dill

in the securities and corporate finance practice area

Holland & Hart

Denver partner

Christopher Jackson

in the appellate practice area

Holland & Hart

Denver associate

Stuart Knight

in the cannabis law practice area

Holland & Hart

Denver of counsel

Juan Obregon

in the employment litigation defense practice area

Holland & Hart

Denver partner

Andrew Orr

in the business litigation practice area

Holland & Hart

Denver associate

Marika Rietsema Ball

in the banking practice area

Holland & Hart

Denver partner

Helen Rogers

in the estate and probate practice area

Holland & Hart

Denver partner

Jessica Smith

in the business litigation practice area

Holland & Hart

Denver partner

Paul Swanson

in the  business litigation practice area

Chayet & Danzo

senior attorney

Tamara Trujillo

in the estate and probate practice area

Chayet & Danzo

senior attorney

Jenny Vultaggio

in the elder law practice area

Gebhardt Emerson Moodie Bonanno, LLC (GEM Family Law)

attorney

Erika Gebhardt

in the family law practice area

GEM Family Law

attorney

Ashley Emerson

in the family law practice area

GEM Family Law

founding partner

Meagan Moodie

in the family law practice area

GEM Family Law

attorney

Elizabeth Bonanno

in the family law practice area

GEM Family Law

of counsel

Heather Landauer

in the family law practice area

GEM Family Law

attorney

Hannah Taylor

in the family law practice area

Parker Lipman

partner

Karen Blau 
Brownstein Hyatt Farber Schreck

Denver associate

Marcela Dye

in the business/corporate practice area

Brownstein Hyatt Farber Schreck

Denver shareholder

Julian Ellis Jr.

in the appellate practice area

Brownstein Hyatt Farber Schreck

Denver associate

Amanda Houseal

in the business litigation practice area

Brownstein Hyatt Farber Schreck

Denver shareholder

Carrie Johnson

in the business litigation practice area

Brownstein Hyatt Farber Schreck

Denver shareholder

David Meschke

in the legislative and governmental affairs practice area

Brownstein Hyatt Farber Schreck

Denver shareholder

Chloe Mickel

in the construction litigation practice area

Brownstein Hyatt Farber Schreck

Denver shareholder

Anna-Liisa Mullis

in the business litigation practice area

Brownstein Hyatt Farber Schreck

Denver shareholder

Kevin Walsh

in the construction litigation practice area

Epstein Patierno

attorney

Lauren Gempel

in the family law practice area

Epstein Patierno associate Morgan Paterson in the family law

practice area