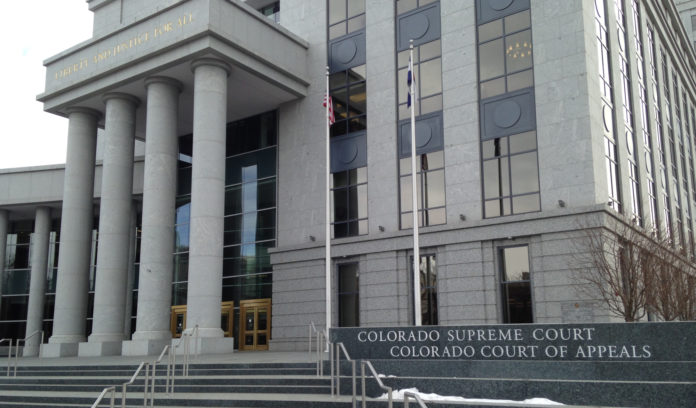 The Colorado Supreme Court heard oral arguments for six cases Tuesday and Wednesday involving a variety of issues including the heritage of a Native American child in a dependency case, government decision making and whether someone's right to a public trial was violated after a defendant's wife was removed from a courtroom.
This case centers around a dependency and neglect proceeding connected with Native American ancestry.
In 2019 the Denver Department of Human Services filed a dependency and neglect petition for the child E.M. That child's mother, D.R.M., says she has Apache and Sioux heritage. 
According to court records the DDHS did make efforts to determine if the child was Native American, but didn't send a notice to a tribe or the Bureau of Indian Affairs during the investigation. This is all connected to the Indian Child Welfare Act of 1978 which aims to put Native children in foster homes that have a Native culture, if foster care is necessary.
D.R.M's parental rights were eventually terminated and the juvenile court said they had no reason to know whether the child was Native and governed by the ICWA. E.M. then appealed the decision arguing the court didn't follow the ICWA. 
The Colorado Appeals Court said the conflicting family testimonies are not definite concerning the child's heritage, but that certainly is not necessary for the juvenile court to know if the child is Native, meaning the juvenile court should have gone with the evidence that it was a Native child. The juvenile court's judgment was vacated and remanded to notify all of the parties required by the ICWA.
On Tuesday, the Colorado Supreme Court heard multiple facets of the case. One aspect was whether the court of appeals erred in its conclusion that the juvenile court should have "reason to know" the child is Native and governed under the ICWA. The Supreme Court is also looking at whether the appeals court "in departing from decisions from other divisions," erred by vacating the juvenile court's judgment while also "authorizing a new appeal from any reinstated termination judgment, rather than a limited remand."
Marshall Brown  v. Walker Commercial, Inc.
The Colorado Supreme Court also heard a case Tuesday looking at the separate Colorado Rules of Civil Procedure and deadlines to challenge government agency decisions.
The case focuses on whether the Colorado Supreme Court should overturn an appeals court decision from 2021 so lengthy litigation can be avoided while providing more certainty for government decisions.
Marshall Brown is the director of Aurora Water and he says the Colorado Court of Appeals departed from years of precedent when it allowed a challenge to one of his decisions that was filed after the statutory deadline. The case goes back to the City of Aurora which wanted to impose a drainage basin development fee on the property of Walker Commercial Inc., which is a real estate and construction firm in Lone Tree.
An administrative hearing was then held where the fee was upheld. After that decision, 30 days later, Walker filed a complaint using C.R.C.P. 106(a)(4) questioning the authority of the group making those decisions. That complaint had a 28-day deadline to be filed, and Brown said the claim should be dismissed due to its untimeliness. Later Walker filed a C.R.C.P. 6(b)(2) motion, arguing that excusable neglect was the reason it was late. A trial court dismissed those claims saying the complaint was not timely and Rule 6(b) — allowing for time extensions — doesn't apply to Rule 106. The court continued, saying that even if it did, Walker did not show excusable neglect.
The court of appeals, however, reversed that decision, saying Rule 6(b) does allow a trial court to accept an untimely Rule 106(a)(4) complaint if excusable neglect can be established. The appeals court also stated it didn't know why Walker's claims were dismissed and asked the trial court for a reason on remand.
Brown then asked the Colorado Supreme Court to explain more about whether Rule 6(b) allows a trial court to toll or waive a deadline for Rule 106(a)(4); Brown maintains it does not. One of Brown's main concerns, which other agencies also expressed, is it could lead to an open-ended review process where anyone could try and prove excusable neglect. Thus a lot of time and money can be spent on cases that needn't be. It also calls into question the authority of local agencies.
People v. Christopher Cruse and People v. Terrel Turner
The Colorado Supreme Court also looked at a case Wednesday involving whether a defendant's right to a fair public trial was violated after his wife was removed from a courtroom.
Christopher Cruse was accused of trying to rob the marijuana dispensary where he worked. During the trial, prosecutors told the judge Cruse's wife had a hostile encounter with a witness and victim coordinator in a hallway at the courthouse. Cruse's wife was then arrested for retaliation against a witness; a mandatory protection order also prevented her from having contact with the victim coordinator.
Since that protection order was in place, the judge ordered Cruse's wife to not be in the courtroom or hallway for the rest of the case. Cruse was convicted of multiple felonies and appealed, but didn't bring up the court violating his right to a public trial. The Colorado Appeals Court then affirmed Cruse's decision. In that opinion, which has since been withdrawn, Cruse's co-defendant Terrel Turner had his conviction reversed because the exclusion of Cruse's wife violated his right to a public trial.
Cruse filed for a rehearing, saying his right to a public trial had been violated. A division of the court of appeals heard the case again and reversed Cruse's conviction. The state then appealed to the Colorado Supreme Court, asking it to look at whether the exclusion of Cruse's wife from the courtroom violated his right to a public trial. The high court will also look at whether remand is needed for further findings.
As for the Turner case, the Colorado Supreme Court will look at the similar issue: "whether excluding the co-defendant's wife violated the defendant's Sixth Amendment right to a public trial if her exclusion was a 'closure,' and whether automatic reversal, rather than remand for further findings, is the appropriate remedy."
For information about other cases being heard this week by the Colorado Supreme Court, click here.