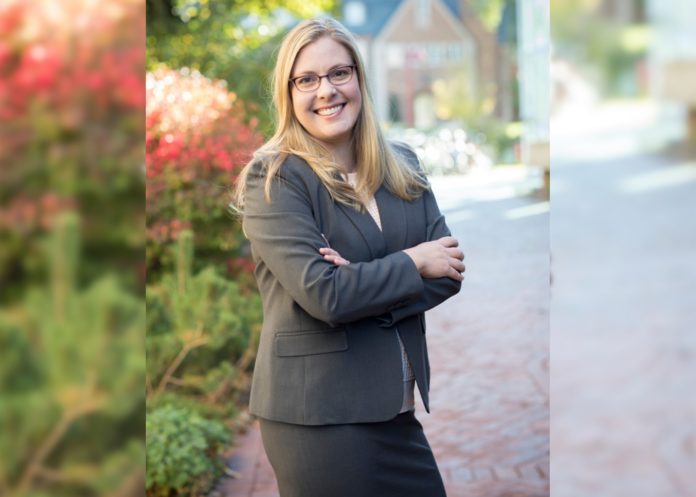 The Institute for the Advancement of the American Legal System at the University of Denver named Brittany Kauffman as its new chief executive officer. Kauffman, who's been with IAALS for 10 years, will help guide the organization after it underwent a strategic reassessment this summer. 
On Aug. 18, IAALS announced Kauffman was selected as its permanent CEO. Kauffman took over as interim CEO earlier this year after David Yellen left Colorado to serve as dean at the University of Miami School of Law. As CEO, she oversees the organization's operations, projects and research and communicates with the IAALS board of advisors, DU and its partners. 
Kauffman said her appointment was part of recommendations made after a strategic reassessment this summer that reexamined IAALS' role in light of the pandemic. According to the organization, the strategic reassessment came after COVID-19 dramatically changed the American legal system, forcing courts to adopt virtual proceedings and stray from long established norms. 
IAALS, which was founded in 2006 by former Colorado Supreme Court Justice Rebecca Love Kourlis, longtime Colorado lawyer John Moye, DU Chancellor Emeritus Daniel Ritchie and philanthropist Charles Gates, conducts independent research on the U.S. legal system and makes policy recommendations to improve access to justice. Its work includes national research on court systems, public perceptions of the law and more. 
The strategic reassessment this summer collected nationwide feedback from legal system stakeholders, IAALS partners, executive staff and others to better understand what, if any, changes the organization should make to best serve its mission of facilitating continuous improvement and advancing excellence in the American legal system.
"One of those recommendations was my appointment. So I'm excited to be a key part of launching those recommendations going forward," said Kauffman. 
The strategic reassessment also emphasized how IAALS does its work. Kauffman said that a lot of feedback gathered from the reassessment underlined the independent nature of IAALS and its research is important to stakeholders, as is a spirit of collaboration with experts, stakeholders and people directly impacted by the legal system. 
"So how we do that work will continue, that's central to who we are, it will continue to be central to what we do," said Kauffman. 
Going forward, IAALS plans to fortify its staff and partnerships to ensure the organization is able to continue its research and advocacy. Kauffman said that will involve deepening the organization's relationship and partnership with DU as well as its current funding model. 
Kauffman, who's been with IAALS for a decade, said she's honored and excited to lead the organization and serve its mission. 
"I deeply believe in our wonderful team. I believe in our mission and our vision. I believe in an evidence-based approach to reform," said Kauffman. "I'm excited to continue to lead this wonderful organization forward into the future."
Kauffman joined IAALS in 2012 after working in environmental and natural resources law at Arnold & Porter's Denver office for eight years. She said the pro bono work she could take on there helped her understand what parts of the justice system work and what parts need reform. When she left private practice, Kauffman said she hoped to make positive changes to the American legal system. 
"I also saw the challenges in our justice system and where people couldn't get representation and where people were not getting access to justice like they needed to in a system," said Kauffman. "And so I was just inspired to take a different path."
Kauffman earned her J.D. from the University of Colorado School of Law and prior to practicing, clerked for the 10th Circuit Court of Appeals in Santa Fe, New Mexico. She came to law from a less traditional role after studying chemistry as an undergraduate at Colorado College. Kauffman worked in a law office in Missoula, Montana after she graduated college and said she loved the opportunity to work with clients in the justice system which led her to apply to law school. 
On top of the challenges and changes caused by the COVID-19 pandemic, the U.S. justice system has experienced a decline in public trust over the past year in part due to a controversial U.S. Supreme Court term. 
More locally, Colorado's current system for handling misconduct complaints against state judges has come under fire after a list of alleged bad behavior and cover-ups, which were mostly refuted by an independent investigation, was published by the Denver Post in 2021. The scandal shone a light on the lack of regulation around how the branch handled complaints and has led the state legislature to consider reforms. 
Kauffman acknowledged that public trust in the justice system is a challenge and said she's been honored to present IAALS recommendations and findings to better inform policy changes to the judicial branch. Kauffman testified on behalf of IAALS to the Colorado Legislative Interim Committee on Judicial Discipline earlier this summer. 
"We're four years away from our 20th year anniversary. And I'm excited to think forward to what IAALS will be at its 20th and very honored to be the one who gets to lead us," Kauffman added.