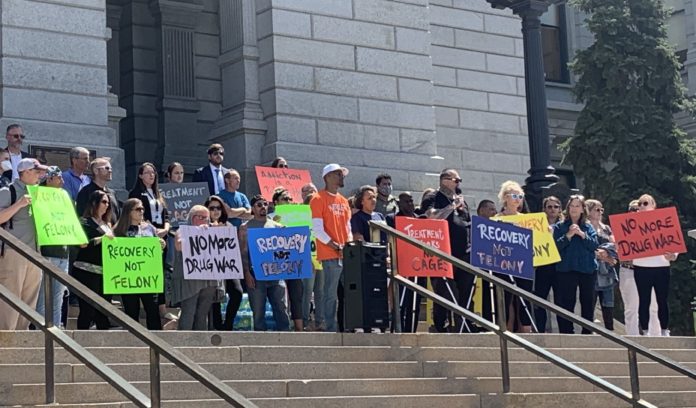 Ahead of an 11-hour Senate Judiciary Committee hearing on Tuesday over one of this session's most watched bills, critics gathered on the steps of the Colorado capitol to voice their opposition to the legislation. 
House Bill 22-1326, titled Fentanyl Accountability And Prevention, would increase the criminal penalties for possession of fentanyl, a synthetic opioid around 50 times stronger than heroin. The bill was introduced this session in the midst of a rise in the number of fentanyl-related deaths and overdoses. It's been one of the most watched bills of the 2022 session for criminal law attorneys, with defense attorneys expressing concern over harsher penalties and district attorneys calling for action as they see increased fentanyl cases. 
The core goal of HB22-1326 — to reduce the number of fentanyl-related deaths — has widespread support, but the controversy centers on how lawmakers can or should do that. 
The bill would divert over $30 million toward harm reduction programs, statewide behavioral mental health programs and a public health campaign meant to reduce substance use and overdoses. It would also fund the purchase of narcan, an opioid overdose medication, as well as fentanyl test strips and other harm-reduction tools. The original version of the bill criminalized fentanyl possession in line with reforms made in 2019 by the Colorado general assembly through House Bill 19-1263, which made possession of less than four grams of controlled substances a misdemeanor rather than a felony. 
However, law enforcement and district attorneys called for amendments to reduce the felony threshold for fentanyl given its potency. On April 13, after over 13 hours of emotionally charged testimony in front of the House Judiciary Committee, the bill passed its first committee vote with amendments to lower the felony threshold to "knowingly" possessing one gram of fentanyl or a compound with fentanyl. It also passed an amendment to make possession of a compound with more than 60% fentanyl a higher level felony. 
Tuesday's rally was led by the Colorado Criminal Justice Reform Coalition, one of the bill's most outspoken opposition groups, and included lawmakers who oppose the current version of the bill as well as representatives from organizations that support people recently released from prison and others. 
Critics say that by lowering the felony threshold, HB22-1326 wouldn't prevent the use of fentanyl. However, they say, it would unnecessarily involve more people with the criminal justice system and is a step backwards in policy.
"We are here to have a conversation about how our state is choosing to respond," said CCRJ's Deputy Director Juston Cooper, opening the rally. "History has taught us through the failed drug war that the predominant, the dominant criminal legal justice response to these public health crises [has] not lifted us out of the crisis, nor has it saved lives, nor has it fundamentally addressed what's happening in communities." 
Many speakers framed the latest bill as a call-back to policies from "the war on drugs," when criminal penalties for possession of controlled substances increased which led to an increase in the number of people in the criminal justice system. This era of policy disproportionately impacted lower-income neighborhoods and people of color, Cooper and other speakers pointed out. 
Rep. Leslie Herod, one of the bill's original House sponsors, voiced her opposition to the current version. She said she joined the bill originally because it created funds for harm reduction and substance use programs to address fentanyl use. "It was because we were working to ensure that there was more harm reduction and treatment in our communities," said Herod, adding that she would be a "no" vote on any version that lowered the felony possession threshold. 
Representatives from a number of community organizations voiced concerns that the bill would increase the number of people incarcerated without addressing underlying causes of substance use. 
Thomas Hernandez, the executive director and founder of Tribe Recovery Homes, a nonprofit that provides shelter for those recovering from substance use and addiction, encouraged more cooperation between law enforcement, lawmakers, health care and other service organizations to address the impacts of fentanyl and other substances. "This is a together thing," said Hernandez. He added that funding for programs to address fentanyl use needs to bring all these groups to the table together. Taj Ashaheed from the Second Chance Center, a nonprofit that provides reentry services for those recently released from prison, encouraged lawmakers to divert funding to more on-the-ground services. 
At the Senate Judiciary Committee hearing, which lasted until 1:30 a.m., senators heard testimony from district attorneys across the state, law enforcement, drug reform advocates, those impacted by fentanyl and more. Committee leaders said over 100 people signed up to testify. 
Introducing the bill to the committee, Sen. Brittany Pettersen, one of HB22-1326's prime sponsors and a Democrat, emphasized that it's meant to target fentanyl producers and distributors, not users. She added that the bill aims to prepare Colorado for potent synthetic opioids that are being circulated as part of the "third wave" of the opioid crisis in the U.S. 
The bill's other Senate prime sponsor, Republican Sen. John Cooke, called the 2019 law that lowered felony thresholds a "mistake," citing data that drug-related deaths in Colorado increased in the years following. 
The committee's co-chair, Sen. Julie Gonzales, who made an appearance at the opposition rally earlier in the day, asked Cooke and Pettersen about their philosophies around substance use. "Our justice system and the way that we treat people who are navigating addiction, [do you think] whether we should treat those individuals in a retributive manner or in a rehabilitative manner?" asked Gonzales.  
Pettersen reiterated that criminal penalties and enforcement for fentanyl should focus on distributors, rather than users, and added that while some judicial districts offer substance use treatment programs, there are service gaps across the state. She added that she wants to see HB22-1326 fill in those gaps. 
Cooke said that while he supports programs to address addiction, he believes incarceration comes into play "to maybe force treatment" when someone has repeated arrests or extended substance use.
The first testimony panel in front of the committee included Attorney General Phil Weiser, Denver District Attorney Beth McCann, District Attorney Brian Mason of the 17th Judicial District and Boulder County District Attorney Michael Dougherty.
The four prosecutors expressed general support for the bill's current, lower fentanyl threshold, sharing that they've seen increased numbers of fentanyl cases in recent years and expect to see more. The DAs expressed concern over the current language of the bill that someone would have to "knowingly" possess fentanyl. Proving a defendant knew they possessed fentanyl would be extremely difficult for prosecutors, the panel said. 
Lawmakers heard emotionally charged testimony from others, including those who have been incarcerated over substance possession, those who have lost loved ones to fentanyl poisoning or overdose and more. 
While the bill made progress leaving the House and entering the Senate, it has a ways to go before it can become a law. HB22-1326 still sits in the Senate Judiciary Committee after it was laid over unamended yesterday when proposed amendments failed. With two weeks left in the session, which is scheduled to adjourn on May 11, the clock to pass HB22-1326 is ticking.